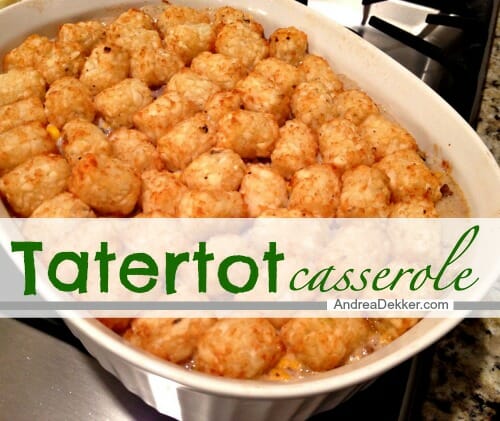 Although I'm all about super simple, family-friendly meals, I honestly never thought I would post a recipe for Tatertot Casserole here on my blog.
Maybe it's because this dish is definitely not gourmet, or pretty, or extremely healthy; or maybe because it's just SO simple that it doesn't even seem like a "recipe". Either way, I've changed my mind — mainly because I wanted a quick place to look up my recipe so I don't have to second-guess if I'm making it the way we like it best 🙂
Dave and I both have fond memories of Tatertot Casserole growing up. Dave's memory is his Dad's "famous story" of when he made this meal in college and didn't drain any of the grease off the ground beef! The whole thing was a big greasy mess, but apparently the college guys didn't care 🙂
My memory is sitting at the kitchen table LONG after everyone else was finished eating, and long after my mom had cleaned up the entire kitchen because I absolutely refused to eat the one tatertot on my plate. For some reason, I didn't like tatertots growing up… so my mom always left a portion of the casserole "tatertot-free" for me, with the stipulation that I had to eat at least one tatertot. I loved the casserole but it was always a big fuss to get me to eat that one tatertot… I suppose Nora's stubbornness and strong will isn't completely by accident!
And speaking of Nora, this is one of her favorite meals — not only because she loves eating it, but also because she loves helping me put the "tater dots" on the top. She always has a new and creative pattern or design she wants to make, and loves helping me in the kitchen.
If you're looking for a quick, simple, budget-friendly, weeknight recipe that will please your whole crew, I've got you covered.
Recipe for Tatertot Casserole:
Serves 6
INGREDIENTS:
one 10.75 oz. can cream of mushroom soup (or almost any cream soup)
1/2 c. milk
1 t. minced garlic (or a few shakes of garlic powder)
1 t. minced onions
1 lb. ground beef (cooked and DRAINED!)
1 c. frozen corn (peas or green beans would work too)
1 c. shredded cheese
1 c. cooked rice (optional)
enough tatertots to cover your casserole — usually half a 32 oz. bag for me
DIRECTIONS:
Preheat oven to 375*F
In a large bowl, mix soup, milk, garlic, and onion.
Add in cooked ground beef, corn, cheese, and rice. Stir until well combined.
Dump mixture into a greased casserole dish (a 9″ x 9″ dish works well).
Top with a single layer of tatertots.
Bake for 30 minutes or until tatertots are browned and casserole is heated through.
Serve and enjoy!
I usually serve this with my homemade applesauce and fresh bread or rolls (simple, but we really don't need anything else to go with it).
Another thing I love about this recipe is that you can make this meal earlier in the day, or even the night before to save time. You can even freeze it before you bake it (either with or without the tatatetots on top).
This is one of those meals I can have on the table in less than an hour (including browning the meat and the 30 minute cook time). Of course, if you have containers of browned ground beef in the freezer like I usually do, that will cut even more time off this recipe!
So there you have it, my version of Tatertot Casserole!
There are literally hundreds of different recipe variations — if you're looking for something a little bit different, just do a quick search on Pinterest or AllRecipes.com — you're sure to find a variation you love!
Oh, and if you'd like to eliminate the processed foods from this recipe, you can use this recipe to make your cream soup and this recipe to make your own tatertots (however, then I retract my earlier statement that you could easily have this meal on the table in under an hour.)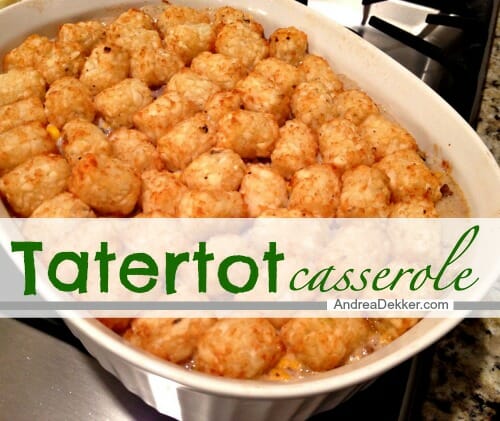 What are your family's favorite casseroles?
Visit my virtual recipe box for more simple, delicious, family friendly recipes!