Last weekend, Dave, Nora, and I went up north for a long weekend with friends. There were 30 people total — but (brace yourself) 12 of them were under the age of 4! We stayed at a huge ranch house that slept 30 (which was perfect for our group) and it was beautiful!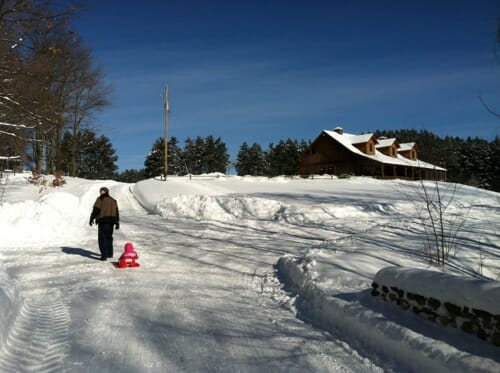 We had so much fun — and besides a massive blizzard on our drive up, the weather was absolutely gorgeous!
The only "problem" was that the ranch was a 40 minute round-trip drive to the nearest grocery store or restaurant. And since we didn't want to spend our entire trip making and preparing food, I offered to do much of the busywork before we arrived.
Thankfully everyone else brought desserts, goodies, snacks, drinks, etc. — and we divided the cost of groceries and other supplies evenly among the 9 families.
As I was planning out the menu and my shopping list a couple weeks ago, I asked for your suggestions on facebook and got a whole slew of fabulous recipes and ideas! I was also asked (repeatedly) to share any tips I learned as well as my finalized menu on the blog.
So here we go!
A Menu for a Crowd:

Breakfast for Friday – Sunday:
Lunches for Friday – Sunday:
Salad (with some sort of meat, cheese, bacon bits, and other toppings)
Baked sandwiches (I made 4 dozen buns without the sauce and froze them ahead of time)
Baked potato bar
Leftovers
Mac & cheese / PB&J for kids
Dinners for Thursday – Saturday:
Mexican Casserole (my friend made two 9″x13″ pans ahead of time)
Pizza (we ordered it)
Lasagna, salad, and garlic bread (3 large trays)
Snacks for Thursday – Sunday:
Muffins
Cookies
Brownies
Granola bars
Fresh fruit, yogurt, granola
Candy
Popcorn
Extras:
Coffee / tea
Milk
Juice
Pop
Beer / wine
So yeah, my grocery bill definitely wasn't under $50 like normal 🙂
And speaking of groceries, it was quite a feat to get all the groceries I needed. I really wanted to do it all in one trip, but unfortunately, it took about 4 trips to get everything — mainly because I made most of the meals ahead of time and waited to get the perishable ingredients until later. Plus a made a separate stop at a bulk supply store that always has really good prices on paper products.
So while I definitely haven't perfected the art of grocery shopping for a crowd, here are a few of my tips.
Grocery Shopping For a Crowd:
1. Type out a detailed meal plan for each day
Normally, I just write our weekly dinner plans in my planner, but for this large of an event, I planned every meal (breakfast, lunch, and dinner) and typed out all the details of each meal so I wouldn't forget anything. I even color-coded the days for fun!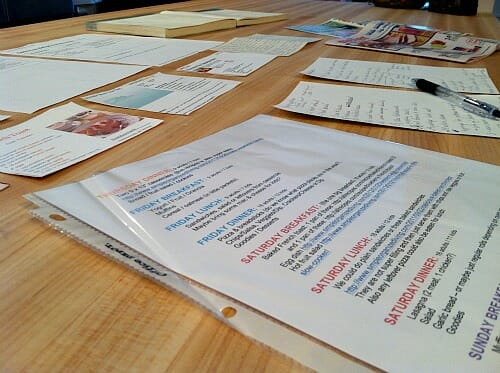 2. Print off every individual recipe so you have it in front of you.
I'm usually an advocate for keeping recipes digital, but for something like this, I knew I wanted all the recipes to be right there in front of me (and attached to my meal plan). Plus, I wanted to be able to bring the recipes along with me and have them available in case someone else needed to put them in the oven or take care of last-minute preparations.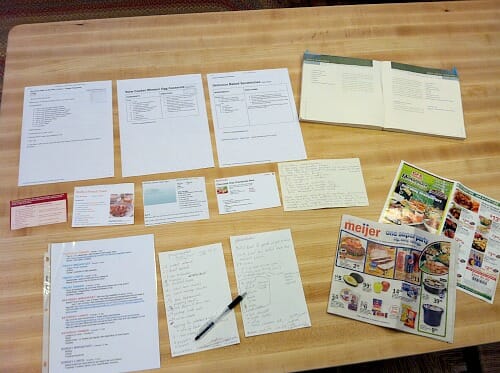 3. Go through each recipe and write down everything you need on one big master list.
For example, if I needed 2 cups of sour cream, I would write "2 cups of sour cream", not just "sour cream".
4. Look at your master list and consolidate "like" items into one shopping list.
Your first list is going to look really long and messy… that's OK! The trick is to go through and consolidate "like" items together. For example, if one recipe needed 2 cups of sour cream, another recipe needed 3 cups, and you needed another cup of sour cream for your baked potatoes, you would need 6 cups of sour cream total. So write "6 cups of sour cream" on your shopping list.
Similarly, if you want yogurt and fruit available multiple times, make sure you mentally try to estimate how much you might need, and list it as one item on your shopping list (3 quarts of yogurt, 4 bunches of grapes, etc.)
5. Stick to the list!
When you're buying this many groceries, you can't afford to get side-tracked or wander from your list!
Also, when I got home from the store, I immediately grouped groceries for each recipe together to make sure I didn't forget anything (you can see the start of that process in the image below)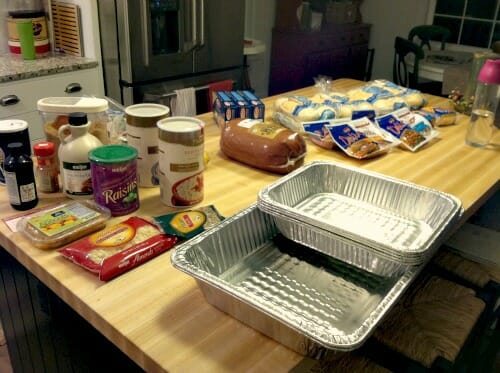 A Few More Tips to Feed a Crowd:
1. Use paper products.
I know it might be a bit wasteful, but washing dishes for 30 people after every meal would have taken way too long. I also purchased disposable baking pans so I could make all the food ahead of time and didn't have to worry about running out of pans or getting my pans back after the weekend was over.
2. Make simple foods that can be made ahead and frozen.
I rarely ever make fancy or time-consuming meals, so this wasn't that difficult for me. I picked a few dishes that were easy to double, triple, and quadruple; easy to make ahead and freeze; and had simple, frugal ingredients.
I was actually able to make and freeze almost all of the food 2 weeks ahead of time… and then all we had to do was defrost it, maybe add a sauce or a few ingredients, and bake.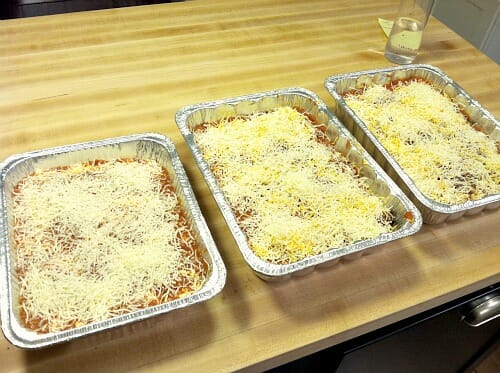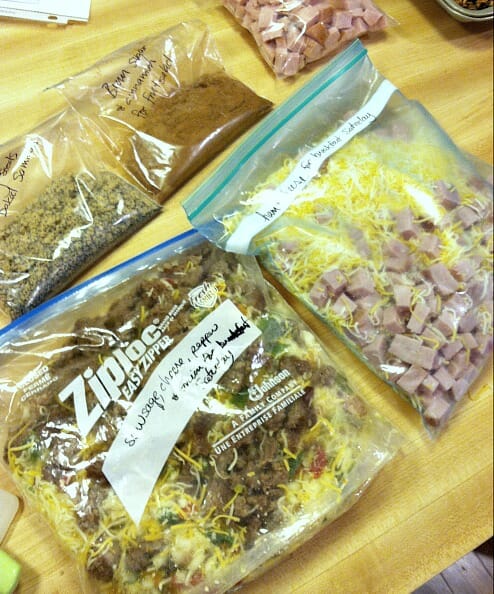 3. Label EVERYTHING.
I'm always a big fan of labeling everything in my freezer, but it's even more important when making so much food ahead of time. I write what the contents of the container were, what the baking instructions were, etc.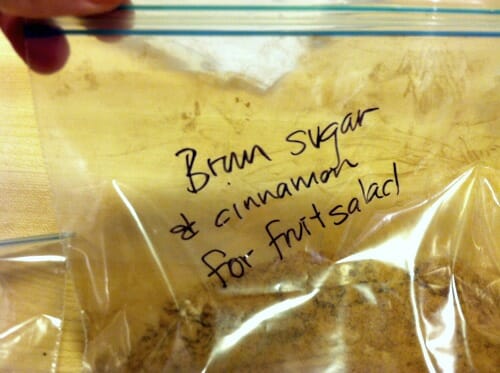 4. Don't stress about getting every single good deal.
I'm speaking mainly to myself on this one! I was trying to get all the good deals, but that's really hard when you need to buy 10 of something and it's not on sale… but you need it now.
Although it totally goes against every fiber of my being, I finally decided that I'd get any deal I could, but I wouldn't stress about paying full price for something if necessary.
This shopping excursion definitely made me realize how much I DO save by shopping the sales and using coupons! WOW!
More Simple Crowd-Pleasing Recipe Ideas:
1. Chili in the slow cooker
2 Taco Bar or Walking Tacos
3. Pulled Pork in the slow cooker
4. Any type of salad and/or sandwich
5. Roasts, ham, or other large cuts of meat in a slow cooker or in the oven
6. Any type of soup in a slow cooker
7. A bunch more ideas in this Facebook thread
All in all, our weekend away was a success. We had plenty of food, it all tasted great, and we all had a TON of fun with our friends (especially Nora!)
Do you have any other tips to add to my list — or any other fabulous recipes that are awesome for large groups?
Visit my virtual recipe box for more simple, delicious, family friendly, recipes!