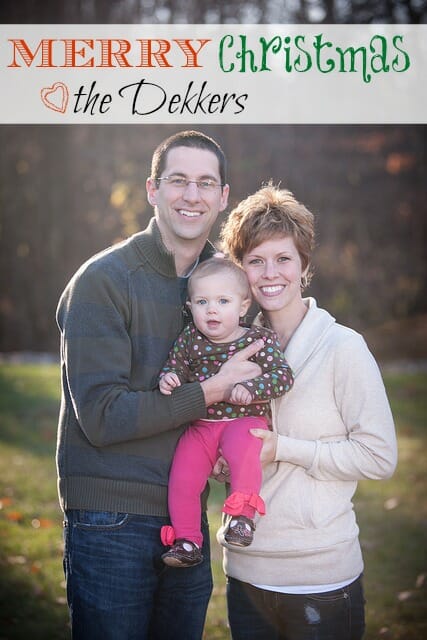 As I mentioned yesterday, I'm taking a two-week blogging break to spend time with family — and to enjoy Dave's extra-long two FULL weeks of Christmas break!
I already have a bunch of fun posts, ideas, and giveaways planned for the New Year — and hopefully I'll be able to inspire you to simplify and organize your home and life EVEN MORE in 2013!!
In the mean time, please, please, please, don't get too caught up in all the shopping, cleaning, baking, and decorating that often consume us this time of year (unless of course, you really enjoy those activities and have fun doing them with family!)
While Dave and I will most definitely still be working (we're the type that don't really ever stop working completely), we will also take lots of time to relax, have fun at family Christmas parties, eat WAY too much food, watch cheesy Christmas movies, and hopefully catch up on a little sleep… if Nora lets us!
Speaking of Nora, I'm looking forward to lots of "firsts" with her this year.
Since she was only 5 weeks old last Christmas, we didn't really get to do anything fun with her or for her… so this is the first Christmas that she'll be able to help open her gifts, the first Christmas she'll be able to go out in the snow (if we have any!), the first Christmas she'll be able to undo my Christmas decorations, and the first Christmas she'll be able to play with all the toys she will get from her Grandparents!
As many of you know, I LOVE sending (and receiving) Christmas cards every year — however, since I obviously can't mail them to all of you, I thought I'd share some pictures of our card instead! I ordered our cards from Minted.com and was very happy with how they turned out.
I've always been a big fan of the text "Joy to the world…" I used it on our cards from 2009, but I figure it couldn't hurt to use it again… especially since I had the most perfect picture to use for the front of our card!
Isn't it fabulous!
The card says, "We hope your Christmas season is filled with THIS much JOY!"
Here's the actual picture — just because the coloring on the photo above doesn't do it justice.
Here's the back of our card:
And here's a larger view of our family picture:
It was really cold when we got our pictures taken… but thanks to the quick work of Brandon at Modern Photograhics, we got a pile of fabulous family pictures in about 30 minutes!
And he actually got Nora to smile!
So enjoy these next two weeks without my crazy ideas flooding your computer, email, and Facebook… but be ready, because I have a whole bunch of simplifying and organizing ideas to share in 2013.
Merry Christmas, friends!