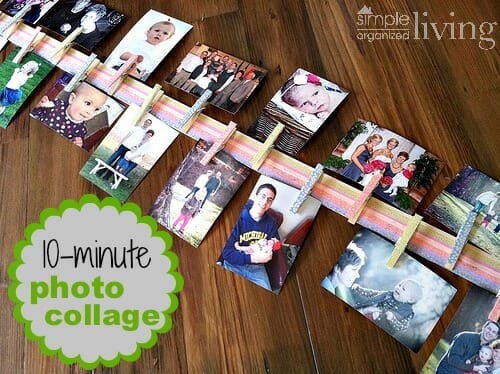 Over the past few months, we've noticed that Nora has an obsession with pictures… like whenever there are pictures around, she can't focus on anything else until she carefully looks at all of them.
If the pictures are too high for her to see, she'll point and grunt until we pick her up so she can spend ample time surveying every face in every picture. Then we'll put her down and 15 minutes later, she'll be pointing at the pictures again.
She'll also sit on my lap for several minutes at a time (very abnormal for her) while I scroll through photos on my phone or computer. She just LOVES pictures!
So even though I'm not a huge fan of printing and displaying mass amounts of photos around my house, I figured she would like to have a few more pictures to look at — especially in her room.
What we don't do for our kids 🙂
I remembered that I had an extra-long "yardstick" (4 feet) and a bunch of extra clothespins from my Busy Bag project… and since I didn't want to spend a bunch of time or money on a photo display project, I decided to glue the clothespins to the yardstick to make my collage.
The whole project literally took me 15 minutes — and that was WITH Nora tearing things apart while I was trying to put them together, so you could easily do it in 10 minutes without distractions!
Here's the "How-To" steps:
STEP 1 (optional) = Cover yardstick and clothespins with decorative tape.
I had a bunch of this decorative tape leftover from a previous project, so I put it to use covering my very ugly yardstick and very bland-looking clothespins.
This was actually the most time-consuming part of the whole project, so if you don't have decorative tape or don't want to take the extra 5-6 minutes to do this, move on to step #2!
STEP #2: Glue clothespins onto yardstick.
I used super glue, but I'm sure you could use wood glue, Gorilla glue, or a hot glue gun as well.
I glued them 3″ apart, alternating one facing up, one facing down, etc. So there are 6″ between each "up-facing" pin and 6″ between each "down-facing" pin.
I also alternated colors between pink, blue, and green — but again, that's totally optional!
STEP #3: Hang yardstick on the wall.
You could hang this horizontally, like I did, or vertically — whatever you prefer. However, since Nora is getting taller, we opted for horizontal to keep the pictures out of her little hands!
I used 2 Command Velcro Strips (one on each end) so there aren't even any nail holes to patch when I change my mind and decide to take it down!
Done — you can totally do this!
Obviously, this isn't the fanciest photo collage ever — but Nora loves looking at her pictures, and I love how simple it is to swap out new pictures!
How do you display photos in your home?