My Favorite Sausage Stuffing
posted by Andrea | 12/9/2010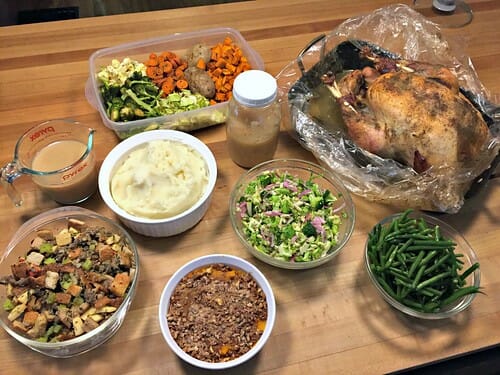 Although Thanksgiving has come and gone — our big Christmas dinner is still coming up in a few weeks and stuffing is a family favorite at this meal {or pretty much any other meal for that matter!}
And THIS is my all-time favorite stuffing!
I actually got the recipe from my dad who is an excellent cook. However I've adapted it a little for my own preference.
I would encourage you to do the same!
The 2 most important ingredients are bread and sausage — the rest of the ingredients can be altered to fit your taste buds.
BREAD:
I use about 3 c. cubed white bread and 4 c. cubed wheat bread, but use whatever you have on hand. Stale bread is great, so I actually keep a large resealable bag in my freezer that I constantly ad slices of stale bread, buns, roles, etc. to all year long. That way I'm not wasting as much food and I always have a nice selection of "stale bread"!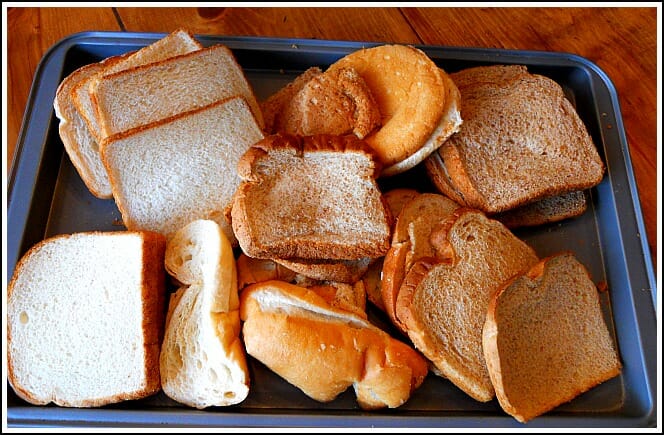 .
I just rip the bread into chucks — no perfect cubes here!
.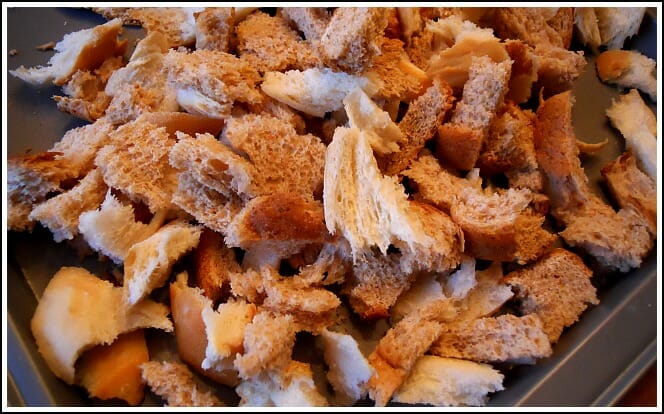 .
SAUSAGE:
I use 1 full pound of sausage…but you can use more or less. Sometimes I use regular sausage, sometimes I use sage sausage. I figure you can't really go wrong with sausage so use your favorite variety!!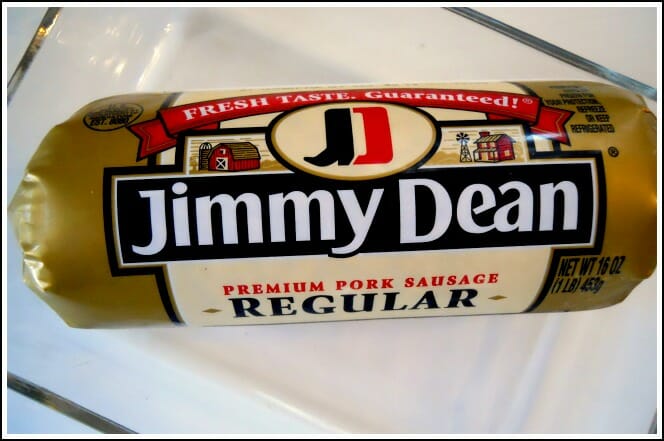 Ingredients:
3 c. white bread cubes
4 c. wheat bread cubes
1 lb. ground sausage — cooked
1 medium onion — chopped
3/4 c. celery — chopped
2 t. dried sage (or you can use sausage with sage in it)
2 t. dried parsley
1 t. poultry seasoning
1 t. dried rosemary
1 t. dried thyme
1 apple — cored and chopped
1 can broth (you might not need it all)
4 T. unsalted butter -melted
Directions:
Preheat oven to 350 F
Spread a single layer of bread cubes on a large baking sheet. Bake for 5-7 minutes or until toasted.
Transfer toasted bread to a large bowl.
In a large skillet, cook sausage and onions until sausage is no longer pink. Drain.
Add celery, and all seasonings to the sausage mixture and cook for 3-5 minutes
Pour sausage mixture into bread mixture. Add the apples and mix well.
Mix broth and melted butter and drizzle over the stuffing mixture until even moist. You may not need all the liquid…and if you need more, just use water
Put mixture into a greased 2 quart dish or 9 x 13″ pan and bake for 25-30 minutes or until heated through.
Honestly, this is such a SIMPLE recipe — and how can you not love something with a full pound of sausage and all these delicious seasonings!
The only down-side to this stuffing is that you usually don't end up with any leftovers!
Christmas is only 16 days away…what are you making for your Christmas dinner?
Visit my virtual recipe box for more simple, delicious, family friendly, recipes!