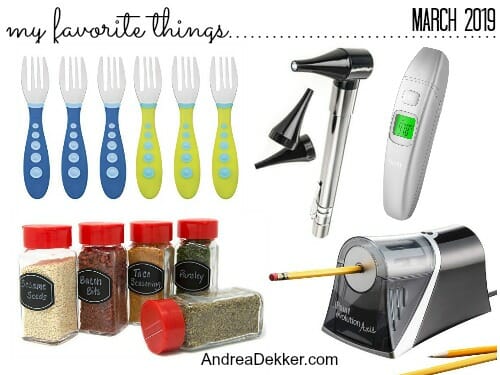 It's March!! — which means a big birthday for one of my favorite "big" boys! We're celebrating Simon's 5th birthday tomorrow (with donuts, of course!) Can you believe it?!
As I shared on Facebook last week, Simon is truly one of the sweetest, kindest, generous little people I know. Yes, he is stubborn as a mule at times, but his always-sharing, always-giving personality is one of my favorite things about him.
That… and his eyes when he smiles!
I'm sharing a few more of my favorite things in today's post!
DISCLOSURE: None of these products are sponsored; however, some of the links below are affiliate links — which means that at no cost to you, I may get a small commission. Please know that I use these products daily in my own home and life. Read my full disclosure policy for more information.

Also, check out my Amazon Market for all my favorite things.
Gerber Stainless Steel Children's Cutlery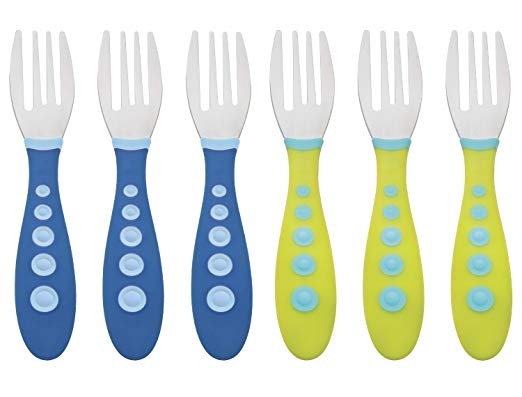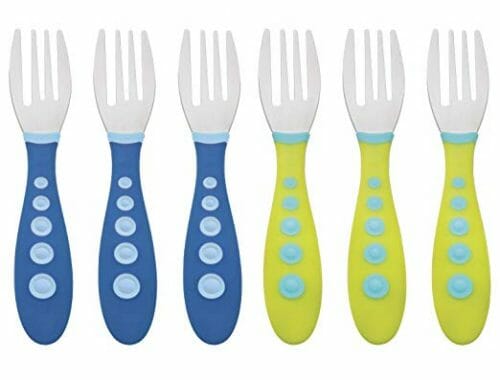 I'm SO shocked I haven't included this one in my list of favorite things before — especially since we've used them daily for the past 6 years!
After trying many different brands and types of children's cutlery, we settled with these stainless steel ones from Gerber. We start using them after the kids have teeth (before then, we use plastic spoons).
These stainless steel tipped, rubber handled spoons and forks are SO easy for little hands to hold, AND they are sharp enough to easily stab and scoop food (unlike plastic tongs).
We have pink, blue, and green… and they have made their way through all 4 kids now (James currently uses the blue and Clara uses the pink).
I have given these sets as gifts to friends and family, and I believe I even gave a set to my parents so our kids could use them at their house too!
I'm sure everyone has their own preference, but we have really liked the Gerber brand.
NOTE: We do not have the knives — just forks and spoons. Also, I'm fairly confident they are much cheaper at BuyBuyBaby!
.
Digital Forehead Thermometer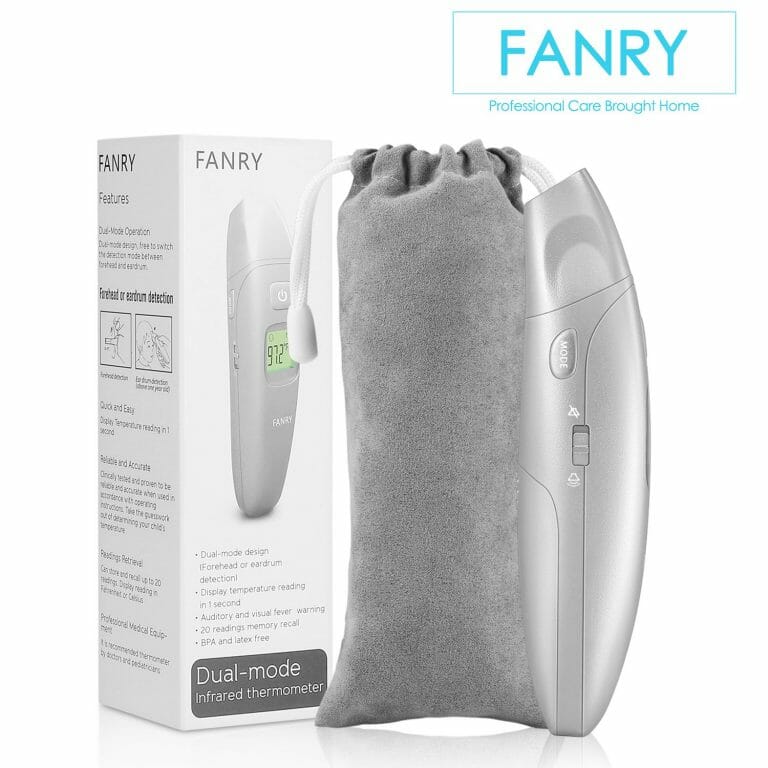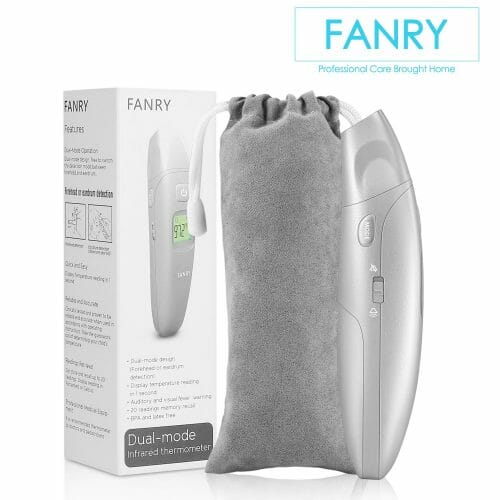 We've had a digital forehead thermometer since Nora was a baby, and I cannot even count how many times it has come in handy over the past 7+ years.
Of course, I can't find the exact thermometer we have anywhere online (7 years must be ancient for baby products these days!) However, based on the features, this Fanry brand thermometer looks similar (with a few extra bells and whistles too)!
I love that all we have to do is hold it on their temple for a few seconds, which is so much easier than putting something under their armpit or in their mouth… a lot cleaner too!
A few years ago, I got a Kinsa Smart Thermometer for free (and I was super excited about how it worked with my phone) but I've hardly ever used it.
I always reach for our digital forehead thermometer as it is faster and easier.
Just press the button, hold it to their temple, and get the temperature!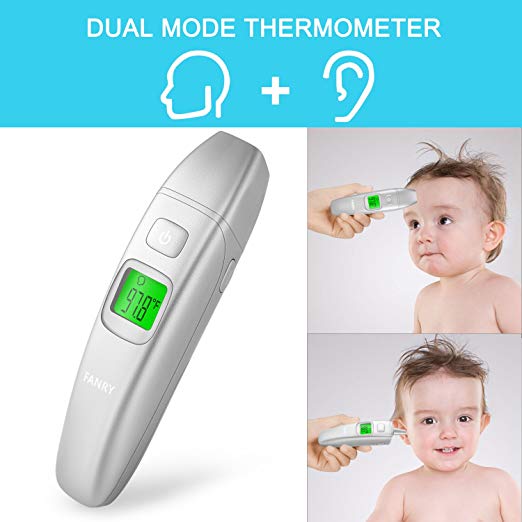 .
Otoscope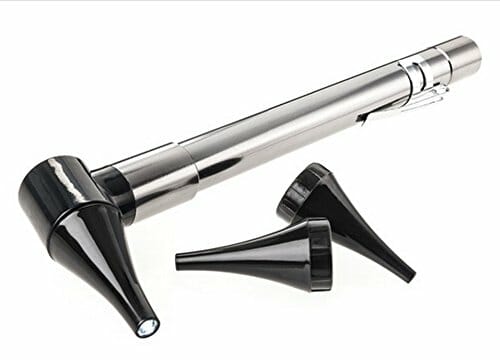 Another item I've more-recently added to my Dr. Mom accessories is an otoscope — and I'm so glad I finally made this purchase.
Our kids honestly haven't had many ear infections (Nora has had 3, Simon only 1) but I've "wasted" my time (and money) bringing them into the doctor to check for ear infections multiple times over the years.
Now, for less than the cost of one doctor's co-pay, I have my own Otoscope and can triage the situation at home, instead bringing them to the doctor every time they complain of ear pain.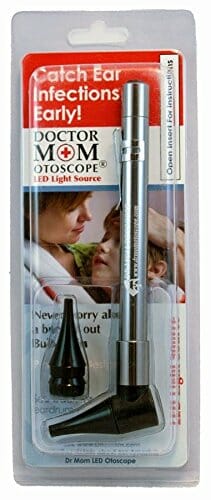 I was originally a little nervous to use an otoscope, but it's amazing how clearly you can see right into their ear canal — it's honestly pretty easy to instantly see if there is redness, fluid, or inflammation. If not, I give them a small dose of pain meds and reassess the situation later that day or the next day.
It's amazing how often the pain is totally gone the next day — and I don't have to constantly wonder if I should bring them to the doctor or not.
.
Electric Pencil Sharpener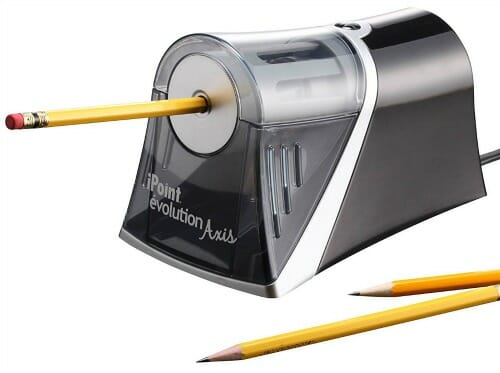 Believe-it-or-not, we never had an electric pencil sharpener until just a few months ago — which means we previously sharpened all our pencils (and colored pencils) by hand!
However, with 3 (soon to be 4) avid colorers, drawers, and writers in the house, our need for an electric sharpener was apparent.
We gave the kids this electric sharpener as an early Christmas gift (we actually wrapped it and let them open it) and they were thrilled. You would have thought they were opening the worlds coolest toy!
Since then, they have all enjoyed sharpening their own pencils, and I am thankful they no longer need me to manually sharpen them anymore.
Now… if I could just find a good crayon sharpener (any recommendations are appreciated!)
.
Matching Spice Jars!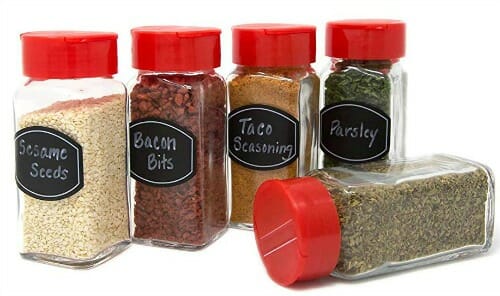 Last year, I mentioned how much I love flip-top spice jars as they are so easy to just sprinkle into my dish (with only one hand). And since I rarely measure my spices and seasonings, the flip-top lids make cooking that much easier for me.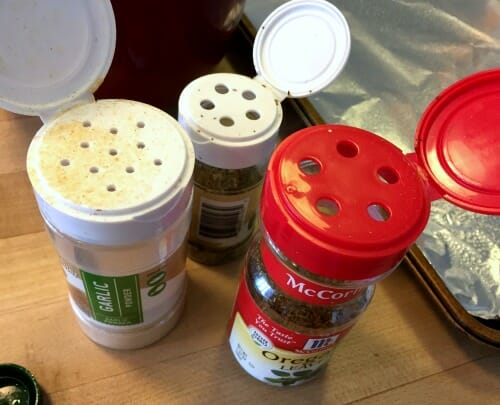 As I also shared in that post, I did not have matching spice jars — and although I'm completely content with non-matching jars, I had my eye on these beauties from Amazon.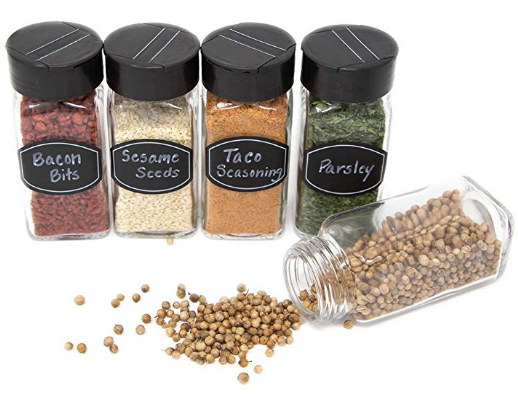 Several months went by, and while I thought about these cute spice jars almost every time I made an Amazon purchase, I never considered actually buying them for myself as they just weren't necessary.
However, when TWO packages of these spice jars magically showed up on my doorstep about a week before Christmas, my excitement could not be contained!
I was completely shocked and surprised to get this fun gift from my blogging friend and social media guru Laura. I emailed her right away and thanked her over and over again. She said she was just glad I hadn't bought them myself yet!
These jars fit PERFECTLY in my tiny pull-out spice cabinet… and they function so well for my needs.
They actually have 2 separate flip tops — half for sprinkling, half for using with a measuring spoon. And the chalkboard labels are just SO fun! They have made my time in the kitchen THAT MUCH MORE enjoyable! Thanks again Laura!
NOTE: I share more about how I store my spices and seasonings in this post.
.
That's all for me this month.
Check out my previous months' favorite things — and feel free to share some of YOUR favorite things in the comments below!