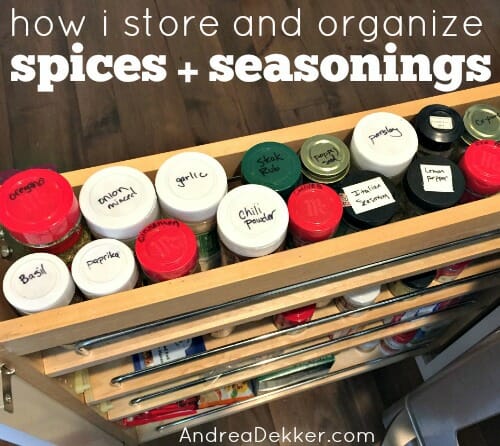 When we renovated our kitchen (exactly 6 years ago this summer) we had a little bit of space to play with on the wall with our stove.
Ideally, I would have liked more room on each side of the stove (and a bigger stove!) but due to the many doorways, windows and awkward "old house quirks" inside the walls of our kitchen and dining area, this is where the stove ended up.
A tiny pull-out spice cabinet is what we decided to do with the leftover space on the side of the oven.
I think it looks pretty good, and honestly, I LOVE this spice cabinet!
It's so easy to access, it's the perfect placement for when I'm cooking at the stove or the island, and it really is a fabulous size as 2 spice bottles fit next to each other.
I don't think there is any other way we could fit as much as we currently have in this small of a space without our handy spice cabinet — so I'm thankful for how everything worked out so well.
Ironically, even though I love this spice organizing cabinet, and even though I personally feel like I have a good system for organizing my spices and seasonings, I've never actually shared anything about it on my blog!
I think it's mainly because I don't have a cute Pinterest-y system with matching jars and chalkboard labels.
Believe me, I've wanted to purchase matching jars so many times, I've even put them in my Amazon shopping cart multiple times… I just never went through with the purchase!
For the record, these are the jars I would purchase! They are square and they'll fit perfectly 2-across in my cabinet. They also have flip lids for easy distribution, and yes, they have chalkboard labels!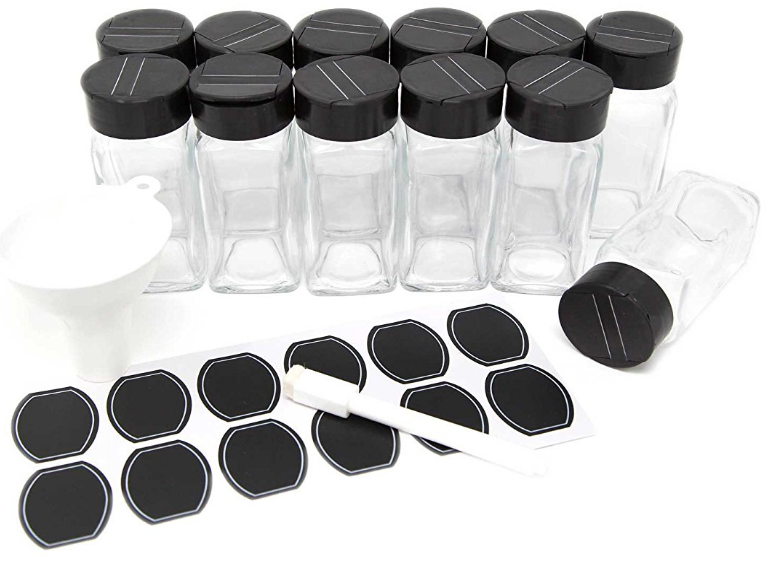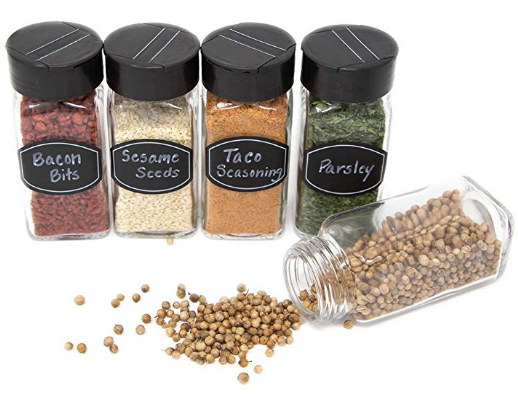 But alas, I'm too 'cheap' to purchase the 3 dozen jars I would need AND then take the time to manually transfer all the spices over, make the labels, etc. etc.
Plus, I like how my current system works just fine… and normally, no one but me sees the inside of my spice cabinet!
Some of my spice bottles are SO old, but since I buy in bulk (usually from Penzies' Spice or Costco) I simply refill my bottles as necessary and keep the larger quantities in our dark, cool pantry cabinet downstairs.
The shelves of my cabinet are adjustable, so I have it set for taller 4 oz. bottles on top, shorter 2 oz. jars in the middle, Jello-size boxes on the 3rd shelf, and larger miscellaneous items on the bottom.
I've been using the exact same set up for 6 years and it continues to work well for me.
As you can probably see, I don't alphabetize my spices, but rather store them according to how often I use them. This seems to make more sense for me and how I cook — especially since it means I often only have to open the drawer a few inches to get my most-used spices from the front.
In preparation to write this post, I searched through some previous photos of our spice rack… I had to laugh when I realized this spice cabinet has long been a source of entertainment for my kids as I cook (another reason I don't spend time alphabetizing them right now!)
All 3 of the older kids have had fun "rearranging" my spices, pulling them all out, putting them all back, etc. etc. and I'm sure Clara will follow suit in a few more months!
So while my spices don't always STAY organized exactly the way I like them, I can still find everything I need in a matter of seconds, thanks to my clearly labeled bottles.
Some day, I might finally spring for new, matching jars with attractive chalkboard labels — and I'll most likely love the results! But for now, my semi-mis-matched system with homemade non-matching labels seems to work just fine!
How do YOU store and organize your spices and seasonings?