A few weeks ago, I shared how I keep our car clean and organized. And then last week, I showed you our "new-to-us" vehicle that we recently purchased after we totaled our other car in an accident.
I had lots of fun cleaning and organizing our new car — and packing it with necessary items like jumper cables, snow brush, blankets, sunglasses, car chargers for our phones… and a first aid kit.
After I shared my tips for keeping our car clean and organized, I received several comments and emails suggesting that I add a first aid kit to our vehicles… especially now that we have a baby.
I figured this was probably a good idea, so as I was getting our new car ready to go, I grabbed an empty diaper wipes container and filled it with a bunch of the sample size products I've gotten for free over the last few months.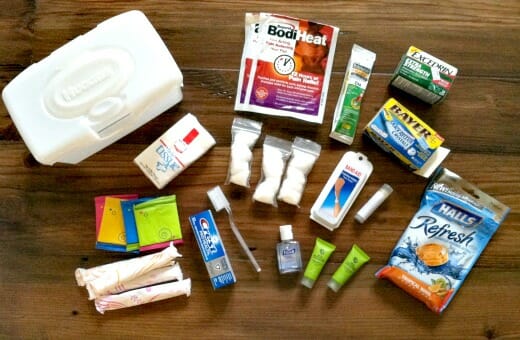 I was surprised how many sample-size items I found in our bathroom cabinet — everything from pain medication, Band Aids, and individual cough syrup packets to cotton balls, tissues, and toothpaste.
Everything was the perfect size to fit in a small diaper wipes container!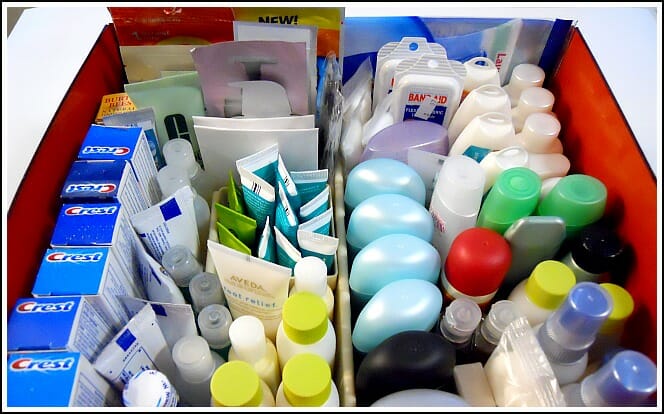 I did have to use a few non-sample-size items, but I was still able to clear out some of the clutter from our box of sample-size products and create a fully stocked first aid kit for each of our vehicles!
Hopefully we won't need to use it very often, but if we do, I have plenty more sample-size products to refill it with!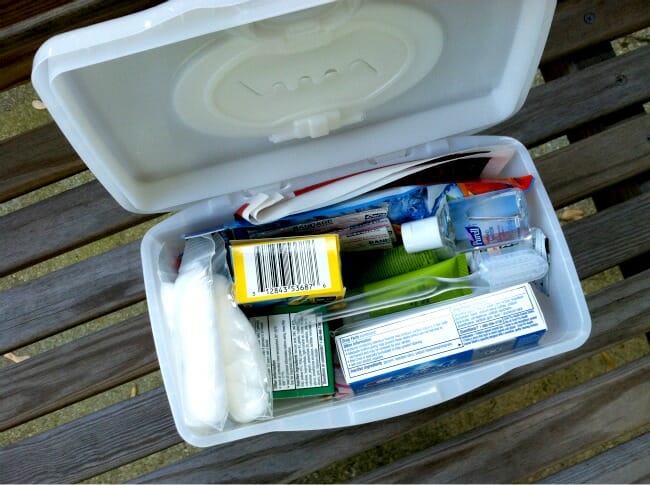 How do you use your sample size products?