It's official, Nora turned 3 over the weekend… and although she is not magically bigger nor does she seem instantly older, I cannot believe how much she has changed over the past 6 -12 months.
I alluded to some of those changes in this post a few months ago, but even since then, she has grown and matured.
She can climb the climbing wall on our swing set… and she'll actually go down the slide by herself now (that took a LONG time!)
Her helpfulness in the kitchen has actually been more 'help' than not lately 🙂
She can fold her own laundry (Nora is strangely "domestic" for a little girl and loves doing household chores!)
She can occupy Simon (when she's not otherwise bugging / annoying him).
And she's just an overall silly, smart, spunky little girl (emphasis on the 'spunk') who knows just how to push her mama's buttons!
.
Nora's Party
Nora requested a Curious George birthday party this year — both because she love the TV/Netflix shows and also because she's addicted to the massive collection of Curious George books at our local library.
Here's the invitation I sent out to our family via email (I made the invitations using PicMonkey).
Nora was SOOOO excited to dress up in our borrowed monkey costume (one of the perks of having a birthday 3 weeks after Halloween). However, I think I was most excited that Dave agreed to dress up as The Man With The Yellow Hat!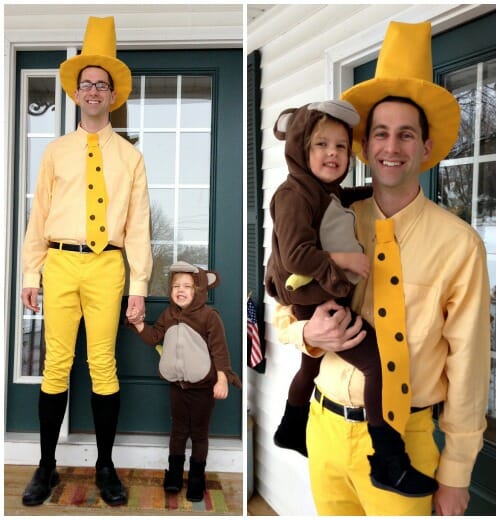 Fabulous, isn't it!
We borrowed the pants, used tall socks to look like boots, I found a white shirt for $0.50 at a local thrift store and then dyed it yellow, and I purchased $4.70 worth of felt at Field's Fabric to make the hat and tie… not bad for about $5!! And yes, Nora was thrilled when she saw Dave in full costume — of course, our guests thought it was pretty fun too 🙂
I think this is the first year she really understood what a birthday party was, and the excitement of turning one year older. She can also count now, so she kept asking how many more days until her birthday.
I figured she would like doing a "daily countdown" so we did a little birthday countdown craft about a week before her birthday. You can't tell, but the picture she so beautifully colored is a picture of Curious George I printed from this website.
Every morning, she would rush downstairs to rip off another link and then count how many days were left until her big day.
She told everyone we met about her birthday countdown — and was ecstatic to rip off the very last link the morning of her birthday. Small pleasures my friends!
We gave her one present when she woke up — the Curious George and the Birthday Surprise book. We read it right away (and then about 15 more times after breakfast). It was definitely a fun way to start off her day!
FUN NORA QUOTE: the night before her birthday, when I was putting her to bed, she asked if I was going downstairs to set up the tree. I was somewhat confused and asked why she thought we needed a tree. She said that the presents go under the tree and she knew she was getting presents so she just needed me to set up the tree.

Apparently she's getting Christmas mixed up with her birthday 🙂
.
We had a really simple party this year — just cake, ice-cream, and a few other snacky foods (like banana Runts, nuts, and chocolate covered bananas to go with our monkey theme).
Yes, I was SO happy with how the cake / cupcakes turned out!!
And as always, we only invited our immediate families (Nora's aunt, uncles, cousins, grandparents, and great grandparents). That rounded our party out to 16 people, which is definitely a manageable number.
She was fully spoiled with all her lovely gifts… including a Curious George matching game, more Curious George books, Curious George stickers and coloring books, several handmade items, craft supplies, dress-up clothes, and more.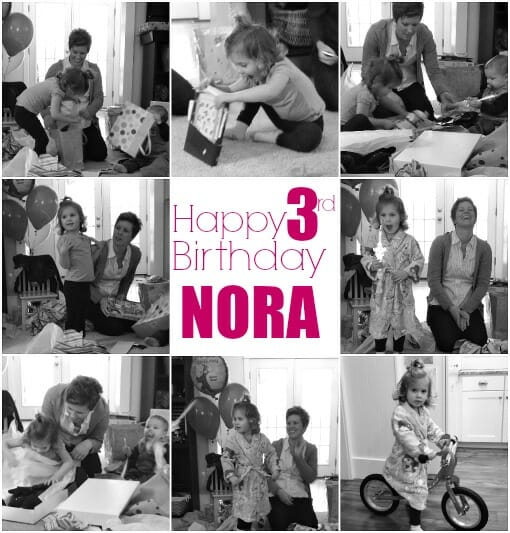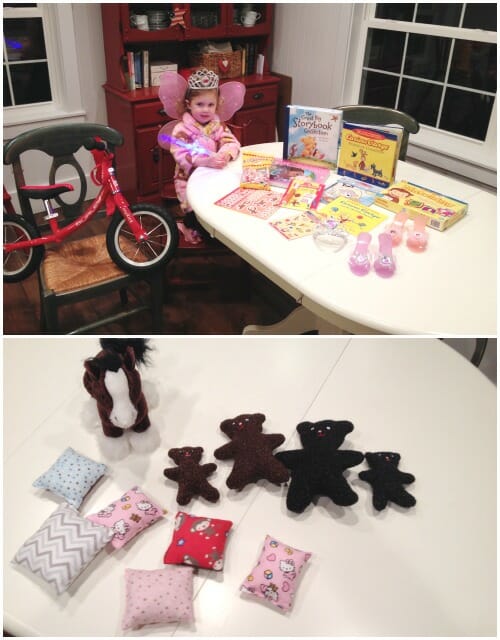 We ended the party with a big surprise for her — a shiny new red bike (just like George gets a "shiny new red bike" in one of our books).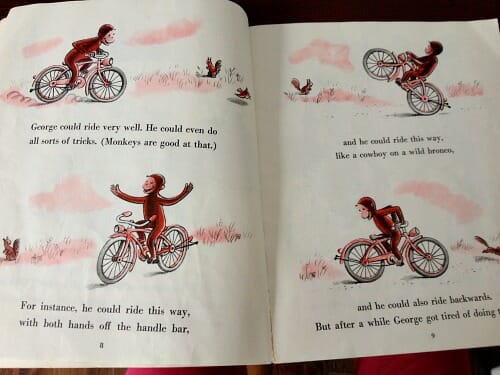 Her current bike was purchased for $5 on Craigslist this summer, and it's a little rickety. So, since she loves riding her bike and since we've heard such great things about Burley's MyKick Balance Bike, we figured it would be the perfect gift for her 3rd birthday.
Of course, it didn't hurt that I have a great contact person over at Burley who graciously offered to send us this bike to help celebrate with Nora (thanks Burley — we love your stuff!)
Normally, it's not snowing in Michigan yet, but due to the insane amount of snow we've had already, we might just have to ride it around the basement this winter!
.
Oh, and we made sure to measure her height on our growth chart… she has grown almost 5 inches since last year!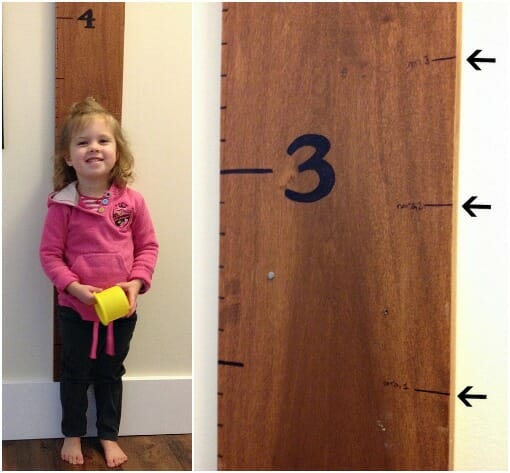 I know several of you have mentioned you're interested in throwing a Curious George Birthday party as well. If so, here are some of the resources I used — as well as a bunch more helpful links that I didn't personally use, but figured some of you might like them!
Resources:
GENERAL PARTY IDEAS:
Curious George party ideas, printables, games, recipes, etc. from PBSkids.org
More game and party ideas
One of the most elaborately decorated, totally WAY over-the-top Curious George parties I've ever seen (please don't try to recreate this; you'll drive yourself crazy. However there are good ideas you can probably take from it and use in your own, more simplified way!)
Boatloads of Curious Geoerge products on Amazon.com
Curious George and the Birthday Surprise book (we gave this to her right when she woke up on her birthday)
CAKE / CUPCAKES / and other FOOD:
Here's where I learned how to create the Curious George body out of icing, freeze it, and then place it on the cake
This is the buttercream frosting recipe I used (the cake was just made with boxed mixes!)
How to make a very simple Curious George Face Cake (this was my back-up plan if my cake flopped).
Here's a little more "fancy" Curious George Face Cake — but still relatively straight forward
Another really cute chocolate, peanut butter monkey cake.
Super cute Curious George (or any type of Monkey) cupcakes.
Chocolate Chip Banana Cupcakes
Chocolate Chip Banana Bread (recipe from my blog — and these are amazing!!)
"Monkey Tails" (a.k.a. the recipe I used for chocolate covered bananas)
FREE PRINTABLES:
FREE Curious George printables, coloring pages, and party ideas.
Printable Curious George color pages (I used the balloon one for my cake idea)
.
Happy 3rd Birthday Miss Nora!