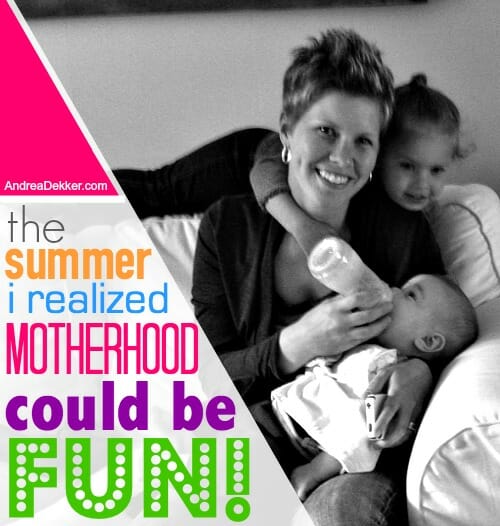 I always knew I wanted to have children at some point in my life — although, as I've mentioned before, I've never been the type to go goo-goo, gah-gah over babies or young children.
My family members would often joke (in a very affectionate way) that they didn't know what I would do when I had children of my own since I really didn't care for little people all that much. But I figured I could handle it.
And then Nora was born…
There were many, many days in the first 18 months of her life when I seriously doubted my parenting abilities. I knew parenting would be a whole new ball game for me — and that it would be hard work. However, I never could have imagined how difficult it would actually be once I was the mom.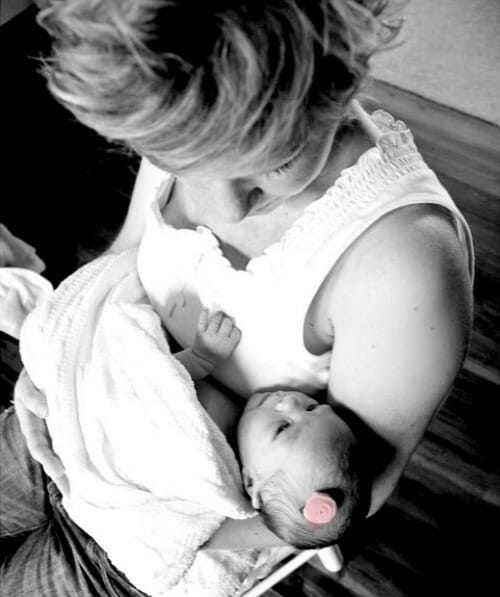 You know those ladies who tell you "enjoy every moment, they grow up too fast" when you're waiting in the checkout lane with your screaming infant or 'tantruming' toddler?
Well, they're right… sort of 🙂
Personally, I would be lying if I said I have "enjoyed EVERY moment" of my children's lives. However, I will agree that they grow up fast — maybe not TOO fast, but it does go quickly.
This past summer was a BIG summer for Nora, and I can't even tell you how much fun it was for me to share it with her. Over the last 3-4 months, she has officially shed her toddler ways behind and is now a "little big girl" — and a pretty cute one if you ask me.
Physically, she has grown almost 3 inches in as many months — which of course, means all her pants are WAY too short.
But more than that, she has grown into a "little big girl" as I like to call her.
She's potty trained. She's taking showers instead of baths. She can almost fully dress herself. She can identify letters and numbers, she can spell her name, and tell you what letter almost all our family member's names start with. She can sing and memorize songs like you wouldn't believe. She notices EVERYTHING — and then asks 37 questions about everything!
She can spend the day with Dave, our parents, or even a babysitter. She can be away from me for extended periods of time without totally coming unglued. She has even slept over at both our parents' houses for a night (miracles happen my friends!)
Yes, she knows exactly how to "push my buttons" and she pushes them often. She's still not regularly sleeping through the night. She's still super sensitive and still "needs" me more than most almost-three-year-olds need their moms…
But she is SO much fun!
Thanks to Dave being home all summer and Simon taking bottles like a champ, Nora and I did a lot together this summer.
We went to pool parties, went to the park, went out for breakfast, had picnics outside, road on the carousel at the mall, played with neighbor friends, went shopping (yes, you read that right), and all sorts of other fun adventures we could have NEVER done in previous summers.
Add to that the fact that Simon seems to be a relatively easy-going, super-chill baby… and my perspective on motherhood has had a complete 180-degree shift.
I'm no longer dreading the fact that we would eventually like to have more than 2 children (there were honestly several months of my life when I didn't know if I'd make it past 1 child).
I'm no longer counting down the days until they turn 2.
I'm no longer feeling totally and completely overwhelmed with a job that (to me) seemed like it should come so naturally and be relatively simple.
And for the first time in my life, I understand why so many mothers actually seem to enjoy motherhood.
Although I would not have admitted it so bluntly at the time, I absolutely hated almost every single day of my first year of motherhood. It was horrible and 100 times worse than I could have ever prepared myself for (and I went into motherhood expecting what I thought was 'the worst').
Every single day brought new challenges that I did not feel prepared to deal with — not to mention the exhaustion, struggles, tears, feelings of failure, self doubt, anxiety, and more tears.
And then, all of a sudden, I just started to enjoy myself.
I'm sure there are many factors for my attitude change — but I'm positive that one of the main factors was because right around 2 years old, Nora decided to become a little bit more independent and didn't need me for every single moment of her life.
Even as somewhat of an introvert, I was totally unprepared for the amount of "suffocation" I felt being at home with a baby 24/7 (especially a baby like Nora who was so high needs).
The sense of independence she has allowed me over the past 6-8 months has made all the difference in the world.
And then Simon was born and it got even better.
I realized how wonderful a more 'normal' baby could be — along with how much fun it was to watch Nora interact with him.
I realized how much easier everything was the 2nd time around (thanks in large part to everything I learned the hard way with Nora).
I realized how simple it was to get out and about with a very self-sufficient 2-year-old and leave the bottle-fed baby at home with dad (without worrying that the baby would scream non-stop for hours without me around).
I realized how enjoyable life was when I was able to get away for 2 hours all by myself (or just with Dave), knowing I would return to happy children instead of a little girl with blood-shot eyes and a snotty nose.
I realized that motherhood can be REALLY fun!
It may have taking me two kids and 2.5 years… but I came around eventually!
Although I'm not totally wishing away the baby years, I am still super excited to see my children continue to grow into their little-people personalities.
I don't think I will ever be the mom who is sad and depressed when her last baby heads off to school — but at least I'm learning how to enjoy the current baby days without completely wishing them away.
No, it's still not easy. Every day is not always glorious, fulfilling, and perfectly scheduled. There are really hard days, weeks, (and months!) and days I definitely wish we could do-over.
However, I no longer think the moms who gush about: "Motherhood is all I've ever wanted to do with my life." are crazy or putting up a front.
Who knew being a mom to children under 5 could actually be fun 😉