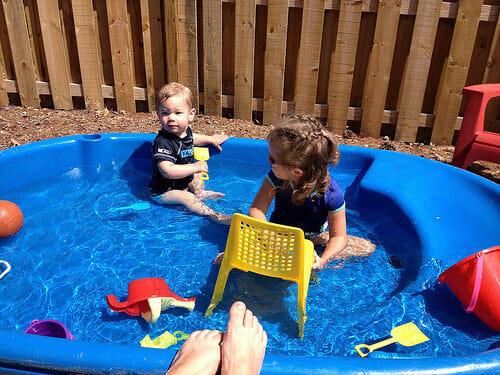 The start of summer is officially less than one month away — yay!
Although this is often a very full and busy time of year for many of us (especially teachers and those with children finishing up the school year), it's also a great time to put a little effort into getting organized BEFORE summer starts.
I know Dave is looking forward to a break from school, and I'm sure you can all imagine how excited I am to have him home ALLLLLLLLL summer long (especially when the new babe arrives!) However, before we officially swap our backpacks for beach bags, there are a few simple things I try to do before the lazy days of summer arrive — otherwise, my summer days tend to feel more rushed and busy than "lazy"!
1. Clear paper clutter.
Schools are really good at sending children home with lots and lots of paper… so before you close up shop for the summer, take a little time to sit down with your children and go through all their paperwork from the past school year.
Toss anything you/they don't need, use, or want; and encourage them to weed out some (or most) of their school art projects and crafts. They only need to keep the ones they love — and if they insist that they love all of them (which they probably will) explain that there is not room to keep everything. Believe me, this is a good lesson to teach them, even at an early age!
Take a picture of the actual artwork or project and put that in your photo album instead of keeping all the actual art. You could even photograph your kids WITH their artwork if you wanted.
This is also a great time to weed through your filing cabinets and purge, shred, and recycle any papers you no longer need. Tax season is over, you should have your returns back by now, so anything you didn't need for your taxes could potentially be purged!!
2. Stock up on summertime activities.
It doesn't have to be anything fancy, but now is the time to stock up on some fun activities to keep you and your kids or grandkids busy during those long summer days.
Look for deals on board games, DVD's, craft supplies, water balloons, sprinklers, sidewalk chalk, bubbles etc. Search the internet for creative activities to do as a family. Scour garage sales for dress-up clothes, scavenger hunt items, and "prizes" for whatever reward system you might implement.
Now is also the time to finalize the plans for any family vacations or day-trips you would like to take. Once summer is here, it's too late to try to get those plans in place, so start planning your travel now to avoid higher prices on last-minute plans.
3. Look over your calendar.
Speaking of travel plans… lazy summer days have a way of suddenly becoming jam-packed with all sorts of sporting events, vacations, trips, play dates, BBQ's, pool parties, weddings, summer camp, and much more.
Take a few moments to glance over your calendars for June, July, and August — do you need to make any last-minute plans? Do you need to request time off from work? Do you need purchase gifts or prepare anything in advance?
Once the kids are home from school, you might not have as much time… so do it now!
4. Swap out seasonal clothing.
If you haven't taken the time to weed through your closet over the past few months, now is an excellent time of year to do that. I've always found that a change in season makes me more likely to purge items from the opposite season to make more room for the current season. If you realize you haven't worn something all winter long, it's probably safe to toss it into the donate bag (at least in my own experience).
Spring is a great time to go through kid's clothing as well — especially since kids grow so stinkin' fast that there's a good chance last summer's clothing won't fit. Take an afternoon to go through their clothing and figure out what you can pass down to the next child, what you should donate, and what you'll need to buy for the upcoming season (remember to write down what you need).
I've been pretty lucky with Nora this time around — all her pants from last summer work as capris for this summer and many of her skirts and shorts still fit. Her shirts, on the other hand, are all way too small 🙂
5. Get your house in shape.
The best time for deep cleaning and organizing is probably NOT once the kids are home full-time tramping dirt inside every single day.
If there are any major (or even minor) cleaning and organizing projects you want to tackle… do them now! Unless of course, your husband is a teacher and you're waiting for him to be done for the summer so you can start renovating yet another bathroom 🙂
Even though my kids aren't in school yet, I often like to do some extra cleaning projects in the spring — just because I like things to feel more "fresh" and clean once the weather warms up. I'll often wash my windows this time of year, as well as washing pillows and comforters when I remove extra blankets from our beds thanks to the warmer weather.
It always feels good to get some of these season projects crossed off my list — and if my kids were in school, I would most definitely try to get as many of those cleaning and organizing projects done ASAP!!
I realize these activities probably don't sound super fun or exciting right now — especially for those of us who have just braved months of frigid weather and want to ditch our to-do lists to finally head outside and enjoy the warmer weather.
However, by taking just a little bit of time each week for the next 4 weeks, we'll have a bunch of tasks completely done BEFORE summer starts… which means we'll be able to enjoy those precious summer months EVEN more.
Personally, I'm planning to do LOTS of relaxing with a new baby sleeping on my chest this summer, so my goal is to get as much done as possible before summer starts!
How are you preparing for summer?