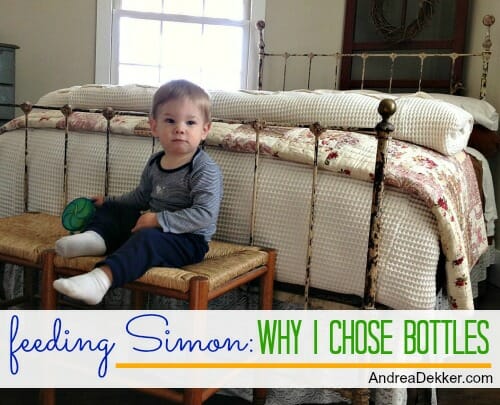 Now that Simon is almost 15 months old, I feel like it's time to officially publish this post.
The truth is, I've been compiling ideas and content for this post for over a year now — and I'm SOOOOO excited to finally be sharing it with you here on the blog (especially since I've gotten SO many questions about this subject).
The Back Story – Why I Chose Bottles:
My nursing experience with Nora was… well… long! (You can read more about it here.)
Nursing Nora wasn't bad or painful or difficult in anyway. In fact, it was VERY VERY easy, fast (7-minutes every time!), pain-free, and natural.
I don't say this to brag, but rather, to put the rest of this post into perspective. I want to be very clear that the reason I didn't want to nurse Simon was not because of an emotionally or physically painful experience nursing Nora.
No, not at all!
The reason I didn't want to nurse Simon is because I literally couldn't handle the thought of being totally tied down by a baby's feeding schedule all day, every day, for the next year (or more) of my life.
I needed to do bottles for my own sanity.
I honestly wasn't as concerned with what was IN the bottles as the fact that he would drink from a bottle — and I realize this might sound naive, selfish, or even completely stupid to some of you; but it's the truth.
I was ready to go with my MAM bottles (which are totally amazing by the way), a breast pump that I got for free through our insurance company, and a whole bunch of free formula that had been sent to me from various companies or purchased with high-value coupons.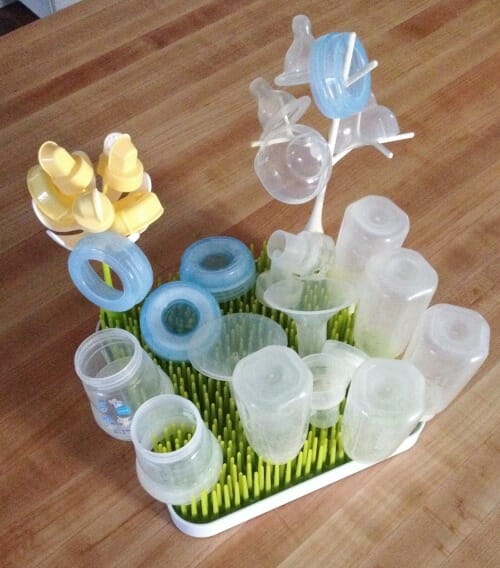 The first 6 weeks:
My "plan" was to nurse Simon for 6 weeks and then switch over to bottles with pumped milk for 6 months before I completely transitioned to formula between 7 and 8 months.
Part of my little plan was selfish — I wanted to lose my baby weight and I knew nursing would help. I also know how beneficial breast milk is for a newborn, and wanted to give it a go for at least a while.
Plus, our hospital and doctor's office very heavily push breast feeding, and I honestly just didn't want to deal with explaining why I wasn't planning to breast feed.
So I nursed for 6 weeks, lost most of my baby weight, gave all those good nutrients to my baby, satisfied my doctors, and all was right in the world 🙂
Then… I switched to bottles!
The next 6 months:
As I mentioned above, my goal was to pump for the next 6 months. If it went well, I would keep doing it longer. If it was a huge pain and I hated it, I would quit earlier. And I fully intended to supplement with formula, even if I was producing enough milk, because I wanted Simon to get used to the different taste.
To start out, I simply pumped after every time he drank a bottle (which was A LOT!) After a couple weeks, I transitioned into a pattern where I could pump about 4 times a day to produce everything he would drink for the day (usually 5-7 bottles). I used formula at night as it was faster and easier.
This meant that I had a routine — which was my goal all along!
I knew that no matter how often, how much, or how little Simon ate during any given day, I had my OWN schedule and was no longer completely at the mercy of HIS schedule.
I pumped first thing in the morning, during his morning nap, during his afternoon nap, and before I went to bed. Then I warmed up that milk as needed throughout the day.
Sometimes I had extra milk at the end of the day, sometimes I added a little formula if I ran short.
I did not put any pressure on myself, I just pumped my 4 times and said "enough is enough".
Transitioning to formula:
Around 4 months old, I started to purposefully cut back on pumping and add in at least 2 ounces of formula to every bottle.
Part of this rationale was because I wanted to have a slow transition to formula and not just go "cold turkey", but also because we were planning to go on vacation with Dave's family around that time and I didn't want to be pumping as often with all kinds of people around (no, I didn't actually pump in front of anyone!)
So, I cut back to pumping 3 times a day and supplemented the rest with formula.
At 6 months, I cut back to pumping twice a day, at 7 months, I cut back to once a day, and around 7.5 months I was a free woman — except for the fact that I was pregnant again 🙂
This also happened to be soon after Dave went back to school and about the time Simon was starting to cut back on napping — so not needing to pump anymore was a huge relief.
Simon had no issues with formula, and I actually used 3 or 4 different brands in order to use up all my freebie formula I had been accumulating.
Once we were out of the free stuff and the coupons stopped coming as regularly, I settled on the Meijer brand formula (our local grocery store brand) and continued with that until he was a year old — of of course, we also introduced solid foods as time went on.
Switching to whole milk:
A few weeks after his first birthday, I started adding a little whole milk into Simon's bottles… to my surprise, he never seemed to notice. He guzzled his bottles just like he always had — and within a week, I had him fully switched over to whole milk!
Now, at almost 15 months, he still drinks 3 full bottle a day (when he wakes up, around nap time, and before bed) with meals at the table in between.
He still doesn't have the hang of feeding himself, so I hold the bottles for him — hopefully he'll get better at this before the baby arrives! I'm actually hoping to fully nix the bottles here soon and just put his milk in a sippy cup, but he currently won't drink it that way 🙂
My Opinion (PROS of bottles)
1. It saved my sanity!
I know it might sound so weird for those of you with different experiences, but I just HAD to know that I could have a baby without being 100% solely responsible for his eating needs.
I needed to be able to be away from the baby for more than 1.5 hours and I needed to know that even if something happened to me, my child could still eat.
This, by far, is the #1 reason I knew I wanted to do bottles with Simon — and for me, it GREATLY outweighs all of the cons I've listed below.
2. More modesty.
Again, I realize many people will not understand this, but I REALLY REALLY REALLY don't like nursing a baby in public. And when I say "in public", I mean… anywhere that is not the chair in the corner of our nursery.
I don't even like people to know that I'm nursing… even if they aren't in the same room as me. And yes, I fully understand how crazy this sounds, but I also can't help that I feel this way.
So imagine how torturous it was for me to nurse Nora for 21 months. Not only did I feel awkward and self-conscious every single time I had to leave a room or public place to go nurse her in private, I also got SOOOOO many comments and snide remarks from people when they realized I was nursing a toddler with extremely advance verbal skills — so she essentially walked right up to me and asked to eat!
3. Convenience.
When it came to bottles and pumping, there were countless times when bottles were SO much more convenient than nursing (at least for me).
Not only could I could literally feed him anywhere that had water (or anywhere I brought my own water) I could also pass him off to anyone else to feed him if I was busy doing something else.
This meant I could leave and not worry about being back by a specific time… and I didn't have to worry about leaving a screaming baby with someone who was completely helpless because they couldn't feed him.
Also, I should mention how glorious it was not to be confined to nursing tank tops for 21 months!! I could literally wear whatever I wanted to wear without worrying if it was something I could easily nurse a baby in at a moments notice.
My Opinion (CONS of bottles)
1. Extra Hassle.
Obviously, I don't need to tell you that pumping, storing the milk, warming up the milk, feeding the kid a bottle, then eventually washing the bottles and pumping stuff is A LOT more hassle than just nursing a baby.
Duh!
It was definitely more work to go this route, but like I mentioned above, my sanity was worth every single second I spent pumping and warming milk. And Dave definitely helped a ton with the dishes!
2. More expensive.
I was fortunate to get all my pumping supplies for free through our health insurance (seriously, you should check it out because many insurance companies offer this) and all my MAM bottles for free thanks to a couple promotions I've done for them on my blog. However, the cost of formula is definitely more expensive than free breast milk.
Those of you who know me, know how frugal I am — so for me to be willing to spend money on formula when I had a sufficient, completely free milk supply at home just goes to show you how much I HAD to do this for myself.
At one point, I thought about keeping track of how much I spent on formula… but then I decided that was a waste of time. Plus, I guarantee we spent more money on food therapy for Nora than I did on formula for Simon!
3. Lack of Convenience.
Yes, I know I'm completely contradicting my "convenience" PRO I listed above… but I felt the need to put it in both the pros and the cons for the reasons listed out below.
While there were hundreds and hundreds of times when I thought, "wow, bottle feeding is so much more convenient than nursing", there were also plenty of times when I thought, "it sure would be easier to nurse him right now" (like on an airplane or at the park when mixing bottles isn't as easy to do.)
However, when it comes to the convenience factor, I would definitely say that the "pros" outweighed the "cons" for me.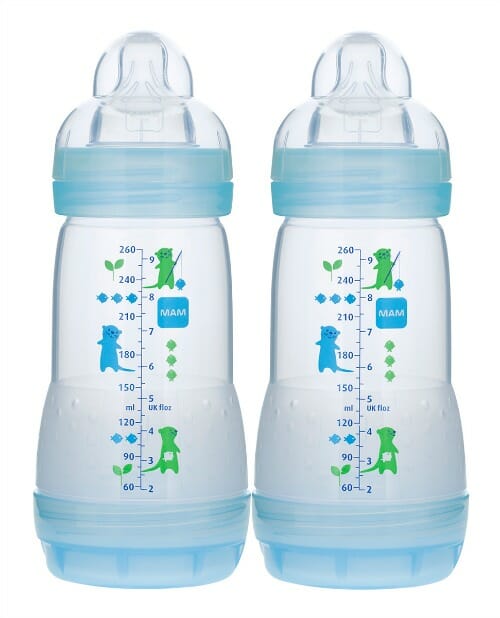 My Plan for Baby #3:
Honestly… I don't have one!
I'll start out nursing again, just like I did with both kids. And then I'm just going to see how I feel. If I want to keep going, I will. If I want to pump and do bottles, I will. If I want to switch to formula, I will.
I don't care what anyone else thinks I should do, I'm just going to do what I think I should do.
3 More Parting Thoughts:
#1. As I wrap this post up, I feel it's very important to mention that although so many women claim to be "shamed" for not nursing their babies, I honestly NEVER EVER felt like anyone was looking down on me for using bottles and formula.
In the last 15 months, only ONE person has even made a somewhat snide comment about the fact that I used formula… and that person isn't a parent yet so I have to cut her some slack because she truly doesn't understand.
Although I wouldn't have changed what I did based on anyone else's opinions, it was very refreshing for me to realize that my friends, family, acquaintances, and blog readers would be so open-minded and supportive of my decisions — especially the ones who are extremely pro-breastfeeding.
.
#2. Although I fully realize, believe, and accept that nursing IS the best for babies (and really good for moms too) I am confident that I was a better mom for both Simon and Nora because I used bottles and formula.
Yes, maybe Simon missed out on a few months of extra nutrients, but he has gained 15 months of a mama who felt like she was in control and not going crazy. And I'm guessing that in the broad scheme of life, a happier, less stressed mom with a more positive presence in his life will make a bigger impact than the fact that he drank formula for 5 months.
.
#3. I don't care what anyone says about the inability to bond with a baby if you're not nursing… there is absolutely NO denying that my little boy loves his mama more than anyone else in the whole world.
I am with him every day, all day. I do everything for him and he knows that I know what he needs. He comes to me when he's hurt, when he's tired, when he's sad, when he's scared… and yes, when he's hungry.
I am his favorite — just as I am still Nora's favorite. That has absolutely nothing do to with the fact that I nursed Nora for 21 months and Simon for 6 weeks. It's simply because I am their mom!
I'm honestly happy to have had 2 completely different baby-feeding experiences as now I feel like I'm just THAT much more prepared for whatever is to come with baby #3.
If he loves nursing and we go that route, I know I can do it, and I'll be thankful for the fact that I'm able to nurse.
And if we decide to go the bottle route, I know what I'm in store for and can look forward to a little extra freedom (and lots of bottles to wash!)
Either way, I do realize that in the broad scheme of my life, this is a very short season of life… and no matter what, we will all survive 🙂
I'm convinced that how we feed our babies is not nearly as important as how we love them… and as long as we keep loving them, I think we'll end up just fine.
My boy sure is loved!