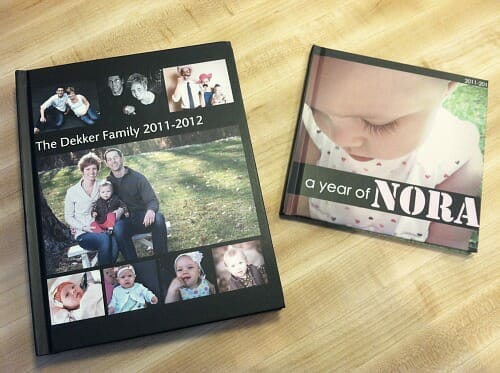 I'm really excited about today's post because I get quite a few questions asking how we store, organize, and back-up all our photos — and for the past couple of years, I've actually been in the process of finding the photo management system that works best for me.
I think I've finally found it! (at least for now)
I know that photos can be overwhelming for so many people (myself included); however, I feel like I FINALLY have a great system figured out. I no longer get that overwhelming feeling when I look at all the photos on my phone/camera/computer and think "what in the heck am I going to do with all of these?"
If you're still at that overwhelmed point, just keep trying. It took me several years of trying new things, tweaking my system, and experimenting with different ideas before I finally found the method that works best for me… so don't feel bad if you've tried and failed a few (or many) times!
Here's how I'm currently managing all our photos…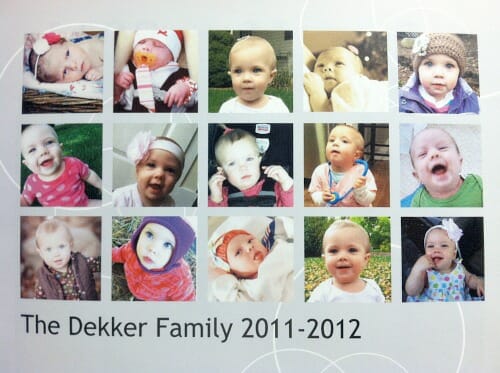 Step 1 = Take Photos

Sadly, Dave and I only have about 50 pictures total from years 2-4 of our married life. I was simply so overwhelmed with photo clutter that I didn't want to add to it. So after the wedding, honeymoon, and new house pictures during our first year of marriage, I stopped taking pictures altogether.
Once I decided to get serious about organizing all our photos, I realized that I also had to start taking more photos — thankfully, Nora makes it easy to take a bunch!
aww… I hardly even remember when she was that tiny!
Step 2 = Get Photos Off Your Phone or Camera
Some of you are probably smiling right now… because while it's often quite easy to TAKE pictures, it's a whole different story to actually get those photos off your camera and onto your computer or portable hard drive.
My best advice would be to have a specific day/time once a week where you plug your phone or camera into your computer, transfer all the images over, and then delete the images from your device. This is also a great time to delete any photos that are duplicates or poor quality.
Since we have Apple computers and we both use iPhones as our cameras, our pictures automatically upload into our iPhoto Photo Stream — which is accessible from both computers, both phones, our iPad, and any other Apple device we want to connect to.
This obviously saves some time, and makes Step 3 really easy too 🙂
Step 3 = Organize Your Digital Files

I personally prefer to store all our photos digitally (I rarely ever print photos)… and since we have quite a few photos, I knew we'd need some sort of system to keep them organized and easy to find. Thankfully, as I mentioned above, our photos all transfer directly to our Photo Stream within minutes of taking a picture — AND they "magically" organize themselves by month and year 🙂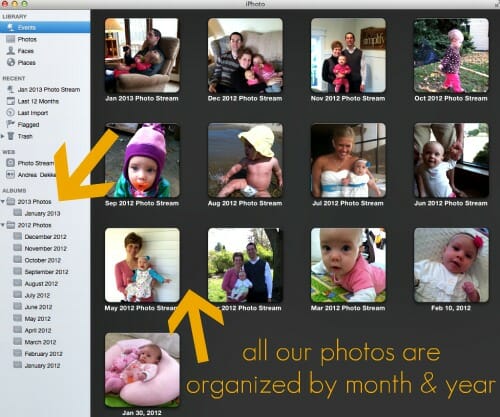 I like storing them by month and year because that makes it easy for me to find specific pictures; however, if you have another organizing method that works better for you — go ahead and do it that way.
Step 4 = Back-Up Your Digital Files
Because all our photos are saved in our Photo Stream — we don't have to worry about losing them. Even if one or both of our computers crashed, we would still have access to ALL our photos via any other Apple device or by logging into our Apple account from any device with the internet.
However, since I'd rather be safe than sorry, we do still have a backup of all our photos on this portable hard drive that we keep in our fire proof safe. We actually back up everything on both our computers once a week — and back up our photos at the same time.
Step 5 = Do Something with Your Photos
In my opinion, it seems rather pointless to go through all the steps above if you're never going to DO anything with your photos. As I've mentioned before, I rarely ever print pictures… however, I do print digital photos albums so we can look at our pictures whenever we want.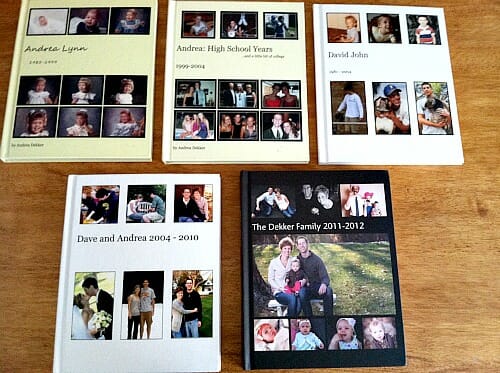 These 5 books contain every picture from when Dave and I were born through the last day of 2012!
We also have a screen-saver that pulls from our Photo Stream, so our computers act like huge digital frames displaying pictures all day long.
More Photo Organizing Questions:
How do I edit my photos?
I'm currently using Ribbet.com and PicMonkey.com (both of which offer free versions) to edit all the photos for my blog. I also edit many of my other photos just so they look a little nicer in our digital albums. I have my editing down to a science so it usually only takes 20-30 minutes to do a huge number of photos (and I do this maybe once a month or so).
Obviously editing the photos isn't a necessary step in getting organized, but if you'd like to eventually print your photos for scrapbooking or to make digital albums, nicely edited photos will make a difference in the end results.
What did we do with all our old (non digital) photos?
We scanned them ALL in, saved them digitally, and then created digital albums (I talk a bit more about this process here.)
The whole process wasn't as bad as you might think — and I'm just SO glad we did it. The top 3 albums in the picture below are from Dave and my childhoods (2 books from mine, 1 book from his).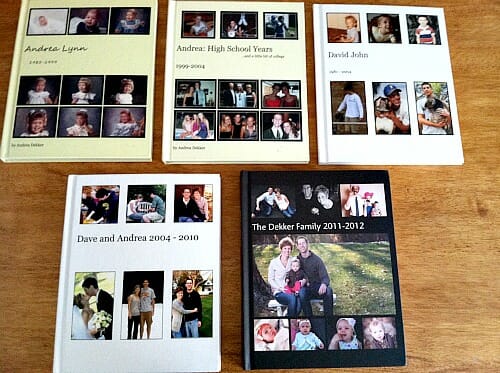 Once the photos were scanned in and organized, we backed them all up on our portable hard drive and gave the photos back to our parents (they wanted them back). Then I made my famous digital photo albums… which Nora absolutely LOVES looking at!
How do I make my digital albums?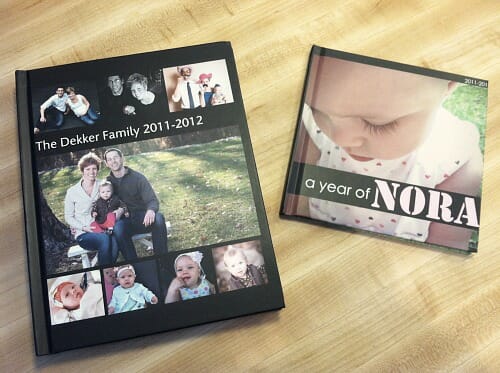 I make our photo books using Blurb.com.
I was first introduced to Blurb books from a coworker (several years ago) and honestly, these books are the key factor in helping me organize, display, and enjoy our photos in a very clutter-free way.
The thing I love about creating digital books with Blurb is that I never have to worry about photos falling out of the book or getting out of order; I never have to worry about rearranging or updating framed photos, I don't have to store huge bulky books, I don't have to weed through boxes and boxes of unorganized photos, and I don't have to worry about losing our albums — because if worse came to worse, I can always just reprint the books.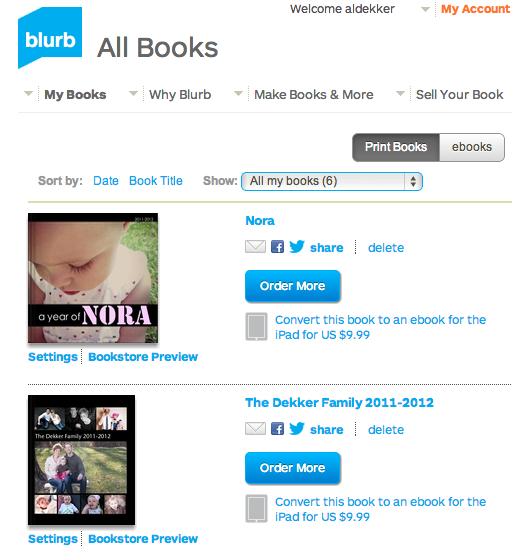 Here are a few pictures of our most recent books: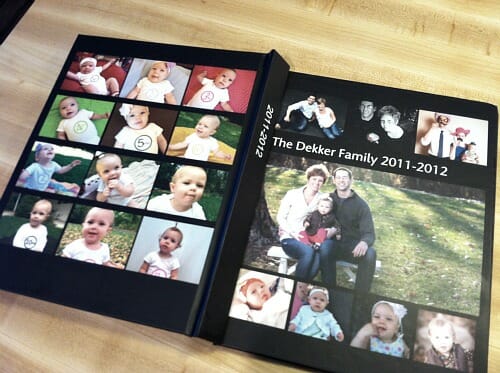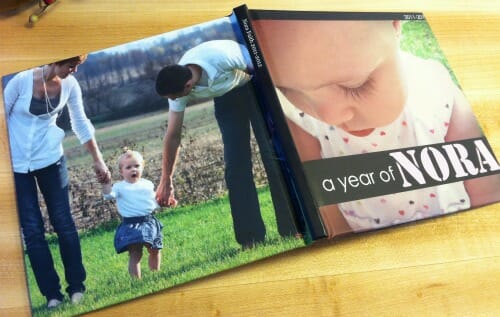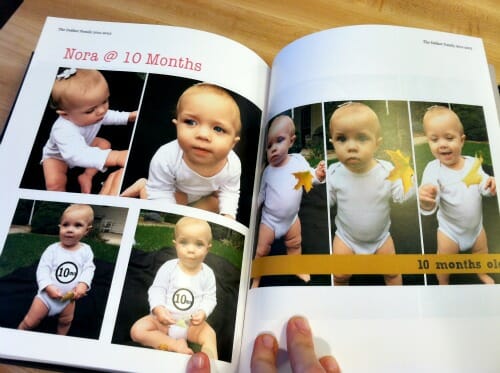 I created one template for each of Nora's monthly photo-shoots so they all looked relatively the same. Then I created another page template for the first page of each new month. I included a short paragraph about the things we did during that month.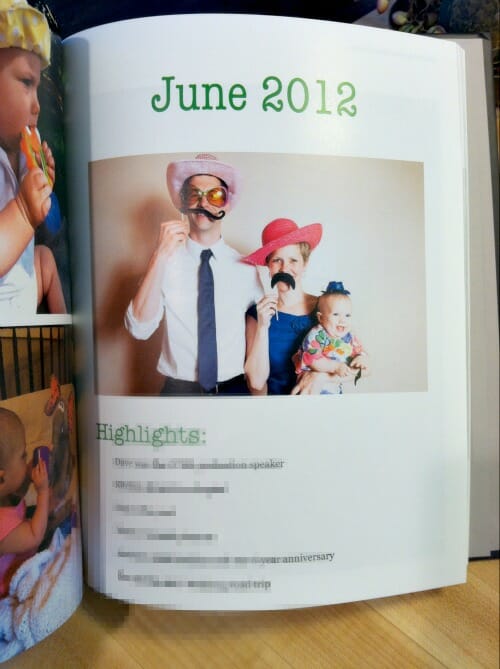 I got a little more creative with the last book I made of just Nora (it was a much smaller book with only a few of my favorite pictures). I did several 2-page spreads with pictures layered on top, cool text, full-bleed layouts, etc.
I'm so incredibly pleased with how it turned out!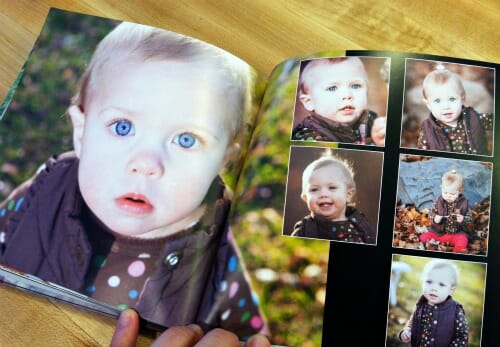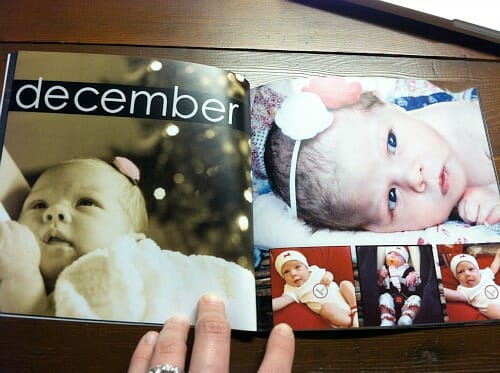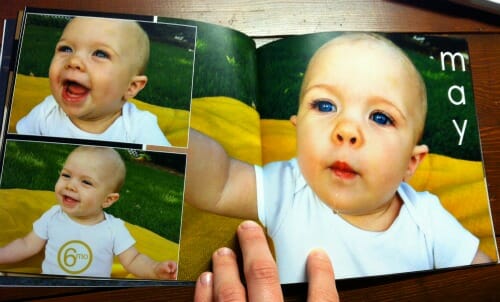 From now on, my goal is to make one "Family" photo book for each calendar year, and then one smaller book for Nora.
Thankfully, Blurb allows me to work on multiple books at a time, so it really isn't that much work to create multiple books — especially since I'm using most of the same pictures for the individual smaller book.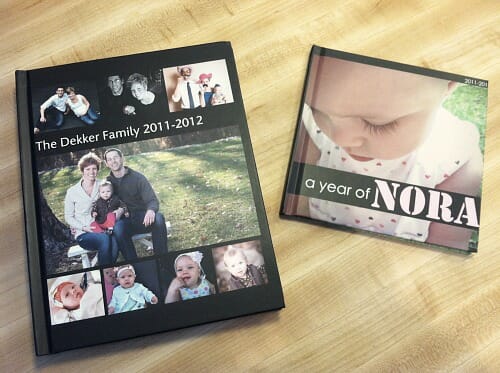 OK, so I think that covers almost everything!
I usually work on my photos on a monthly basis — so at the end of the year, all I have to do is finish December and do a quick proof-read of the entire book. Then I wait anxiously for 10 days while the books are printed and shipped
I think Nora and I have looked at the books at least twice every day so far 🙂
Like I said earlier, this is the system that works really well for ME — however, I'd love to know the tips, ideas, and photo organizing systems that work well for you!
How do you manage all your photos?