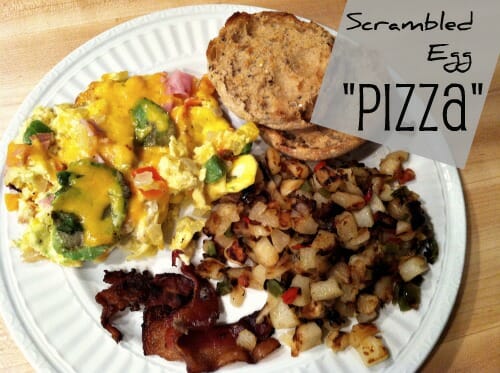 I realize you might be thinking that Scrambled Egg Pizza sounds really… interesting (to put it nicely).
I suppose it does!
However, when I was making this the other day, Dave mentioned that it looked like a pizza cooking on our huge round frying pan — and as I thought about it a bit more, I realized that almost all the ingredients I use for this recipe are also pizza toppings (besides scrambled eggs).
Thus "Scrambled Egg Pizza"!
And for those of your watching your carbs — you'll be delighted to know this "pizza" dosen't have a crust!
We often serve this meal for dinner along with fried potatoes, toast, and bacon… delicious!
Recipe for Scrambled Egg "Pizza"
Makes 4-6 servings.
To print this recipe, simply click the "Clean Print" button at the top of this post.
INGREDIENTS:
1 T. oil or butter
1 small onion; chopped
1/2 c. peppers; chopped (I always keep a bag of chopped peppers in the freezer for this purpose)
4-8 eggs; scrambled
salt and pepper to taste
1/2 t. garlic powder
1/2 c. ham; chopped
1/2 c. ground sausage; cooked and crumbled
1/4 c. diced tomatoes
1 avocado; thinly sliced
1/2 c. shredded cheese (we used cheddar)
NOTE: please, please, PLEASE do not feel like you have to follow this recipe exactly to get tasty results. The only reason I provided an ingredients list and "exact" measurements is because otherwise I'll get 100 emails asking for these things 🙂 I don't use measuring cups or a recipe when I make this and it's never ever turned out less then yummy!
This recipe is basically just scrambled eggs with whatever your favorite mix-ins are — so please just use your own tastebuds as a guide. Play around with it and make a yummy scrambled egg pizza YOUR family will love!
DIRECTIONS:
Heat butter/oil in a large covered frying pan
Sauté onions and peppers on medium heat until cooked through
Pour eggs over the veggies in a thin layer (I like to swirl the pan around so the egg batter covers the entire bottom of the pan)
After about a minute, turn the heat down to medium low
Sprinkle salt, peper, and garlic powder over the eggs
Sprinkle and/or place ham, sausage, tomatoes, avocado, and cheese evenly over eggs
Cover pan and let cook until eggs are no longer runny and cheese is very melted
Eat and enjoy!
NOTE: If your pan is too hot, the bottom of your eggs will get very brown (possibly even burn) so if you sense this is the case, all you need to do is stir up your eggs.
It will still taste the same, it will just look more like scrambled eggs then one large flat egg pizza.
And as you can probably see, we don't cut this into slices like a pizza either 🙂
It's basically just a really simple omelette that doesn't require flipping the eggs or a pretty presentation. We LOVE breakfast for dinner, and this recipe is definitely a 'keeper'.
Visit my virtual recipe box for more simple, delicious, family friendly, recipes!