Earlier this summer, I posted a very simple, very basic smoothie recipe that mixed and matched pretty much any fruits, juices, yogurts, etc. to make almost any type of smoothie.
Well since that post, I've gotten numerous emails and comments asking for OUR favorite blend of ingredients.
We make smoothies very regularly (at least twice a week) so we have many favorites 🙂 However, since January is all about eating healthy, I figured now might be an appropriate time to share one of our all-time favorite smoothie recipes…
Apple, Banana, Berry Smoothies!
Apples and bananas are two of our favorite fruits, and since they are readily available at our grocery stores year-round, we always have them in the house. And thanks to the reduced produce racks at our grocery store, I almost always have a large selection of berries in our freezer.
Our favorite berry combination is strawberries, blackberries, and blueberries… SOOOO good!
If you're a big smoothie fan, or if you just love apples, bananas, and berries, I would highly recommend this smoothie "recipe". Although, as with all the recipes on my blog, you can easily swap out ingredients for something you like better 🙂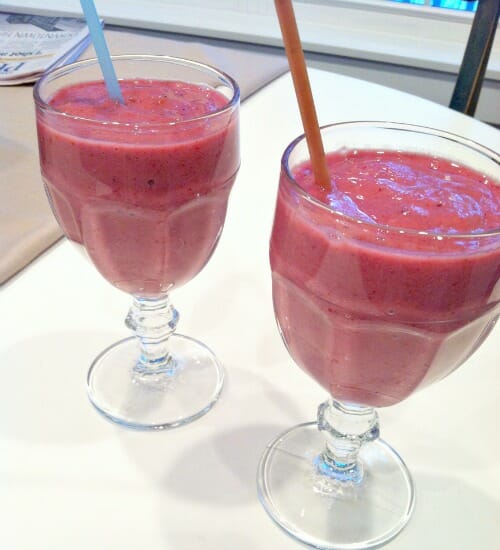 Recipe for Apple, Banana, Berry Smoothies
Makes 2 large servings or 4 medium servings.
To print this recipe, simply click the "Clean Print" button at the top of this post.
INGREDIENTS:
1 c. strawberry yogurt
1 apple; peeled, cored, and chunked
1 banana; peeled and chunked
1/2 c. strawberry slices (fresh or frozen)
1/2 c. blueberries (fresh or frozen)
6-8 blackberries (fresh or frozen)
1 T. frozen apple juice concentrate
1/2 c. – 1 c. water or ice**
** use less if you want your smoothie "thicker", use more if you want it "thinner". Also, if you're using fresh berries, then use ice; if you're using frozen berries, then use water.
DIRECTIONS:
1. Layer yogurt, fruit, and juice concentrate in a blender.
2. Add 1/2 the water or ice and blend until smooth. Add more water or ice depending on the consistency you prefer.
3. Serve in glasses with a straw or spoon (depending on how thick it is)
Enjoy your smoothie as a delicious breakfast or healthy snack!
The whole process takes less than 10 minutes (if you have your berries frozen and ready to go) so this is definitely a doable weekday breakfast or snack — and I'm pretty sure your kids will approve, especially if you use fancy glasses and fun straws 🙂
What are your favorite smoothie ingredients?
Visit my virtual recipe box for more simple, delicious, family friendly, recipes!