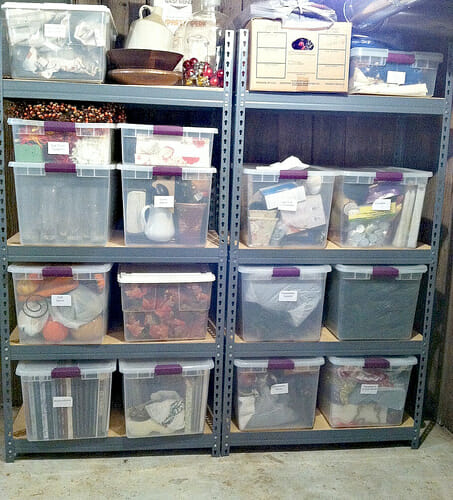 I'm not sure what my "deal" was this year, but I could not wait to pack up our Christmas decorations.
Our house looked lovely with my simple, child-friendly seasonal decor, but after all our holiday parties were finished, all I could think about was how "cluttered" our home felt. Dave made me wait until December 26 to take them down — and they were all down by noon on December 26!
I felt a bit like a scrooge, but I just had to pack them away.
I think this is partially because I've been on a mission to clear every bit of clutter from our house ever since we finished our huge kitchen renovation this summer. I lived with clutter and mess ALL summer long, so once the kitchen was finished, I started going through every room, every closet, every cabinet, every drawer, … and purging.
We still played Christmas music, did a bunch of Christmas baking, and enjoyed every minute of our Christmas break… just without the decorations!
Every year, when I put my decorations away, I get rid of anything that's broken, damaged, stained, etc. as well as anything I don't absolutely love. I figure there's no point storing something for 11 months out of the year unless I really love it and will want to display it again next year.
I was ruthless this year and pared things down to 2 storage bins.
One bin for ornaments, garland, lights, tree skirts, and other tree decorations
One bin for everything else
As a disclaimer, these bins do not include my Christmas trees — those are also in our basement (with the lights still on!)
Even though we have plenty of storage space in our basement, I personally don't want to store so many Christmas decorations — especially since I only had them up for about 3 weeks this year!
As I was packing up our decorations and whittling my stash down to my two allotted bins, I thought, "I bet people would like to see some pictures of our basement and how I store our extra stuff.
So, for those of you who'd like to see what the basement of a 120 year old farmhouse (with a crazy organizer living upstairs) looks like… here you go!
The wood on the walls is from the barn that used to be on our property before we bought the home…. and the posts you see in the middle of the picture above are compliments of our kitchen renovation (we had to put more supports in the basement since we took out the wall in the kitchen!)
Since our basement is somewhat "sprawling" and has a bunch of different rooms, here's an aerial view — mostly to scale 🙂
When you first walk down the stairs, there's a really yucky room that had a huge oil tank (something to do with heating the house). We just keep that door closed and don't use it for anything.
The door next to the Bed, Bath, & Beyond bag is that "yucky room"…
When you turn the corner, we have a small room with our furnace and water heater… pretty much right in the middle of the basement (on the very left side of the picture above and in the middle of the picture below).
The door on the left side of the picture above leads into a "tool room" where we keep most of our tools, paint, painting supplies, shop vac, step ladder, etc.
This is the tool room — it's also kind of grubby… but it works!
The room behind the tool room is our Tornado Shelter. And yes, it really IS a tornado shelter! I keep my Christmas trees back there… and there are also a bunch of shelves back there where I store all my canning stuff, extra jars, and empty boxes that will eventually house more jars once we eat our current canned goods.
Speaking of canned goods, I'm currently storing those back out in the main part of the basement. You can see them on the far right side of the picture below.
There are long shelves in the "hallway" that leads to the tool room so I figured that was an adequate storage spot for now — especially since I don't have near the canned goods I've had in previous years.
The Rubbermaid cabinet next to those shelves holds our excess pantry items that don't fit in our kitchen. This is much smaller than in previous years because our kitchen has SO much extra storage now!
Our freezer is also in this open area, but on the opposite wall because we have a special plug over there specifically for the freezer.
Eventually, we're hoping to finish off part of the basement for a Family Room . We would put up a wall where those 3 posts are, so in the mean time, my goal is to keep ALL our "storage stuff" on the other side of those posts, just so that whenever we do decide to finish off the basement, we won't have to first purge half our belonging!
I absolutely LOVE the shelving unit we have in the back corner of our basement. We purchased it from Lowe's several years ago — it can be assembled in so many different ways so you can customize it to fit your specific bins, boxes, room layout etc. You can see how I used to have it configured in our old basement.
The shelves can hold 500 pounds each, so it's really sturdy — which I like. I also like that two of my most favorite purple-handled bins fit perfectly on each shelf!
You should be able to find similar bins almost anywhere — mine are from Target, but I've also seen the exact same ones at Walmart and Bed, Bath, and Beyond. I love that they are almost perfect rectangles so you don't lose storage space by having curved or angled sides. I also really like that the lids manually clip on.
Ok, so I think that's it.
That's what the basement of a 120 year old farmhouse looks like — and this is actually a REALLY nice basement compare to some of the homes we looked at!
We do have quite a bit of empty space in our basement — but that's because I hate "stuff" and I'm trying to keep it as cleared out as possible in case we finish off the basement some time soon!
Also, we do have another small storage closet upstairs where I keep extra linens, extra baby stuff, sleeping bags, and a few other odds and ends.