As I mentioned a couple weeks ago, Dave and I celebrated our 11th anniversary on June 30.
We honestly didn't do much out-of-the-ordinary to 'celebrate' (I'm not complaining, just being honest) but it was still a really enjoyable day for both of us.
Over the years, I have received many emails and comments asking how we celebrate special days like anniversaries, birthdays, holidays with just the two of us — as well as how we keep costs down and if we have any tips to simplify the process.
Well… I'm not sure if this tip is "simplified" or just really boring, but Dave and I DO have a favorite way to celebrate special occasions…
At-Home Date Nights!
I know this might sound completely lame to anyone who is more extroverted, but it is the perfect date night for Dave and for me as neither of us enjoy going out all that much.
Our favorite way to spend a special evening is to omit nap-time during the day so we can put the kids to be really early (sometimes by 6:45). Then we order food "to-go" — usually from places like Olive Garden, On The Border, Applebee's, a local Chinese place we love, etc. and eat a later dinner while our kids are soundly sleeping.
NOTE: sometimes we also cook a fancier meal for just the 2 of us at home as well.
We eat our HOT food in peace and quiet, we have actual adult conversations, we have minimal cleanup because there aren't 5000 crumbs and sticky spots to clean up, and we eat as quickly or as slowly as we please.
Of course, we could enjoy all of these things by actually going OUT somewhere too — but the added benefits of staying home for a date night are:
we don't need to get dressed up
we don't need to find a babysitter (or pay a babysitter)
we don't need to drive through busy traffic
we don't need to wait awkwardly with loud-talking strangers for a seat to open up
we don't need to pay for drinks as we have plenty at home
we don't need to hem and haw over menu options because we can pre-order online
we don't need to leave a tip
we don't need to have fake conversations with the waitress who continues to stop by and ask how our food tastes or if we want dessert
It's glorious!
After eating dinner, we finish cleaning up the house and yard, as well as tie up any loose ends of projects we were working on during the day. Then we shower, get ready for bed, turn on a Netflix show, and enjoy some type of dessert that I've made ahead of time (usually brownie sundaes or cheesecake).
Again, I realize this might sound so ridiculously lame to some of you — but Dave and I both agree that 95% of the time, we would much rather have an at-home date night versus going out somewhere.
It just feels simpler, easier, more frugal, less stressful, more enjoyable, and less work.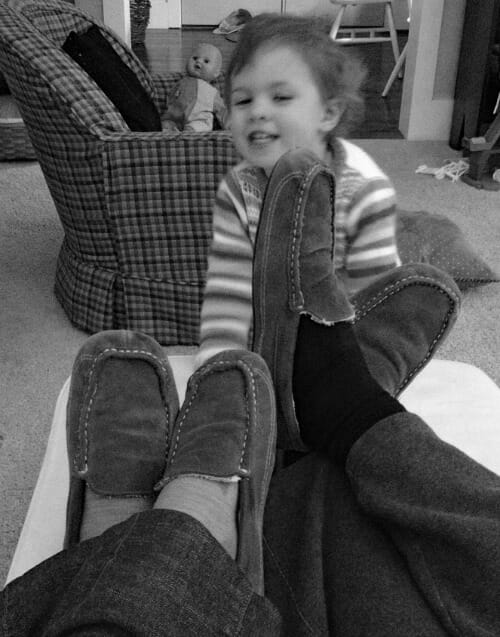 I know at-home date nights might not be enjoyable for every couple; but if you're the type who prefers a night at home versus going out, I'd love to know…
What are your favorite ways to celebrate special occasions at home?