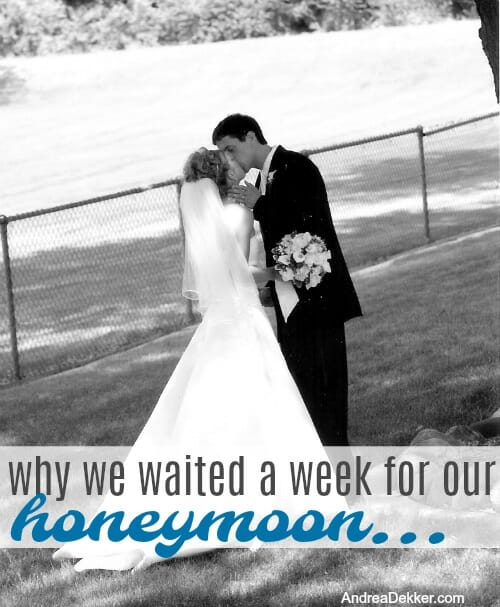 Today is Dave and my 11-year anniversary — which means I've officially been married to him for more than 1/3 of my life!
I've shared several other fun anniversary posts in the past, but today, I want to share a bit more about our honeymoon — more specifically why waiting a week to go on our honeymoon was one of the best and smartest decisions we made so early in our marriage!
Why did we wait?
Initially, the ONLY reason we waited a week to go on our honeymoon is because very good friends of our were getting married the weekend after us and Dave was standing up in their wedding. We didn't want to rush our honeymoon to be back only 5 days later for rehearsal dinner, so we decided we'd just wait a week.
I was a little bummed at first, but as time progressed and as we began planning our honeymoon and preparing to move into our first house together, we both decided that waiting a week for our honeymoon would actually work out really REALLY well!
In fact, I was even excited to have a whole week in between our wedding and honeymoon.
How waiting a week worked for us.
I realize that inserting a full week of down-time between a wedding and a honeymoon wouldn't work for many people — especially if you have limited vacation days. However, the fact that Dave is a teacher (with the entire summer off) and I had just graduated from college and didn't need to start my job until September, meant that we literally had the entire summer to do whatever we wanted!
We really had no rush to take a quick honeymoon and then be back in time for work, so taking a "buffer week" in between really didn't make any difference to us in terms of working time or vacation time.
Why we LOVED waiting a week.
There are honestly SO many reasons why waiting a week for our honeymoon was such a fantastic decision for our situation… I'm sharing our top 5 today!
1. We didn't have to worry about packing or preparing for our wedding AND our honeymoon at the same time.
At the time, Dave had been teaching in California… and he didn't move back to Michigan until 10 days before our wedding. I was also RIGHT in the middle of moving all our things into our new home (that I purchased while Dave was still in CA) as well as painting several rooms, getting new light fixtures, having new carpet installed, etc. etc.
Add all the wedding prep on top of that, and I had a fairly full plate!
Getting everything ready for our new house and the wedding was enough work — I feel like packing and preparing for a honeymoon would have just been one more thing to worry about during an already busy time of life.
By waiting a week for our honeymoon, Dave and I were able to focus on our wedding, and then spend a full week officially moving into our new home before we had to leave again for our honeymoon. It certainly seemed like less work to me this way.
2. We didn't have to leave our wedding reception early.
You would not believe how many weddings we've been to where the bride and groom leave the reception super early because they need to drive a few hours to the nearest airport in order to catch a red-eye flight to their honeymoon destination.
Dave and I were able to fully enjoy our reception, stay and party all night long, and were officially the last people to walk our the door just minutes before we were required to be gone from our reception venue!
We then drove less than 1 mile to our new home and spent the night there — without the need to pack anything, worry about forgetting anything, worry about checking in, checking out, or paying for a fancy hotel.
It was FABULOUS!
3. We got to sleep in the day after our wedding.
As I mentioned above, Dave and I decided we didn't want to go to a fancy or expensive hotel after our wedding. Instead, we just wanted to go "home" to our new house (shocking, I know!)
So many people thought we were weird, but we were both so happy with this decision — especially since we got to sleep in the morning after our wedding and didn't have to worry about packing up or checking out by 10:00 am.
4. We opened all our gifts right away.
After sleeping in and enjoying a leisurely breakfast in our own home, Dave and I opened all our gifts the next day after our wedding.
We were able to put everything away immediately, wash the sheets and towels, and even return the few things that needed to be returned (duplicates, wrong colors, etc.)
5. We sent out all our thank you cards AND ordered our pictures!
I know this might sound crazy, but we honestly sent out all our thank you cards and ordered our wedding photos and photo album in the week between our wedding and honeymoon.
It felt so great to cross these 2 things off our list before we even left for our honeymoon… not to mention we got our photo albums back SO quickly!
.
Like I mentioned above, I fully understand why it wouldn't be possible for everyone to wait a full week between the wedding and reception — but even waiting 1 or 2 days would offer enough time and "breathing room" to enjoy the wedding/reception before switching gears to pack and prepare for the honeymoon.
Looking back, I can see how this decision suited Dave and my personalities so well (neither one of us like feeling "frantic" or "rushed") — and it literally helped to start our marriage off on a happy note.
So I guess we owe a big thanks to our friends for getting married a few days after us and "forcing" us to wait a week for our honeymoon!
I'd love to know if any of you waited to go on your honeymoon.