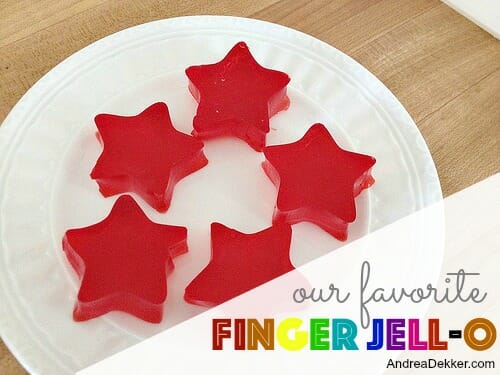 I realize that finger Jell-O is not necessarily rocket science to make — but if you've ever searched for a finger Jell-O recipe, you know there are a WHOLE bunch of different recipes that claim to be the simplest and/or the best. It's crazy how something so simple could have SO many different variations!
Anyway, when Nora FINALLY started eating solid foods around age 2, we stumbled upon some finger Jell-O at a Christmas party. She kept asking for it — and although I figured she would just gag on it and spit it out like everything else, she gobbled it up almost before I could pull my hand away.
At the time, considering her extremely limited palate, I was literally shocked and immediately gave her another piece — and another. She just kept eating it (which was verging on miraculous at the time).
When we got home from that party, I quickly Googled "Simple Finger Jell-O recipes" and came up with a slew of different options to try.
Over the past year or so, I've tried a bunch of them — and THIS one is our absolute favorite.
Not only is it super simple to make, it makes a big pan, it ALWAYS turns out, and it's the "sturdiest" finger Jell-O I've come across — which is nice for making fun shapes or just being easy to cut.
If you're looking for a super simple, super quick, nearly fool-proof recipes for finger Jell-O, this is the one I'd recommend (and believe me, I've tried so many recipes, so this is my honest recommendation!)
Recipe for Our Favorite Finger Jell-O
Makes one 9″ x 13″ pan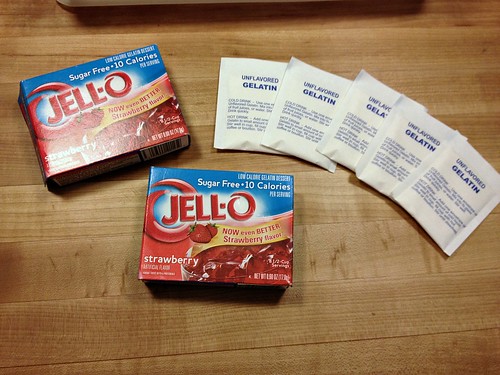 INGREDIENTS:
2 boxes (8 serving size) of your favorite gelatin flavor
5 envelopes unflavored gelatin
4 c. boiling water
cookie cutters (optional)
DIRECTIONS:
Dump both gelatin powders and all unflavored gelatin packets into a medium size bowl
Add boiling water all at once and stir until all powder is dissolved
Carefully pour into a 9″ x 13″ pan and refrigerate until set
Once set, cut into squares or shapes and store in a tightly sealed food storage container (I put wax paper between the layers to keep the pieces from sticking to each other)
Store in refrigerator
This is also a REALLY great recipe if you're making any type of Jello shapes, Jello cubes, Jello "art", or a Jello trifle salad where you mix pieces of colorful Jell-O with Cool Whip.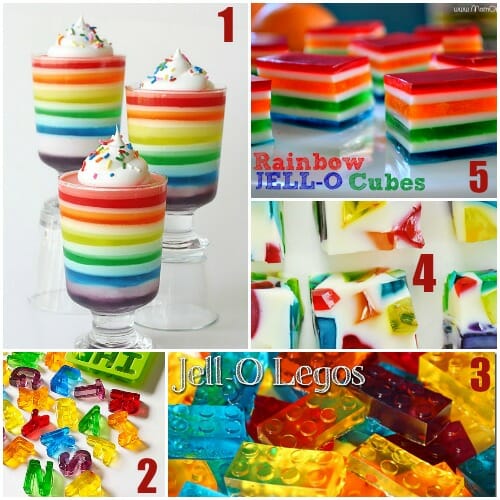 I fully realize that finger Jell-O might not be an "approved" food for many of the parents and grandparents reading this post — but I also know that a whole bunch of you probably feed it to your kiddos on a regular basis and might like to know our favorite recipe!
And just because I'm so nice 🙂 here's a recipe for Homemade Finger Jell-O That's Actually Good For You!
So, the next time you're looking for a quick snack for the kiddos, whip up a batch of this finger Jell-O for a refreshing treat on a warm spring/summer afternoon.
Do you have a favorite finger Jell-O recipe?
Visit my virtual recipe box for more simple, delicious, family friendly recipes!