Those of you who know me and/or who have been reading here for some time know that I am NOT a health nut by any means.
Outside of high school and college sports, I have never exercised with any sort of regularity. While I personally consider most of our meals to be in line with the food pyramid, I know that according to today's high standards, I don't eat nearly as healthfully as I could. We don't eat all organic and we DO eat some processed foods. I don't take vitamins or supplements (outside of prenatal vitamins). We eat out at Culvers once a month. We have dessert with every meal. We don't count calories.
I don't say this to sound ignorant or to brag or to put anyone down who has different views on food. I simply say this to put the rest of my post in perspective.
The fact of the matter is that when it comes to "healthy living" I don't think I'll ever be a front runner. Yes, we eat lots of fruits and veggies, and I go for regular walks with my kids… but I'm just not the type of person who is going to exert massive amounts of time, energy, or willpower towards dieting or exercising or ultra-healthy living (at least not at this point in my life).
That said, there is one super healthy thing I've been doing for YEARS because it's so simple, it's free, and it requires almost no planning or extra thought.
I drink TONS of water!
It all started in high school when I literally felt thirsty all the time. I would guzzle water from the drinking fountains in between every class and drink huge amounts of water before, during, and after my sporting events.
Then, I just started carrying a water bottle around with me most of the day (this was before it was extremely common to see people with reusable water bottles.)
I continued carrying my water bottles in college and made a point to drink at least 2 glasses of water at every meal in the dining hall. After my water, then I'd have another glass of milk or sometimes soda, depending on what was being served. I played both volleyball and softball in college, and they always had ample supply of water for everyone on the team… and I'd drink a bunch more after the practices and the games.
Once I entered the workforce after college, I always had a large 24 oz water bottle on my desk and I would make a point to fill it at least once during the work day and then again when I got home (so drinking at least 3 full bottles a day — or about 8 servings of water just from my water bottles).
Also, when we go to restaurants, I will order water almost 100% of the time — partially because it's free and MUCH less expensive than any other drink, but also because it's such a simple way to get more water and improve my health.
Over the past 15+ years of me being a heavy drinker (of water, that is!) I have noticed significant health benefits… and I can instantly tell when I haven't had enough water to drink in any given day.
Here are just a few of the many health benefits I've noticed after drinking more water.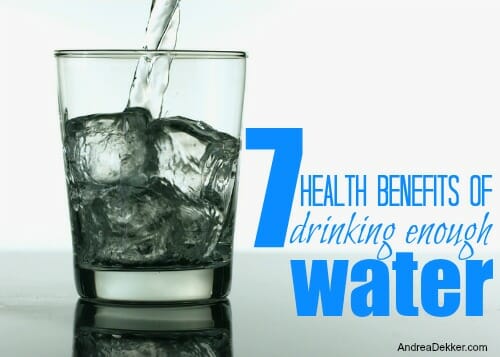 1. It drastically reduces the number of headaches I get.
I used to get a lot of headaches — A LOT. And as a child and young adult, I was literally unable to swallow any type of pill (I know, I was weird) so I would just deal with the headache. I had my eyes tested, I went to the chiropractor, I got special neck and shoulder massages, I did special stretching but nothing really worked… until I started drinking more water.
Even now, whenever I get a headache, I can almost always trace it back to not drinking nearly enough water that day or the day before. However, I can now swallow pills so at least I don't need to live with the splitting headaches all day long!
2. It aids in digestion and reduces bloating.
I won't go into too much detail on this one — because I think you know what I'm getting at 🙂
When your digestive tract isn't working properly, you're going to feel really bloated and gross (at least I do). When this happens, I know it's usually because I haven't had enough water… and after drinking a few glasses, things usually get back to normal and I feel a whole lot better!
I will say that one downside to drinking a lot of water is needing to pee all the time (especially when I'm pregnant) but I figure my frequent bathroom trips are a small price to pay for all the other benefits I receive.
3. It keeps my skin looking healthier.
I realize I'm not even 30 yet, so I really shouldn't be talking about how to have healthier skin… however I know for a fact that by simply drinking enough water each day, my skin is healthier, less dry, less flaky, less itchy, less blotchy, less pimply, and less dull.
And while water certainly won't cure every skin ailment, I guarantee a few glasses of water are a lot cheaper than all the creams and serums you'd need to buy at your local drugstore to revive dull, itchy, flaky, pimply, red, dry skin!
Along the same lines, I can almost always tell when I haven't had enough water by how chapped my lips are. If I notice that I'm putting on more than a normal amount of Chapstick or Vaseline (my 2 go-to lip remedies) I'll quickly drink a few glasses of water and my lips usually feel better within a few hours.
4. It increases my energy.
Believe it or not, I have NEVER had so much as one cup of coffee in my entire life (true story)!
Dave (and pretty much every other adult I know) drinks coffee every single day — but it has just never appealed to me. I don't like warm or hot beverages and I really can't let myself drink any amount of caffeine or I'll be totally wired all day long.
Even in those desperately sleep-deprived months (and years) when Nora was hardly sleeping at all, I never once turned to coffee for more energy. And actually, now that I look back on the post I wrote about dealing with my exhaustion, I see that "staying hydrated" was my #1 tip back then… and believe me, I've had lots of experience living life on little to no sleep 🙂
Instead, drinking a big glass of ice water (heavy on the ice) is just what I need for lots more energy. And unlike drinking caffeine, I don't feel huge high's or low's throughout the day as the caffeine increases or starts to wear off. Plus… water is FREE and available almost anywhere!
5. It can help me not to overeat.
As I mentioned above, I'm no health nut — but I do know that many times, when we THINK we are hungry and need a snack, we are actually just thirsty.
Although I readily admit to being a big snacker (I'm eating Skittles as I type this post!), I will also say that there are many times during the day when I'm craving something… but instead of grabbing a cookie or brownie, I'll guzzle a whole glass of ice water and make myself wait 10-15 minutes to see if I still feel hungry. Often times, I forget about the hunger after those few minutes pass — which means I was most likely just thirsty.
6. It fuels my body.
Earlier, I mentioned how drinking lots of water helps to aid in digestion… but I figured I should also mention that in general, water is one of the most important "fuels" we can feed our body.
If you think about it, roughly 2/3 of our bodies are made of water — so drinking enough water helps to maintains the body's fluid balance, which helps transport nutrients in the body, regulate body temperature, revive fatigued muscle tissue, and more. Water is also very important for lubricating joints and protecting cartilage.
And once again, I feel the need to mention that water is FREE — no need to spend money on fancy energy drinks, powders, protein bars, etc.
7. It fuels my brain.
When I was in college, one of my professors commented on how I ALWAYS had water in class with me. He told me that dehydration causes shrinkage of brain tissue, so when we don't drink enough water, our brains have to work a lot harder to perform at the same level. He also said that there were studies that showed students who brought water to class did better on their exams.
Obviously, I have no sources or scientific proof of this, but I will say that even now, when I don't get enough sleep due to situations out of my control (a.k.a. children!) water is my main tool to help me think more clearly and boost my productivity throughout the day.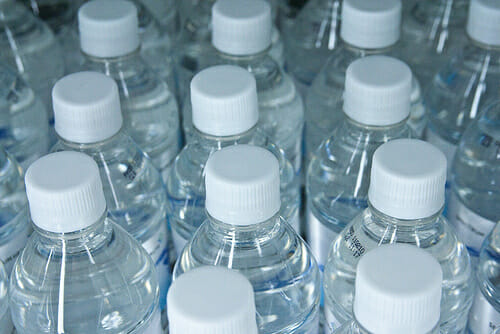 There are so many more health benefits of drinking water — but I'll stop here for now. If you're interested, trying Googling "Health Benefits of Drinking Water". I just did it and came up with 747,000,000 results in less than 1 second 🙂
.
So how can YOU start drinking more water?
As with everything in life, starting a new habit can be challenging — even one as simple as drinking more water. However, I can't advocate enough for how much better I feel when I get enough H2O each day.
Here are a few of my tips.
1. Carry a water bottle with you WHEREVER you go. ALWAYS!
2. Order water at restaurants instead of (or in addition to) other drinks.
3. Drink one glass of water at every meal before you drink anything else.
4. Keep water on your bedside table. I will often drink anywhere from 8-24 ounces during the night — especially if I'm up often with children.
5. Suck on or chew ice 😉 Yes, I know all dentists out there are cringing at this suggestion, but this is a viable option for those of you who want to get more water in your diet. Also, it's amazing how "de-stressed" I feel after chewing a little ice! You could even make your own flavored water popsicles (lemon, lime, orange, etc.) for a refreshing treat and a way to get more water.
.
My Favorite Water Bottle
Oh, and in case you're wondering, my FAVORITE FAVORITE water bottle is the Aladdin One-Hand reusable water bottle. I've been using this water bottle for at least 4 years now and still love it as much as I did when I got it.
In almost any picture of my desk, you'll usually see my water bottle sitting out. And if you see me out and about in public, that water bottle will most certainly be tagging along!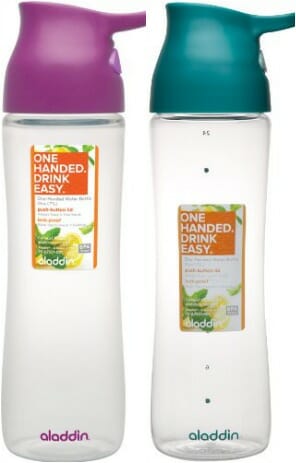 Can you spy my trusty water bottle in all the photos below?? 🙂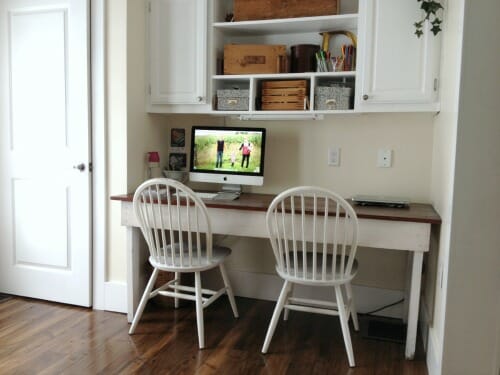 Although I rarely ever forget my water bottle, the nice thing about water is that it's almost everywhere. So even on the rare chance I forget my water bottle (or drink all the water) I'm usually not far from a drinking fountain or some other source of water.
Are YOU drinking enough water?
If not, I'd highly recommend giving it a try — you really have nothing to lose!
Oh, and did I mention that water is free 🙂