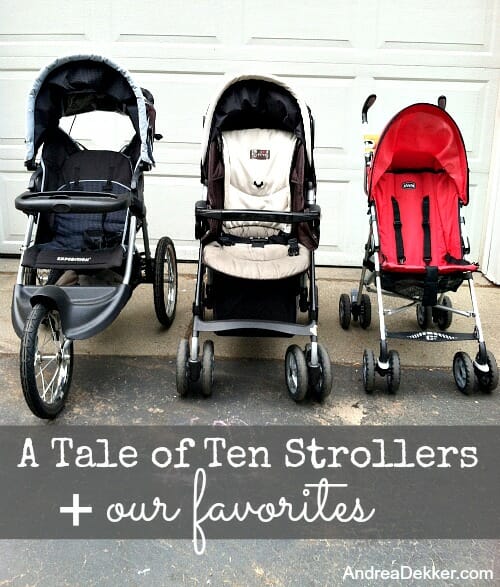 True story: Over the past 2 years, we have owned TEN different strollers!
Yes, you read that correctly.
10.
One umbrella stroller was a gift, but the other 9 were purchased by me from Craigslist.
Single strollers, double strollers, jogging strollers, umbrella strollers, travels systems, etc. etc. etc. There were (and still are) so many different strollers to choose from, it was nearly impossible to know which ones would fit our needs the best — so I just kept buying strollers until I found ones we liked.
I should mention that I always sold the strollers we didn't want, use, or like as well — so we never had more than a couple strollers at one time.
I should also mention that because of my mad deal-finding skills, when all the buying and selling was over, we ended up with 3 strollers we absolutely love and we MADE over $250!!!
Yes, you read that correctly too.
All my stroller indecision generated an income of over $250, and we still ended up with $500 worth of strollers for free. So essentially, we came out about $750 ahead!
Not too shabby 🙂
Now, let me assure you, I'm not an overly-picky person; however, since Nora and I go for a long walk almost every day (sometimes multiple times per day), I was willing to keep looking until I found the stroller that was just right for us. One that I liked, one that Nora liked, one that was reasonably price, and one that was still in good condition.
I received countless recommendations from friends, family, and facebook — but after testing out 10 different strollers in our own everyday life, these are our 3 favorites.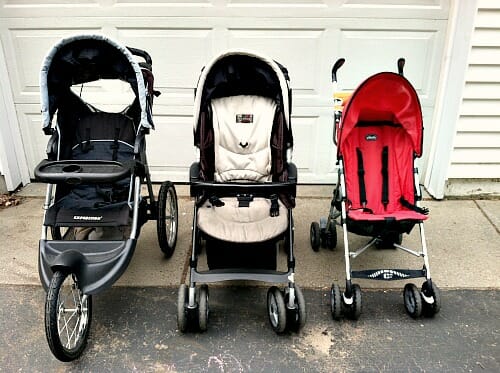 I've listed many of the different stroller features below; however, I want to point out that the MAIN reason we really love each of these 3 strollers is because the canopies are completely adjustable to block out the sun at any angle.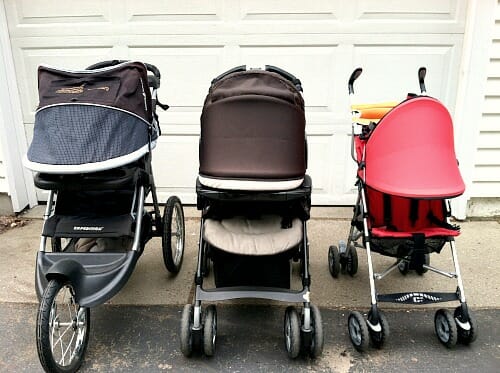 This is hands-down our most favorite "every-day" stroller for countless reasons — one of which is how adjustable it is. There are so many different recline angles for the back of the seat, and at least 3 or 4 different angles for the foot rest. Plus, as I shared above, the canopy completely covers the entire stroller seat to block out the sun, wind, and rain.
As you can see, Nora loves her stroller — and she also loves playing peek-a-boo with the large canopy 🙂
I'd say that the only negative thing about this stroller is the price. It retails anywhere from $300-$400 but I found ours for $40!
I'm honestly not a huge fan of jogging strollers in general, but Dave really wanted one — so when we found this one for sale just down the road, we snatched it up at $25 (retail = about $150).
The front wheel was out of alignment but I brought it to a bike shop and they fixed it while I waited for free — good as new!
This stroller is a fixed-wheel jogging stroller and while I personally think that makes it more difficult to turn, Dave insists that the fixed-wheel makes it easier to run with (I wouldn't know).
It has many adjustable features, a large basket underneath, and it has the capability to hold an infant carseat carrier, which most of the fixed-wheel jogging strollers I saw didn't have.
This was our favorite umbrella stroller — mainly because it was way more "sturdy" and had many more features than some of the other umbrella strollers we tried. It retails for about $80 but I found ours for $20, which included the carrying case (SO handy).
Not only does this stroller have a 5-point harness system, it also has a great recline feature, a small storage basket underneath, and a large canopy — all while still folding up super small like all other umbrella strollers. We keep this stroller in the back of my car all the time so we always have a stroller with us "just in case".
Also, as I mentioned in My Favorite Things post from March, I use this Infantino Umbrella Stroller Organizer to add a little extra storage.
So do you think I'm crazy yet?
I realize that buying and selling 10 different strollers over the course of two years is somewhat excessive — however, it honestly wasn't very much work for me at all. I used one stroller for a while, and if I didn't like it, I sold it. Then I looked for a new one.
I'm always buying and selling on Craigslist so it really wasn't a big deal for me — especially since I was making a nice profit and getting free strollers out of the deal!
Also, I'm completely aware that many of you may have tried these exact same strollers and hated them. That's why there are so many choices I suppose — everyone is looking for different features.
However, if you ask me for my favorite stroller recommendations (and many of you have) these are the ones I would suggest!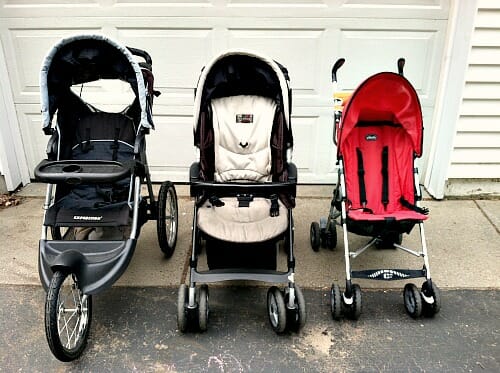 What are your favorite strollers and why?