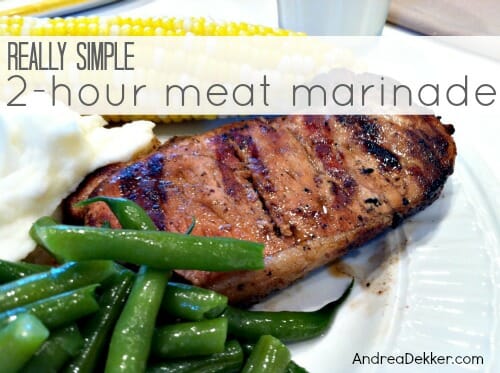 This time of year, I'm always looking for ways to use our grill — it's just so nice outside and it means Dave can help with the cooking 🙂
I love marinating meat for the grill but I hate that it often requires a full 24 hours of advance preparation. So about a month ago, I found this recipe for a 2-hour marinade. Dave and I were so impressed the first time I made it that we thought we better test it again the next week (with a few of my personal adjustments).
I've used this marinade a handful of times already (both for pork and chicken) with fabulous results each time. And I just LOVE that you can whip it up later in the day and still have great-tasting, juicy meat in time for dinner.
So for those of you who don't think about marinating your meat the night before (ahem… guilty!) this recipe is for you!
Recipe for 2-Hour Meat Marinade
This makes about 1 cup of marinade — or enough for 4-6 cuts of meat
INGREDIENTS:
4-6 pork chops or chicken pieces (with or without bone)
1/2 c. water
1/4 c. soy sauce
1/4 c. vegetable oil
2 T. lemon pepper
2 t. minced garlic (or 1 t. garlic powder)
salt and pepper to taste (I don't use much)
DIRECTIONS:
In a shallow bowl or pan, mix all ingredients.
Add meat and marinate in refrigerator for about 2 hours (I've had good results with as little as 30 minutes)
Cook meat on a preheated grill for around 5 minutes per side (based on boneless 1″ thick cuts of meat).
We usually grill on our outside gas grill, but you could also cook the meat on a George Foreman grill, in a frying pan, or even in the oven.
The last time I made this marinade, I served the pork chops with mashed potatoes, green beans, and grilled corn on the cob — so good!
What are your favorite grilled foods?
Oh, and if you're looking for more BBQ favorites, check out these 30 delicious BBQ side dishes.
Visit my virtual recipe box for more simple, delicious, family friendly recipes!