Split Pea Soup With Ham
posted by Andrea | 01/27/2016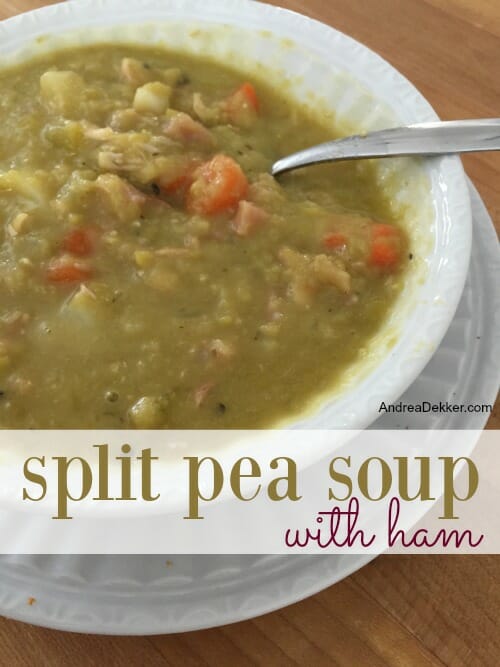 Since we ALWAYS had ham for Christmas, we ALWAYS had split pea soup the week after Christmas to use up some of the extra ham.
While it wasn't necessarily my favorite soup growing up, I have come to like it more and more… especially once I realized how super simple it was to make!
Served with a slice of crusty bread and a few crackers, it's a simple, delicious, hearty winter meal.
Recipe for Split Pea Soup With Ham
serves 6
INGREDIENTS:
1 bag (16 oz.) split green peas (about 2.5 cups dry)
8 c. cold water
1 ham bone (*optional — see notes below)
2 medium potatoes; peeled and diced
2 small onions; minced
4 carrots; peeled and diced
3 stalks of celery; diced
1/2 t. salt
extra ham if desired
*Note: these are the ingredients I use — however, you can certainly add more or less of the ingredients I've listed… or a whole slew of other soup-appropriate ingredients as you wish! 
Also, if you don't have a ham bone, you can just add in chunked ham (or no ham if you want it to be vegetarian). The only reason I boil the ham bone is so the meat will loosen from the bone. 
.
DIRECTIONS:
In a large stockpot, cover dried peas with 8 c. cold water and let sit for several hours or overnight.
In the morning, drain and rinse peas, then cover with another 8 c. of cold water.
Add ham bone and all other ingredients. Bring to boil and simmer for 1.5 hours, stirring occasionally.
Remove ham bone, cut off ham, add ham back to soup (and any additional ham you'd like to add).
Stir, serve, and enjoy!
I have been told that it is NOT necessary to let the peas sit in cold water for several hours — but that's just how I've always done it, and it's not an issue for me. I can simply soak the peas during the day, then add the rest of the ingredients during naptime, and the soup is ready in plenty of time for dinner!
This soup is honestly SOOOOO simple to make — if you can chop vegetables and let them simmer, you can make this soup!
What is your favorite way to use up extra ham?
Visit my virtual recipe box for more simple, delicious, family friendly recipes!