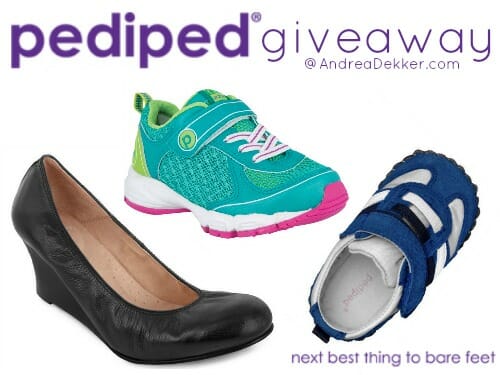 I've shared Nora's love of shoes before — and as crazy as it sounds for a 2 year old to be obsessed with shoes (especially a 2 year old that comes from my genes), she is.
She LOVES shoes. Her shoes, my shoes, Dave's shoes, other peoples' shoes, shoes at the store, shoes on TV — she loves them all.
So a few weeks ago, when we got a package from pediped (I knew it was shoes inside) I couldn't wait for her to open it up. I actually should have taken a video of it because this picture doesn't do it justice 🙂
She was ripping out paper and stuffing, tearing open the boxes, and had her new shoes on within seconds of opening the box.
Then she wanted to put Simon's new shoes on… and then my shoes.
Of course, we had to head outside to test them out ASAP 🙂
I purposely ordered them a half size too big so she could grow into them — but much to my surprise, the shoes came with an extra insert that allows them to fit right now!
Nora is absolutely thrilled that she can start wearing her new shows now… and honestly, so am I. I'm not sure how I would have hid these from her until later this summer when they'll fit without the extra insert.
Just look how cute she is with her shoes 🙂
pediped has three different lines of children's shoes:
1. Original: Best for infants and small children who are learning to walk.
2. Grip 'n Go: Best for active toddlers who are already walking.
3. Flex: Perfect for more experienced walkers.

We obviously went with the Flex shoes for Nora — in a bright teal green, which she LOVES!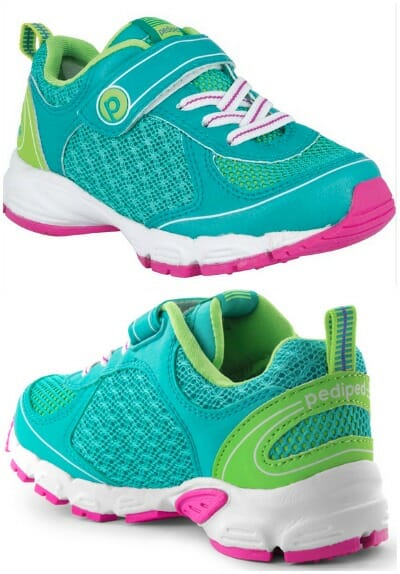 They are super easy for her to put on herself (big bonus for her stubborn "do it myself" personality) and she tells me over and over again how comfy they are. For a while, she wanted to wear the shoes while she slept.
Another that I absolutely LOVE about these shoes is that the tongue of the shoe is sewn directly to the shoe, so it never ever slides down when putting the shoes on. Yes, this might sound like a very small feature, but it's a BIG deal for little feet with "sensory" issues. You can't even believe how much stress this saves when putting Nora's shoes on 🙂
.
I ordered the Original line for Simon (in the 12-18 month size) as I figure he'll most likely be starting to walk during that time frame.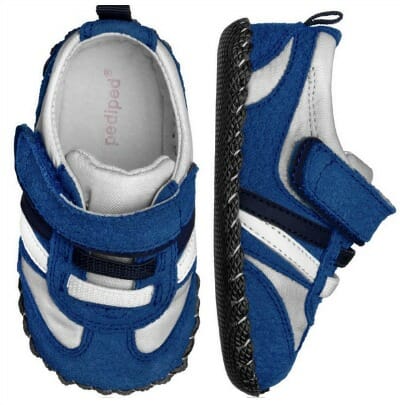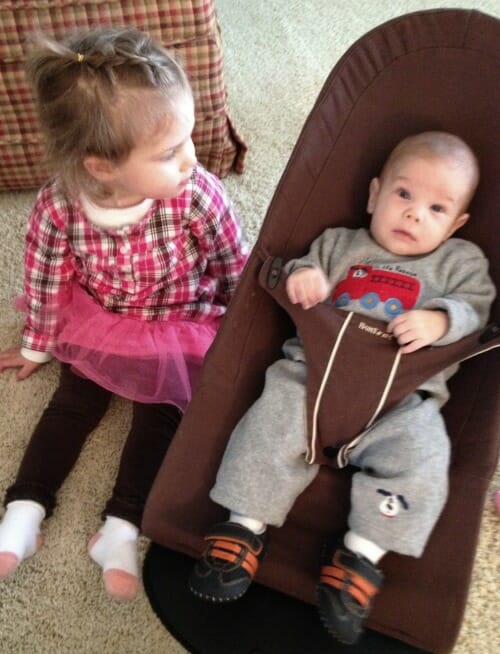 A little (no, a lot) big yet… but they sure are cute!
I was also able to order a pair of shoes for myself from pediped's "sister company" Brian James. Since I never splurge on nice dress shoes for myself, I ordered a pair of these black wedge heals!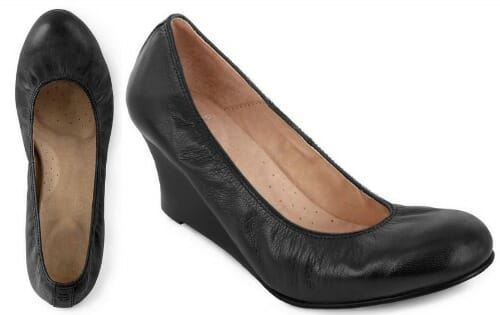 They are SOOOO comfortable and literally just mold right to my feet. Plus, since they are a wedge heal, they are really easy to walk in (coming from a girl who usually only wears flats). They look great with jeans, dress pants, skirts, and dresses — and of course, my favorite color black goes with almost everything!
We're thrilled to be sporting the pediped and Brian James shoes around our house… and I'm super excited to be giving away a couple pairs of these fabulous shoes today!
More about pediped:
Whether your child is crawling, learning to walk, or running all around, pediped has a stylish shoe that fits comfortably and ensures healthy foot development. It all started with a mom's hunt to find the best shoe for her little girl. Five years later, pediped is one of the most loved children's shoe brands around the world.
Visit pediped on the web:

Website: www.pediped.com
Facebook: pediped footwear
Twitter: @pedipedfootwear
Pinterest: pediped footwear
YouTube: pediped official
Instagrame: pedipedfootwear
Enter To Win This Giveaway!
Today, one lucky reader will win a pair of pediped children's shoes and another winner will win a pair of Brian James women's shoes.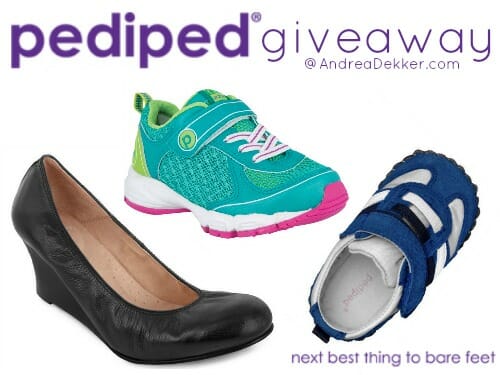 To enter, simply use the Rafflecopter widget below (it might take a second to load).
First, enter your name and a valid email address (so I can contact you if you win) and click "log in" (you are logging into THIS specific giveaway, and I will be the only one who sees your email address.) Next, click "Enter to Win". Finally, click the big green ENTER button!
a Rafflecopter giveaway

This giveaways ends at 11:59 pm EST, Monday, 5/19/2014 and is open to US residents, 18 years or older. The winner will be randomly selected via Rafflecopter and notified via email. I received a duplicate prize package in exchange for hosting this giveaway — all opinions are 100% my own. Please see my full disclosure policy and contact me with any questions you have. Good luck!