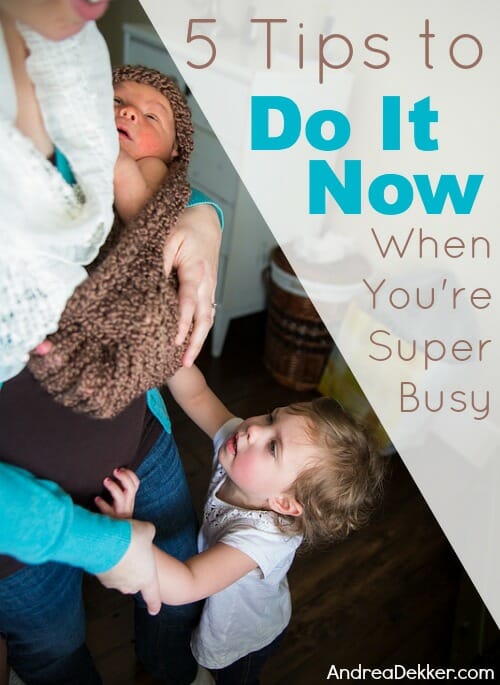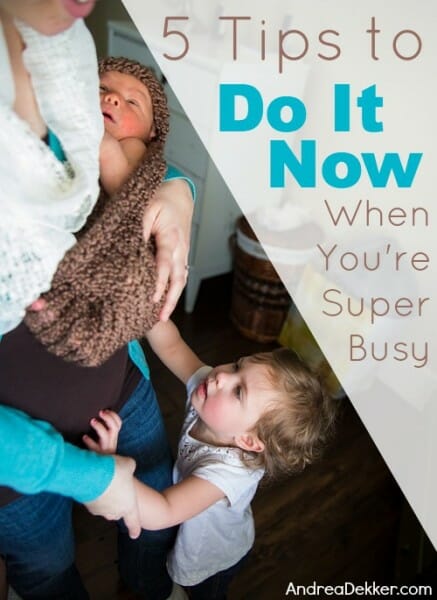 Several weeks ago, I shared a post about my time management rule of "doing it NOW". That post generated a lot of emails questioning how I could possibly "do it now" all the time with a toddler, an infant, and an at-home business.
I've been thinking a lot about those questions these past few weeks. I know that I really DO "do it now" most of the time… but I also know that there are plenty of times when I don't literally do it RIGHT NOW because Simon is crying, Nora is making a mess or getting into trouble, someone calls or stops by the front door, I lose track of time, etc. etc.
So over the past month, as I went through each day, I paid attention to times when I wanted to "do it now" but couldn't for various reasons — and then also what I did in those situations.
Here's what I realized:
#1. I take notes:
There are many times during the day that I can't literally "do it right now"… so in those situations, I usually make a note of the things that need to be done.
I often keep a pad of Post-it notes with my planner (right next to my computer) so any time I think of something that needs to be done but I don't have time at that exact moment to do it, I'll jot it down. Then I'll try to cross off all those things later that day, once Dave is home from school or after the kids are in bed (see #2 below).
I also have a pad of paper inside our pantry door. I use this to take note of any food or miscellaneous items I need to buy. I can grab this list when I'm making my grocery list for the week and this way, I can still shop only once a week, but hopefully remember all those little things I needed throughout the previous week.
#2. I get organized the night before:
As I mentioned in a post a couple weeks ago, I almost always take the time to get organized and plan ahead at night — leaving me more time during the day for unexpected "do it now" type of tasks.
By getting all those little household chores, maintenance, and other menial tasks out of the way before I go to bed, I don't have to worry about them the next day when I'm dealing with 2 kids and trying to catch up on work when one or both of them are napping.
#3. I break my to-do's down by time:
This is something I was REALLY REALLY good at… until I had kids. I knew exactly how long it took me to do all sorts of household chores, how long it took me to run errands, make meals, do yard work, get groceries, etc. and I would use those time estimates to squeeze in little projects here and there based on how much time I had.
For example, if I had an extra 10 minutes, I knew I could clean out the dishwasher and reload it again before heading out the door. If I only had 5 minutes, then I'd pull the dry clothes out of the dryer and put the wet clothes from the washer into the dryer.
When I had kids, all those exact (and super efficient) time estimates flew out the window 🙂
Since Nora was born, I have learned to create new time estimates — and although I'm not nearly as fast as I was before, I still try to break my tasks down by time and then use those time estimates to squeeze small projects into the little pockets of free time I might find during the day.
It might not seem like I'm accomplishing very much at a time, but as I mentioned last week, "progress is progress… even if it's only 5 minutes!"
#4. I'm always thinking "what's next?":
There is always more that needs to be done… ALWAYS! And while I realize I can't do everything, if I'm constantly in the mindset of "what could I do next?" I get a lot more accomplished during the day.
I don't push myself to the point of being stressed out, but I just keep tabs on what needs to be done during the day (usually with some type of list as mentioned in #1 above) and then constantly revisit my list to see if there is anything I can cross off right now (see #3 above).
Then if I'm blessed with small pockets of free time, I know what I can do in that amount of time and I'm ready to do it.
#5. I enjoy being busy:
Yes, I take time to relax and do other things I enjoy too — but for me, many of the things I enjoy are actually "chores". I absolutely LOVE organizing anything, and for the most part, I enjoy cleaning too.
I love bringing order to my home, I love planning ahead, and I love doing anything NOW that would save me from doing it later.
This is how I've been wired from the very beginning – and yes, I do realize not everyone is wired like me (oh what a crazy world that would be!)
I will admit that being the way I am is a huge help when it comes to "doing it now" but I feel strongly that it's not essential to being able to "do it now" most of the time. I know plenty of people who have learned how to be more proactive when it comes to "doing it now" — and to be perfectly honest, Dave is one of them!
A few more thoughts about "doing it now":
Don't waste too much time thinking about time management techniques. If you feel like you're spending lots of time reading books and thinking about time management, try actually implementing some of those ideas instead.
Whenever you say "yes" to something, you say "no" to something else — so when you say yes to house work, you might be saying no to family, and vice-versa. That's just how life is, I don't necessarily think you need to feel bad about that.
For me, it all comes back to my to-do list. The most important things I MUST get done each day go on my list. As I go through my daily to-do list, I'm constantly on the look out for little things I can do along the way. So if I'm in one room doing something and will be heading upstairs to do something else, I quickly glance around to see if there's anything in my current room that might need to be brought upstairs. If so, I bring it upstairs and QUICKLY put it away — or just leave it at the top of the stairs if it can't be done quickly. Then I get right back to my list.
Yes, there are always more things to do — so I literally don't do everything "now" — just the things that are most important for me. I hate trash so I'm big on emptying the trash when it's full. I hate clutter, so I'm always picking up and putting things away. I'm always clearing off and wiping off surfaces.
If you are not naturally a "do it now" type of person, it will take time to change your habits — so don't get frustrated if you aren't magically super productive after a couple of days. However, I hope some of the tips I shared today (and use in my own daily life) will help you to start making progress.
I can attest that life really is so much simpler, less stressed, and more organized if you "do it now" most of the time!
Do you have any other tips for "doing it now"?