Have you ever procrastinated on something for SO long… only to realize it took you 30 minutes to finish… and you wasted way more than 30 minutes putting it off day after day after day?
Yeah, me too!
At the very beginning of the summer (like almost 4 months ago) my Dad brought us his power washer to use on our deck. He didn't necessarily have a use for it, so he said we could keep it for a while and test it out.
There it sat in our garage, and almost every weekend, we put "Power-wash the deck" on our to-do list.
Our deck is not big (maybe 12′ x 12′) but it was very dirty… so we figured it would take a while to clean, even with a power washer. (The pictures below give you an idea of how small and dirty it was!)
Week after week, we THOUGHT about power washing the deck, but always assumed it would take too long, so week after week, we never actually DID any power washing.
We went the entire summer with a dirty deck and every time we walked out on our deck, we were reminded of the fact that we still needed to break out that power washer and get to work.
Finally, last weekend, we decided to tackle this project… and about an hour later, we were finished!
That was it!
In 60 minutes, we had a sparkly clean deck — just in time for the cold snowy winter weather 🙂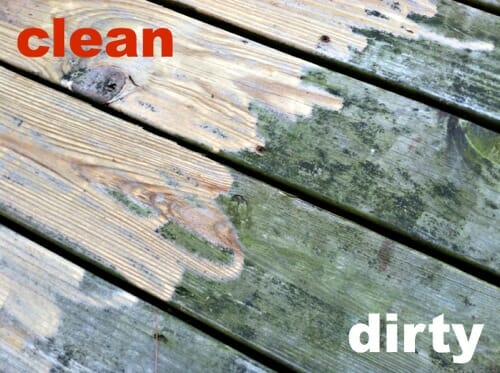 As you can see, we all procrastinate (even those of use who make a living telling others not to procrastinate!) And as you can see, procrastination always wastes more time than just buckling down, biting the bullet, and doing whatever it is right NOW.
If we had taken just 1 hour to power-wash the deck at the very beginning of the summer, not only could we have enjoyed a clean deck all summer long, we also wouldn't have had to put it on our to-do list every single week!
Lesson learned.
What's one thing you're procrastinating on right now?
Take a lesson from my procrastination and just do it today!