When we found out we were expecting baby #2, one of my first thoughts was, "So where are we going to put this kid?"
Not that our house isn't big enough — we have plenty of extra bedrooms around here. It's just that we hadn't started any renovations upstairs yet, and we really didn't want to move anyone upstairs permanently until the space was renovated to our liking.
We only have two usable bedrooms on our main floor (we turned the 3rd bedroom into our office and knocked down a wall to open it up to our living room), so we knew we'd need to get our butts in gear working on at least one of the upstairs bedrooms this Fall.
We did toy with the idea of having the baby sleep in our room — but neither Dave nor I liked that idea. And if Nora was a better sleeper, we might have tried putting them in a room together — but the combination of an infant and a toddler both regularly waking up all night long in the same room just seemed really stupid (especially if we had multiple extra bedrooms siting empty.)
So, we decided to tackle part of our upstairs… a new bedroom for Nora and a new play room for toys and crafts!
Here are a few pictures of the two spaces from the day we moved into our home (almost 3 years ago):
NORA'S NEW BEDROOM (BEFORE):
This bedroom is the most purple room I've ever seen in my entire life… and in another week, there won't even be one shred of purple left!
It's also HUGE. It's 16′ x 22′ and has vaulted ceilings so it feels nice and open. It's literally big enough to be a living room, so we'll most likely have kids share this room in the future — depending on how many of each gender we have.
Some of you might remember this as the room Dave and I lived in for the first 8 months in our house while we renovated the bedrooms and bathrooms on the main floor.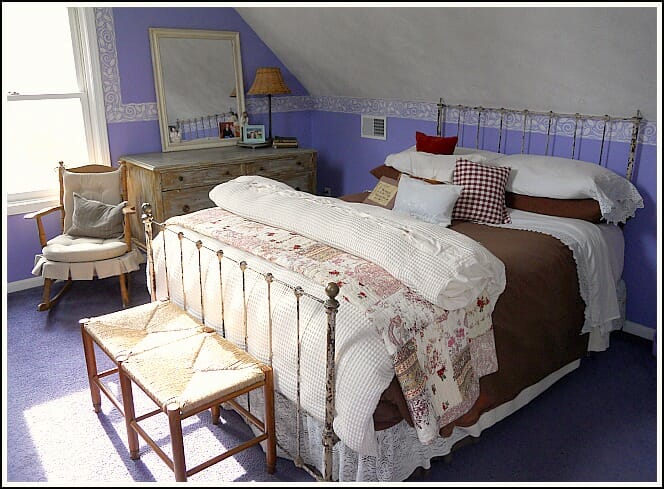 It was plenty spacious enough for us to sleep, work, watch TV, etc. all in one space — and I LOVE all the light!
It will be the perfect room for Nora… especially since we're planning to have some toys, books, and a little table and chairs in here for her.
As you'll see by the photos towards the end of this post, this room is totally torn apart right now — but I have big plans and am super excited to show you the finished room!
.
PLAY AREA (BEFORE):
This is a large landing area at the top of our stairs — it's about 12′ x 15′ and has plenty of wall space for lots of bookcases, a little craft table, and Nora's new play kitchen (it's finished and I'll be sharing photos next week!)
We're putting in new super soft carpeting, new trim, new paint, and we're replacing the spindles with a solid half-wall (mainly because Nora can easily fit through those spindles, and I know toys would constantly be falling downstairs.)
This area was one of the selling points of the home for me. The very first time I saw it, I immediately thought "kids play area" (and then future study area down the road). It's so cozy with the sloped ceilings, it's really open to the entire upstairs, and has super easy access to the living room below.
.
CURRENT PROGRESS a.k.a. MESS!
Although I was (and still am) really excited about expanding our living space and starting renovations on the upstairs, I'm also remembering how much I hate living in the middle of construction — especially now with a fully mobile little person around who gets into EVERYTHING, finds every tiny drywall crumb in the carpeting, and wants to be in the middle of the action at all times!
Here are a few pictures of our mess…
A little drywall/plaster repair before we started the full-on demolition
Our temporary workshop set up in the garage
Another bedroom upstairs that's NOT being renovated — filled with everything from Nora's new bedroom, the future play room, the future nursery, and even some furniture from the main floor.
The bright purple carpet and walls are finally gone (this is not the final wall color), we're starting on the new trim, and getting ready for the new window.
Yes, our entire upstairs is a disaster right now, but it's really not THAT bad. It could be much worse — like last summer when we had half our main floor closed off for the huge kitchen renovation. At least this time around, MOST of the mess is either in the garage or upstairs.
I have rugs everywhere, trying to cut down on the amount of dust and debris that gets tracked through the house; and our vacuum is getting a daily workout in attempts to keep our living room carpet relatively child friendly.
MY IDEAS:
My current plan for Nora's new room is (drum roll) SUPER NEUTRAL 🙂
I really wanted to do reclaimed wide plank dark wood floors like we have on our main floor, but I know that wouldn't be practical for a kid's bedroom — especially if I want it to be a comfy, cozy place to sleep and play. So we're going with a neutral super soft carpet with some speckles in it to hide any spots or stains.
We'll be painting the walls white (yes white), and all the trim will also be white (I'll explain more about this choice when I show the after pictures). I have some fun decorating plans to bring in lots of color with furniture, textiles, and artwork.
I'm also dreaming of giving a little TLC to this quilt and somehow using it on her bed.
It was made by Dave's great grandma or great aunt (I can't remember) and it's so cute!
I have a friend who quilts, so I'm planning to disassemble it somewhat, wash the fabric, fix the ripped spots, get new batting, and then have her quilt it for me. Then I'll use the many colors from this quilt as decorating inspiration for the rest of the room.
It's totally my shabby farmhouse style, extremely useful, AND an awesome way to showcase a family heirloom!
.
My plan for the play room is a little "brighter" than the bedroom.
We've already painted it a brighter blue color, which looks awesome against the crisp white trim and neutral carpeting.
We're planning to put Nora's kitchen and a kid-size table/chairs along one wall, bookcases with toys and books on two two other walls, and then I want to transform one wall into a "gallery" to display Nora's artwork, crafts, drawings, etc.
We've started on the half-wall already (don't mind that old wallpaper peeking out from behind where the old trim was removed) and we have a really cool idea of putting a built-in half door/gate at the top of the stairs — think "really attractive farmhouse baby gate"!
So obviously, I'm not sharing many progress photos because I really don't want to spoil the "before and after" posts that will hopefully be coming in a few weeks.
We're not sure when exactly we'll be moving Nora upstairs — probably in January some time — but we're hoping that by playing upstairs, exploring upstairs, and seeing all her new fun stuff upstairs, it will make the transition easier.
The other day, I told Nora that I was working on her new big bedroom upstairs. She looked at me, got a big scowl on her face, and shouted, "No, Nora not go upstairs! Nora bedroom stay by mommy's bedroom".
So we're not super optimistic that she's going to love moving upstairs — but maybe she'll surprise us!