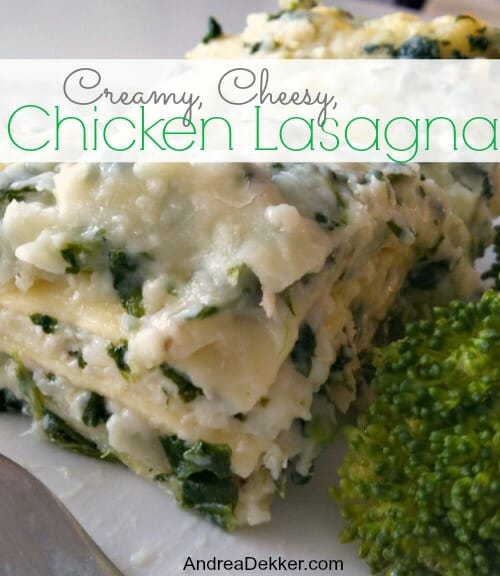 A couple weeks ago, I asked for recommendations on a really good chicken lasagna recipe via my Facebook page.
I got several links to various recipes, along with a few typed out recipes that all sounded delicious — but since I obviously wasn't going to make multiple different lasagnas just for Dave and myself, I decided to take bits and pieces of several different recipes (along with tweaking things based on the ingredients I had on hand) to try a brand new recipe.
The results were completely delicious — neither Dave or I complained about eating an entire 9″ x 13″ pan of lasagna on our own (although we did share the leftovers with family who stopped by for lunch one day).
This recipe is actually 100% from scratch — but don't let that intimidate you. I had some pre-cooked chicken and frozen chicken broth in the freezer, so the prep work for this dish was only about 20 minutes — and then I just shoved it in the oven for another 40 minutes. Not bad!
Although I'm definitely a fan of semi-homemade recipes, I've never had great luck with semi-homemade chicken lasagnas (the cream of chicken soup and Velveeta cheese just bother me for some reason). None of the semi-homemade recipes I've tried in the past came anywhere close to how delicious this Creamy, Cheesy, Chicken Lasagna tasted — and I honestly didn't spend much extra time in the kitchen (I promise!)
If you're looking for a fabulous chicken lasagna recipe to make on a cool fall evening, to take to a holiday party, or even just to shove in the freezer for later, this recipe is definitely one I'd suggest!
Recipe for Creamy, Cheesy, Chicken Lasagna
Makes one 9″ x 13″ pan and should easily serve 8-10
SAUCE INGREDIENTS:
1/2 c. butter
1 onion; chopped
1 t. minced garlic (about one clove)
1 7 oz. can mushrooms; chopped
1.5 c. milk
1/2 c. flour
1 t. salt
2.5 c. broth or water
2 to 3 c. cooked chicken; chopped or shredded
1 10 oz. package frozen chopped spinach; defrosted (optional and not pictured above)
1 c. Italian style shredded cheese (I used mozzarella)
CHEESE INGREDIENTS:
2 c. Cottage or Ricotta cheese
2 c. Italian style shredded cheese (I used one 8 oz. bag of Italian blend)
1 large egg
1 t. dried Basil
1 t. dried Oregano
2 t. dried Parsley
OTHER INGREDIENTS:
12 lasagna noodles (I used the "regular" kind, not the oven ready kind)
1 c. Italian style shredded cheese for the topping (I mixed mozzarella and parmesan)
DIRECTIONS FOR THE SAUCE:
In a large, high-rimmed frying pan, melt butter over medium heat
Add onions, garlic, and mushrooms and sauté until onions are tender
Whisk milk, flour, and salt in a small bowl or measuring cup and add to veggies in pan. Whisk until sauce begins to thicken (this should happen very quickly)
Add broth (or water) and continue stirring until nice and creamy
Add in cooked chicken, spinach and 1 c. cheese. Stir until incorporated and set aside
NOTE: this makes an AWESOME pasta sauce — so feel free to serve this over any of your favorite boiled noodles. You can make the sauce ahead and store it in the fridge for a couple days — or even put it in the freezer for later.
DIRECTIONS FOR ASSEMBLING LASAGNA:
Preheat oven to 350*F
Boil 12 lasagna noodles until al-dente
While noodles boil, mix cottage cheese, Italian shredded cheese, egg, and seasonings in a medium bowl and set aside
To assemble the lasagna, spread a little of the sauce mixture in the bottom of a greased 9″ x 13″ baking pan
Layer with 4 lasagna noodles, cheese mixture, and sauce
Repeat layers 3 times, ending with sauce mixture
Sprinkle remaining 1 c. shredded cheese over the top
Bake uncovered for 40 minutes
I realize that it might seem like there are a lot of steps involved in making this dish — but I promise, it didn't take long at all (especially if you have the chicken already cooked).
I was so pleased with how this recipe turned out that I will most definitely be making it several times over the course of the winter — but we might have to invite company over unless we want to be eating lasagna leftovers ALL winter long!
Also, I should mention that for the VERY first time, Nora ate meat (besides a hot dog) without gagging and spitting it out. She gobbled up this lasagna before I could even try to pick out the chicken or mushrooms, and kept saying, "more sgetti mommy!"
That, along with Dave's triple helping, told me this was some GOOD lasagna!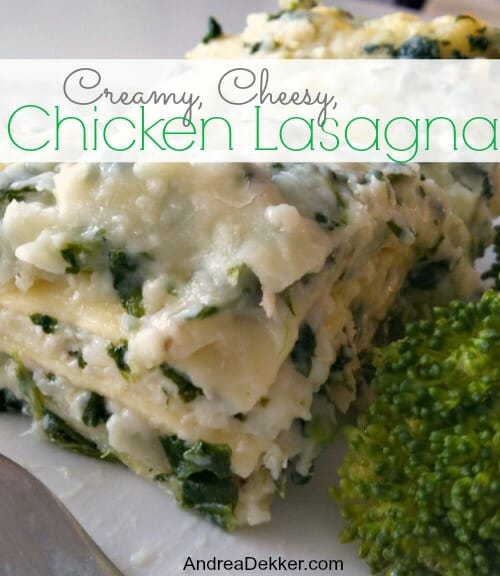 Oh, and for the record, the "regular" lasagna recipe I make (with red sauce and ground beef) is the one on the back of the lasagna noodle box 🙂
Do you have a favorite lasagna or chicken lasagna recipe?
Visit my virtual recipe box for more simple, delicious, family friendly recipes!