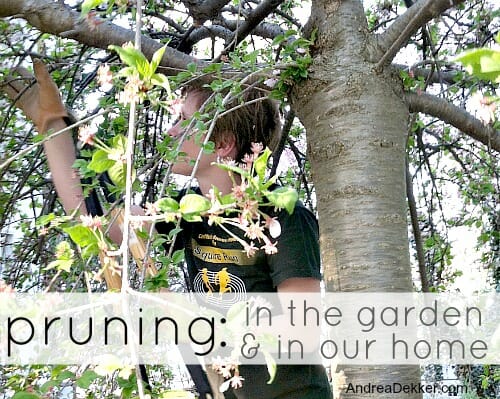 Thanks to the last 2 weeks of gloriously sunny skies, we've been spending lots and lots of time outside.
And thanks to our cute little 8th grade neighbor girl who plays with Nora, Dave and I have accomplished lots and lots of yard work!
One of the first projects on my to-do list was pruning — trees, bushes, flowers, ivy, ground cover, etc. Everything was over-grown and in need of some serious pruning.
Thankfully, I really enjoy pruning — can you see me in there, behind all those branches?
I realize pruning isn't exactly the most glamorous job, but I think I enjoy it so much because of my organized mindset and the fact that it reminds me of purging — out with the old.
I love cutting back the old dead branches, the over-grown foliage, and all the "stuff" that doesn't look great… and in effect, make room for new growth, new green leaves, and new brightly colored blooms.
Last week, as I was finally getting around to pruning back all the "dead wood" on my hydrangea plants, I had my usual panic attack before I made the first few cuts. I worried that I would ruin my plants by cutting them back too far or that they might not bloom again.
But I pruned anyway.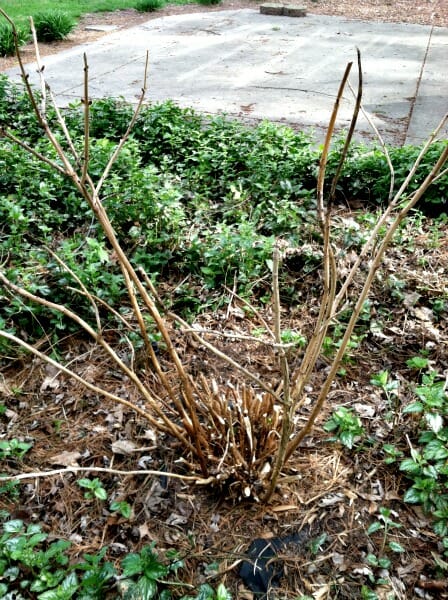 They certainly didn't look like much after just being pruned… but new leaves and branches are already emerging. And come mid-June all the way through late-September, my hydrangeas will look like this…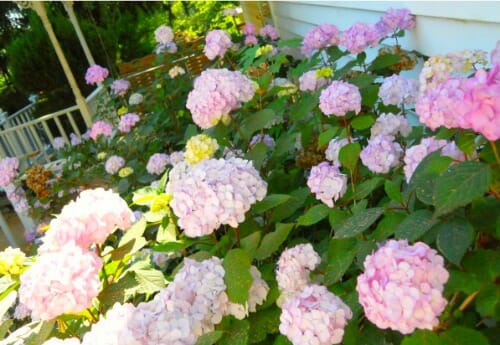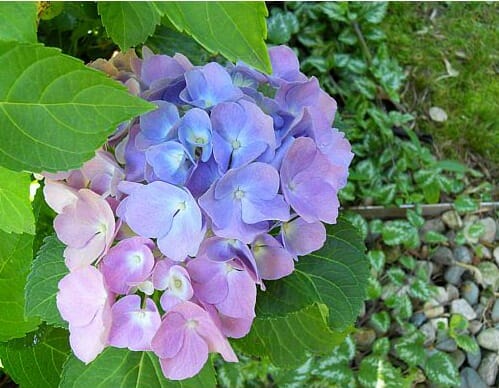 Big beautiful blooms — so many, I can afford to fill vases full of freshly cut hydrangeas all Summer long.
And they'll look almost as lovely during the Fall and Winter months.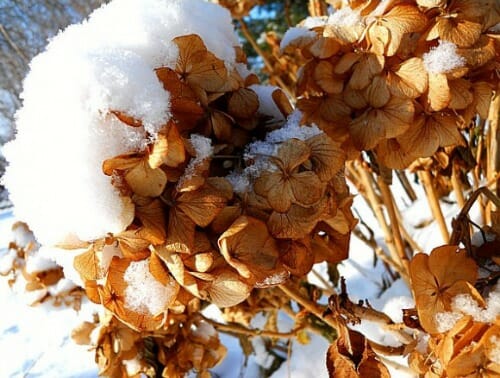 But only because I pruned them back in the Spring.
Only because I took the time to weed out the dead branches and crunchy dried flowers.
Only because I gave the plants a little room to breathe, to grow, and to flower again.
I get a good 8-9 months of 'beautiful' from one afternoon of pruning. Not bad!
.
I feel like our homes, similar to our gardens, also need a good "pruning" every now and then — clearing the clutter and making a little extra breathing room.
Yes, it can be scary — and it's so easy to make excuses. However, after even just a few minutes of "pruning" back the junk in our homes, we'll have more room to breathe, more room for new growth, and more room for the beautiful things we actually DO use, need, and love.
Pruning (and purging) is never glamorous but it's also not difficult — we just need to do it.
And don't you agree it's worth the effort?