In the months since Nora was born, I've received a crazy number of emails asking what items I would suggest for soon-to-be-moms looking to stay clutter-free and stick to a tight budget. While I definitely don't have ALL the answers; after almost 5 months, I can at least share the items we regularly used for the newborn/infant stage.
All week long, I'll be sharing my "must-have" items for infants.
Monday = Nursery Items
Tuesday = Baby Gear
Wednesday = Food, Medicine, Toiletries
Thursday = Clothing
Friday = Items for the New Mom
Saturday = Recap, a few more tips, and a FREE Printable!
I'm sure there are tons of different opinions on what you do and don't need; so I just want to stress that these are the things that worked for us. They might not work for everyone!
My Must-Have Food, Medicine, and Toiletries for Infants
PUMP
I chose to nurse Nora and I wanted to have a pump so I could stock-pile my milk. I purchased the Medela breast pump with TONS of accessories for only $75 from a friend, and then I used these sanitizing bags to clean everything really well.
MILK STORAGE BAGS
If you're going to pump, you'll need to store your milk somehow. I use these and am very happy with them so far.
BOTTLES
Even if you're nursing, you'll probably still want a few bottles just in case you're gone or need a break. There are tons of different types out there, so again, I would try to borrow a few until you figure out what ones your baby likes.
We use Avent bottles — but that's just because my mom found a huge bag of them for $3 at a garage sale!
BOTTLE CLEANING BRUSH
Also, if you're going to use bottles, I'd suggest getting a bottle cleaning brush — it makes life SO much easier!
PLASTIC BIB
My sister-in-law told me about these Baby Bjorn plastic bibs… and even though Nora isn't eating a ton of real food yet, I would definitely consider this bib a "must have" for babies. It wipes clean in a matter of seconds and will grow with your baby through the toddler years.
PORTABLE HIGH CHAIR
I wanted an inexpensive, space-saving high chair; so I was thrilled when I found this Regalo Portable High Chair for only $18!
FORMULA
Obviously, if you're not planning to nurse, you'll need to stock up on formula. I don't know much about the different types of formula, but I do know that some babies prefer different types of formula so you may want to have a variety on hand. I also know that the different brands of formula offer freebies for new moms, so you might want to look into that.
DIAPERS & WIPES
No matter what type of diapers you decide to use, you'll most definitely want to have a good stock-pile before the baby arrives. You will use more than you think and you really don't want to run out 🙂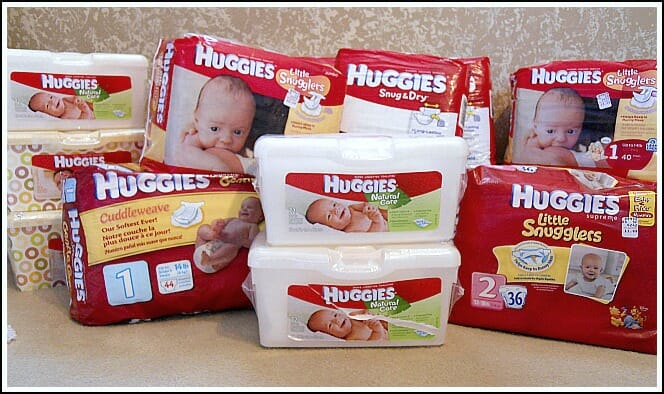 DIAPER RASH CREAM
We use the big tubs of Boudreaux's Butt Paste and boy does it work wonders!
BABY LOTION
We put lotion on Nora every night before bed. We also use that time to give her a mini massage. I think it helps her relax at the end of the day.
BABY WASH — obviously a necessity for bath time!
NASAL ASPIRATOR — we use this daily!
GAS DROPS — another item we use daily.
VAPORIZER — we almost didn't buy one of these, but I'm so glad we did, as it really helped when Nora's nose was all stuffed up a couple weeks ago.
INFANT PAIN RELIEVER — this will come in handy for those 2-month shots.
What were/are your must-have infant food, medicine, and toiletry items?