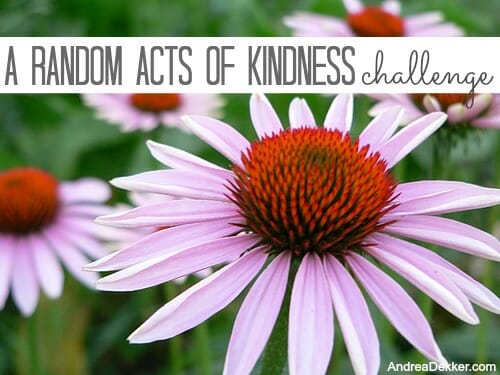 I'm excited to share today's post with you, because it's a guest post I requested from a loyal reader.

Dallas, from Day-by-Day Masterpiece, is currently in the middle of a one-year challenge to perform random acts of kindness each week. I think this idea is awesome… and for those of you who might want to try a similar challenge, I asked Dallas to share a few really simple (and free) random acts of kindness we can ALL do!
We live in such a crazy-busy world that sometimes it can be difficult to squeeze in extra time volunteering or giving to others. But you don't have to give a ton of time or money to make a positive difference. Little acts of kindness and grace add up!
We're not even halfway through the year yet, and it has already been such an amazing and life-affirming experience. I wake up every day charged with energy and gratitude!
Want to join me? Here are five small acts of kindness that you can do today:
1. Post a kind note in a public place.
Write a nice phrase on a sticky note and leave it on a public bathroom mirror. Some of my favorites:
You are beautiful.
Someone loves you very much.
Have a wonderful day.
2. Give someone flowers.
Flowers brighten anyone's day! Pick some from your garden and bring them to a neighbor. Surprise a friend with flowers. Take a bouquet to a nursing home.
One person participating in my year of kindness challenge bought a rose at the grocery store, paid for it, and then gave it to the cashier. You can bet that made her day!
3. Deliver baked goods.
Whip up a batch of cookies, brownies, cupcakes, muffins, or whatever your special dish may be. Then drop them off, with a note of thanks, to your local fire station, police station, or hospital. Don't have time to bake? Bring balloons, flowers, or even just a card.
4. Pick up litter.
Next time you're out for a walk or playing at the park with your kiddos, bring along a plastic grocery bag and pick up any litter you see. Kids love helping with this "game" too! (Just make sure to bring along hand sanitizer or thoroughly wash their hands after touching any trash.)
5. Send a thank-you note.
One of my role models, the late John Wooden, used to say: "Although it is often used without true feeling, when it is used with sincerity, no collection of words can be more expressive or meaningful than the very simple word – Thanks!" Isn't that so true? We all love to feel appreciated and cared about.
Handwritten thank-you notes (or even thank-you emails) are especially meaningful because they can be read again and again. Think of someone you are grateful for, and take a few minutes to write them a thank-you note. I can guarantee you will brighten their day!
It's amazing how these simple acts can impact the lives of others — as well as our own lives.
What are your favorite random acts of kindness?
Dallas Woodburn blogs about joyful, healthy living at Day-by-Day Masterpiece. She is also the author of two collections of short stories for children and teens; her latest, 3 a.m., was featured on the PBS book talk show "Between the Lines." A passionate advocate for young writers and readers, Dallas also is the founder of the nonprofit organization Write On! For Literacy and the publishing company Write On! Books, through which she edited and published the acclaimed anthology Dancing With The Pen: a collection of today's best youth writing.