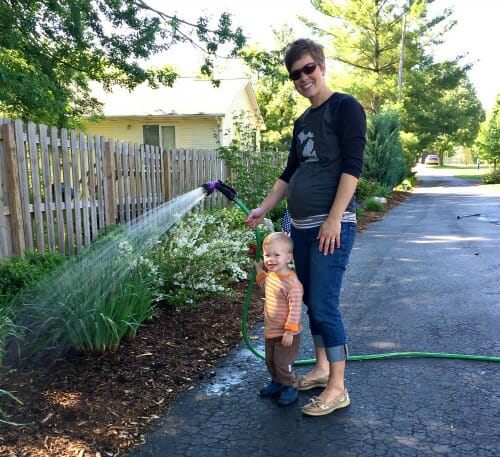 Ever since I announced that Baby Dekker #4 is on her way, I've gotten so many congratulatory emails and comments from all of you — thanks so much!
A couple of the emails questioned how Dave and I decided what size family we want (or at least hope to have) someday. They weren't nosey emails, prying for our personal information — rather, the questions were mainly because these readers are currently in the middle of trying to decide this exact same thing.
I know I have personally asked friends (especially older friends) this exact same question — basically for the same reason — so I thought it might be an interesting blog post!
One of the emails summed it up really well:
I've been a reader of your blog for about a year and have enjoyed following your family's journey. We are pregnant with our second (also a girl!) and have been talking a lot about family size, mostly along the lines of "Should we have 2 or 3 children?"

I was curious if you would consider writing a blog post on your decision about family size, or even introducing the topic so others could comment. We are finding there are so many reasons — pro and con. We realize it may not happen just because we want it to happen, but there is still a decision to be made! My husband and I are also in our late 30's, so we don't have the luxury of waiting a few years and then deciding.
Yes, I think we are all aware that just because WE want another baby (or don't want another baby) doesn't necessarily mean WE will get what WE want.
That said, I do think most people put at least some amount of thought or consideration into family size — and honestly, I know many girls (myself included) who think about their future family size before there is even a potential father in the picture 🙂
For as long as I can remember, I've always wanted 5 kids.
I honestly have NO idea why this is the number I settled on (especially since I hated babysitting and have never been a 'baby person'), but I've always pictured myself with 5 kids — long before I considered who the father of these 5 kids might be!
When Dave and I were dating, I mentioned my idea of 5 kids — and to my surprise, he didn't totally freak out. He said he thought 4 would be nice, but would be willing to consider 3 or 5 as well.
We were engaged just a few months later, so clearly, I didn't scare him away!
After that initial conversation, we honestly never really talked about our future family size much until Nora was about 1 year old. I think we were both SOOOOOO overwhelmed with becoming new parents of a very fussy baby that we both knew her first year of life was NOT the time to discuss more children.
I do remember feeling so sad when we finally talked about it and we both agreed we weren't even close to ready to have any more children for a while. We even half-heartedly joked about not ever having more children — and I honestly think there was some degree of seriousness for both of us in that statement.
I knew I really did want more than 1 child, but I was also certain I could not repeat the torturously sleep-deprived first 18 months of Nora's life with another baby.
Fortunately for Dave and I (both major planners) we unexpectedly found out we were pregnant with Simon when Nora was about 20 months old. I was initially very shocked, sort of angry, pretty scared, and extremely excited all at the same time.
And as many of you know, Simon was an angel baby who slept a ton, ate like a champ, and was generally happy almost all the time. Praise the Lord!
By the time Simon was 4 months old, we had already decided we wanted more children — and that we would ideally like to have the next baby fairly soon if possible.
I was pregnant with James just a few months later — and so excited to have our first "summer baby" who would be born when Dave was home all day!
I can remember being in the hospital the day after James was born and thinking, "Yes, I definitely want to do this at least one more time." In no way did I feel like we were "done" having babies… and I don't think Dave ever felt that way either.
.
Now, being pregnant with our 4th child (and knowing it's a girl) I've had the very first thoughts of: "Maybe 4 is enough."
Dave told me he's had these thoughts too.
I'm not sure if I'm just tired of being pregnant while chasing multiple other little children or if the idea of stopping with 2 boys and 2 girls sounds very appealing to me… but all of a sudden, I no longer always picture myself with 5 children.
Of course, we are not officially closing the door to more children, but I do think both Dave and I could potentially be ready to move past the "having more babies" stage of life after this next one arrives.
We'll just have to wait and see!
On one hand, I think of all the "pros" to having a bigger family:
Lots of siblings to play with.
Lots of toys and clothes to share.
Another chance to snuggle a new baby (the newborn phase is actually growing on me!)
Another little person to love so much.
More personalities to enjoy.
More cousins and grandkids when they all grow up.
But I can't help but think how different 5 kids would be versus 4:
We'd most likely need a bigger vehicle as 5 car seats can't fit in our van.
One child would get their own room — or 3 kids would have to share one room.
More crowded in terms of bathroom usage, storage space, closet space, etc.
More expense for school tuition, family vacation, and even simple things like going out to eat or back to school shopping.
Less one-on-one time with each child.
Having an "odd child out" in terms of, we'll either have 3 boys and 2 girls or 2 boys and 3 girls.
The "risk" of having twins and actually ending up with 6 children — a number I definitely can't picture myself with right now!
Don't worry, I'm most definitely not stressing or worrying about this in any way right now. I've just been thinking about it more because of the emails I got and because I was in the middle of writing this post.
Right now, we are all just super excited to welcome our 4th baby and enjoy life as a family of 6 for a while. We'll take it one day at a time and see how we feel in another year or so!
So that's my story… for now!
I realize this is potentially a hard topic for some of you — please know that my intentions are not to be insensitive, but rather to share my story and hopefully hear some of your stories too.
I know many of you are at the same point of life as Dave and me — wondering how many children we might have someday. But there are so many more who are done having babies (either by choice or by circumstance). There are also those who have chosen not to have children or who haven't started families yet.
Whatever the case, I'd love to know if you have/had specific thoughts or reasons for why you want/wanted a certain number of children or why you stopped having children when you did.
This has always been an interesting topic among our friends and family members — so I know there are some good stories out there!