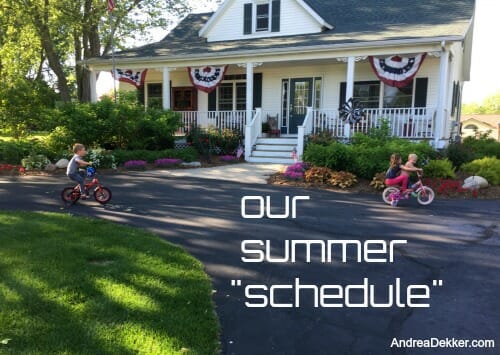 Today is Dave's last day of school — which means our family officially starts summer vacation TOMORROW!
I know many of you aren't nearly as excited as I am for summer vacation — especially working parents who now need to find childcare for their school-age children. However, since my kid are young enough that I'm home with them all day during the school year, having Dave home everyday for 10 weeks in the summer is something I look forward to every year!
It's hard to believe another school year has flown by… but here we are, on the threshold of another summer just waiting to be savored.
I'm honestly not one of those overly-emotional, overly-nostalgic people… but I do love summer vacation. My mom was a teacher and my dad was self-employed so even growing up, our whole family was often around for most of the summer, and I have lots of good summertime memories — swimming in my neighbor's pool, making forts in the woods behind my parent's house, and watching WAY too much TV 🙂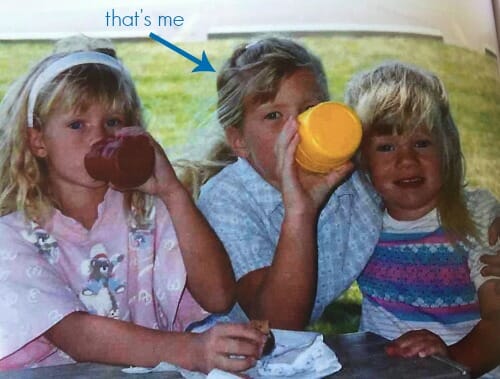 Anyway… although I do enjoy the more laid-back pace summer usually brings for our family, Dave and I (and our children) all function better and are happier if we still stick to somewhat of a loose daily schedule and routine.
And since I've already gotten so many emails from readers asking for what we do to stay on a schedule during the summer, I figured today was a good day to share!
Some of the questions I've gotten are:
Do we have our kids do certain chores on certain days? And do we pay them for these chores?
Do we monitor TV and screen time more during the summer?
Do we sign our kids up for sports camps, swimming lessons, or summer school?
Do we do educational activities at home?
What types of fun summer things do we incorporate into our days?
I'll be honest, our kids are still really young in my opinion (5, 3, and almost 2) so we pretty much just hang out at home, play with neighbor kids, go to local parks, and stop by grandparents' homes.
That said, we do still have some sort of a routine that we follow every day.
MORNING:
The kids wake up around 7:00 and can watch a couple TV shows while Dave and I finish getting ready and get breakfast on the table. This year, Dave and I are hoping to get up at 6:00 every day so we have some time to cross a few things off our list and be dressed and ready to go before the kids wake up. We'll see how that goes 🙂
Eat breakfast and clean up the kitchen.
Get the kids dressed and ready for the day.
Go outside to play in the driveway while it's still cool and shady (the swingset area is very sunny in the morning).
Have a snack at some point.
Continue playing outside until lunch — sometimes with neighbor friends, sometimes at a park, sometimes just with each other.
AFTERNOON:
We eat lunch between 11:30 and noon pretty much every day. Sometimes, I go through the extra work to make it a picnic lunch. SO much hassle with little kids but they always love it so much 🙂
After lunch, we usually read a few books and then I put James down for a nap. Sometimes Simon requests to take a nap as well (seriously, he's such a good sleeper!)
While James is napping, Dave and I try to take turns doing something fun with Nora and Simon. Maybe I'll run a couple more "fun" errands with them or Dave will take them for a bike ride or to play at his school's gym. Sometimes we'll do a craft, bake a special treat, get the kiddie pool out, or let them watch a special movie.
If I'm with Nora and Simon, Dave will use that time to mow the lawn, work on a house project, or do some school prep (yes, teachers work on school stuff throughout the summer). If Dave is with Nora and Simon, I'll use this time to work on a blog post, do VA work, make dinner, or do yard work.
Once James is awake, they have a snack and then they usually play upstairs or outside (depending on the weather) until dinner.
EVENING:
We eat dinner by 5:00 pretty much every night. We do a lot of grilling in the summer and definitely more fast food than during the school year. We also try to invite people over for dinner at least once a week.
After dinner, the kids usually go outside to play for a little bit longer. I often use this time to water my annuals or pick veggies from the garden.
We start their baths (Nora takes a shower now!) around 6:30ish and they are almost always sleeping by 7:30. Sometimes we let them stay up a little later in the summer, but usually we try to get them to bed between 7 and 7:30 because they still always wake up at the same time.
Once the kids are in bed, Dave and I do yard work, house projects, blog/school work, etc. Sometimes, Dave will go for a run or I'll go for a walk (not at the same time!), sometimes I'll run errands, and sometimes we just sit and watch a movie.
.
At this point, we do NOT stress about doing specific educational activities with our kids, nor do we intend to sign them up for any sort of summer camp or activity. We might do a week of swimming lessons for Nora and Simon again, but I haven't decided yet.
I realize our children are younger, so we don't have a lot of outside pressure to do summer school, sports camps, or even elaborate family vacations, but I really hope we can keep our summer weeks relatively low-key for a few more years.
I definitely don't think summer school, sports camps, or vacations are bad — they are just "more" and sometimes "more" isn't always better in my opinion!
Our time for camps and vacations and "more" will come soon enough — for now, our "summer schedule" is to have fun, relax, do things we might not normally do when Dave is in school, finish a few house projects, and spend lots of time outside!
How's that "schedule" sound!?!