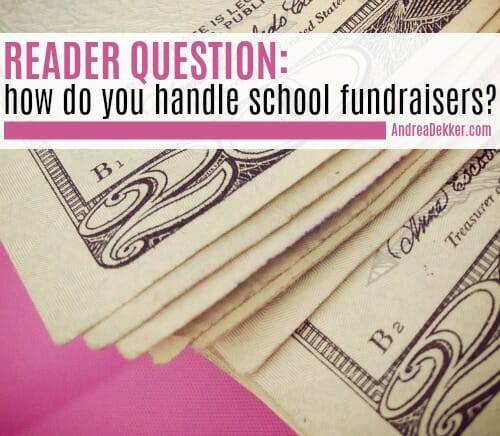 Last week 3 different people emailed asking how Dave and I handle school, church, or community fundraisers for our children.
Here's one of the emails:
Hi Andrea!

A while back you asked for back to school post ideas… I'd be interested in a post on how you handle school fundraisers. I hate asking people to buy stuff, so we usually just ask grandparents — and of course ourselves! This can get expensive though, especially with multiple children!
Unfortunately, I didn't have a great answer for any of these emails because our children currently aren't involved in any church or community groups that have fundraisers, and their school only does ONE fundraiser for the entire year (it's a walk-a-thon, so nothing to sell!) Yahoo!!
The walk-a-thon is in the spring and each child is asked to raise $100 (very doable in my opinion). There are prizes and incentives for them to raise more than $100, but as long as each child raises roughly $100, the fundraiser will be a huge success from the school's point of view.
For the last couple of years, Dave and I have simply written a check for the appropriate amount as we didn't feel like calling friends and relatives (and our kids were a little young to call themselves). Nora did decide to call a few relatives last year, which earned her an extra $200 on top of our $100.
.
Ironically, when I was growing up, my sisters and I would often sell so many items for our school fundraisers that our classes would win many of the special prizes, pizza parties, ice cream parties, etc.
We had fun and our parents helped us… but at this point in my life, I absolutely LOVE that our school only has one fundraiser, and I love that it's not until spring.
That said, I'm curious to know how other families handle school, church, or community fundraisers!
Do you go all-in and sell a ton of stuff? (If so, what's your secret to success?)
Do you simply write a check yourself and call it good?
Do you call a few close friends and relatives?
Do you post it on social media and let people decide for themselves? (does this method work well?)
Do you call/email? Or do you have your children do it? What ages did they start calling themselves?
Do you choose not to participate? And does your school or organization have any "penalties" for not participating?
Leave a comment (or respond to another comment) and I'll try to respond to as many questions as I can!