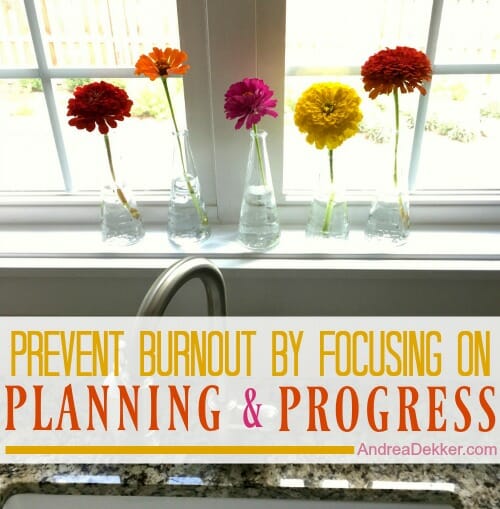 Over the past few years, I have gotten SOOOOOO many emails and questions asking me to share more about how I stay on top of my daily home, garden, business, family, and life responsibilities without feeling burnt out or overwhelmed all the time.
These questions have been percolating in the back of my brain for months now, and I keep circling back to the ideas of "planning ahead" and "gradual progress".
I'm certain there are many MANY little pieces that all come together to help me prevent burnout and reduce the number of times I feel totally overwhelmed with life (I know my "go-go-go" personality plays a part in it too).
Of course, there are still days and weeks when I feel burnt out, and sometimes entire seasons of life that tend to feel more overwhelming for me than others — but in my opinion, my own life has been SIGNIFICANTLY simplified by planning ahead and striving to make gradual forward progress in every area of my life.
Let me explain a bit more…
.
PLANNING AHEAD:
Sometimes I think half my blog posts allude to planning ahead in some way or another — but that's because I am confident (based on many years of planning ahead in my own life) that planning ahead is one of the absolute best ways to simplify, streamline, organize, and de-stress my life.
Just think about how many stressful and frazzled moments could be eliminated (or at least drastically reduced) if we spent a little more time planning ahead.
Here are a few examples from my own life:
I simplify the morning rush by having lunches packed, clothing picked out, and breakfast foods ready to go the night before.
I plan our meals a week at a time — which not only simplifies the dinner hour, but also allows me to add everything I need for the week to my grocery list, and only get out to the store once a week (saving both time and money).
We almost always have a variety of baked goods and a few meal options in the freezer for busy days or last-minute dinner guests.
Dave and I talk through our daily and weekly schedules ahead of time so we can plan what meals would work best on what days, when we might need help watching the kids, and what things need to be done around the house each day and each week.
We buy gifts ahead of time (when they are on sale) and stock up on gift cards for ourselves (and for others) over the holiday season, when they are often discounted or sold with bonus offers.
I always make my to-do list for the next day before I go to bed so I know exactly what I should focus my attention on when I wake up.
I fully realize that even the most planned and organized person will still encounter stressful, chaotic, and unplanned periods of life (that's normal and expected). However, for the rest of the time, I'm 100% positive that planning ahead saves time, energy, money, space, and stress.
And if you're anything like me, once you realize how much you benefit from planning ahead, it will be so much easier to do it regularly, even when packing lunches, washing dishes, picking out your clothes, and making your to-do list the night before is the LAST thing you want to do.
.
GRADUAL PROGRESS:
As many of you know, I am a big fan of QUANTITY over QUALITY and would much rather finish a task quickly and move onto the next thing versus dawdle over doing it perfectly before finally moving on to the next thing on my list.
I'm a "productivity junkie" (wouldn't that be a fun blog name!) and will forever strive for gradual forward progress over perfection every single time. This means that instead of stressing about doing EVERYTHING, I can simply focus on doing the NEXT thing.
I know not all people function best with this sort of approach to life… but I personally feel that my "gradual progress" mentality has played a huge roll in my ability to manage everything I do without feeling burnt out or overwhelmed.
Here are a few examples from my own life:
I almost always try to leave a room better than when I entered the room — this might mean throwing away a piece of trash, wiping down a wet spot on the counter, stacking a couple books back on the shelf, or putting a few dishes in the dishwasher. The room might not be perfectly clean or clutter-free, but it's BETTER than it was when I entered it.
I am far from a health-nut, but we have made so many small positive healthy-living changes over the past several years — it's amazing (at least for me) to see how much our eating habits really have changed for the better with very little effort on our part.
I keep my yard relatively weed-free (we're even keeping the weeds out of our vegetable garden this year!) by simply pulling a few weeds here and there, whenever I see them pop up. Since I'm outside with the kids at various times during the day, I keep a bucket handy for when I see a pesky weed. This way, I rarely need to do massive amounts of weeding at any given time, and our landscape is virtually weed-free!
I purge our home regularly and continually. It only takes me a few minutes to do this because I do it regularly throughout the year — instead of waiting 5-10 years and then feeling so completely overwhelmed I don't know where to start.
Obviously, not everyone is wired the same way I am (oh, what a crazy world that would be) and there are definitely times when striving for gradual progress might not be the best way. However, I have a hunch that the majority of people would benefit from working towards gradual progress instead of seeking more immediate results or striving for perfection.
.
My life isn't completely spared from burnout or overwhelming moments, but by constantly planning ahead and continually focusing on gradual progress, I'm able to thwart much of the burnout and overwhelming feelings before they get too crazy and take over my life.
What are your best tips to prevent burnout?