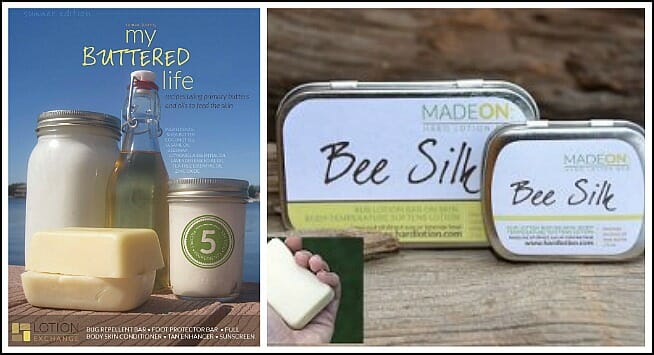 Remember a few weeks ago, during my Birthday Giveaway Week, when I talked about MadeOn Hard Lotion? Their lotion bars and other homemade products are some of my new favorites!
A few of the reasons I'm hooked on their products is because they are all-natural, totally organic, and they don't have a strong fragrance. But now I have yet another reason to be a super fan — because the founder, Renee Harris, is sharing her recipes with anyone who wants to try making their own products!
Renee has already shared the recipes and DIY kit to make her famous Hard Lotion and Lip Balm, but now she published a brand new e-book called "My Buttered Life". Inside, she shares a ton of relatively simple and inexpensive recipes for suntan lotion, bug repellent, body lotion bars, foot protector bars, tan enhancers, and more!
Oh, and it's only $5.00!!
You can watch this video if you need a sneak peek at some of the recipes in the book.
If you're reading this by email, you can click here to see the video.
Don't wait, get your copy of My Buttered Life for only $5 today!
And if you do purchase the DIY Hard Lotion and Lip Balm Kit, you'll get the ebook for free!