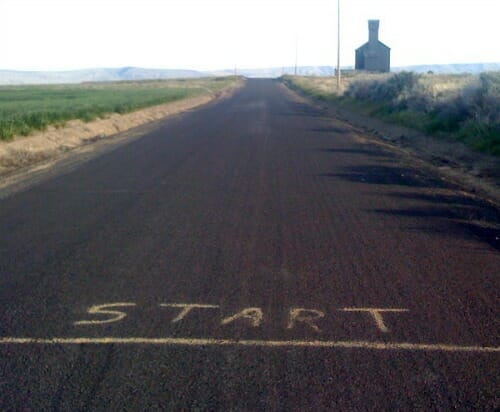 No matter who you are, I'm guessing that you struggle with procrastination every now and then… or maybe it's just me!
I try really hard not to procrastinate — not only because it makes me look bad here on the blog, but also because I truly do know how much time and energy procrastination wastes.
So often we procrastinate on simple tasks like making the bed, washing the dishes, putting away the already folded laundry, filing a few papers, straightening out a drawer or shelf, making dinner etc. etc. and by the end of the day, we've wasted so much time and energy THINKING about all the thing we SHOULD be doing that we could have actually completed most of those tasks in the same amount of time.
In previous blog posts, I've often mentioned how helpful it is for me to set a timer when I sense that I'm starting to procrastinate. This way, I realize how quickly I'm able to complete certain projects (like cleaning out the dishwasher or filing a stack of papers) which then often gives me the motivation to keep going and finish the project.
However, this still doesn't address the issue of actually getting started — and getting started is the most important part in banishing procrastination. "Getting started" also happens to be the most difficult part for many people.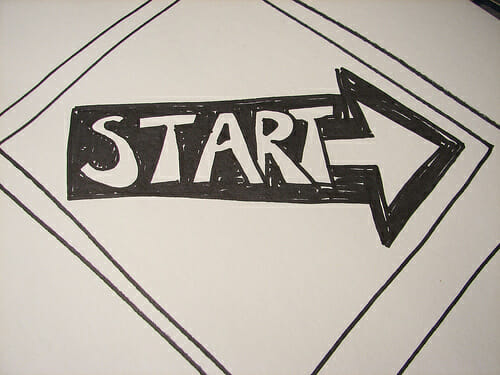 As I thought back on the situations when I'm most likely to procrastinate, a light bulb went on and I realized something I did in almost every situation that greatly reduced my procrastinating tendencies…
I made it really easy to get started.
Let me explain…
If I'm feeling a little less than excited about a painting project, I might simply take 10 minutes and get all my supplies out. I'd get the paint ready, get the brush and roller ready, lay out the drop cloths, etc. Then, maybe later that day or the next day, I'll do the actual painting.

This way, when I have the time to paint, I can jump right in and start painting immediately — I don't have to waste time with those preliminary steps.
.
Another example from my blogging life is that I'll often start 4-6 blog posts in one day. I'll write a few sentences and maybe a rough outline… but then I'll stop. The rough outlines only take me a few minutes, but from that moment on, I periodically think about those blog post topics and the outlines as I go through my day. I'll start to form the posts in my mind while I'm doing other tasks like feeding a baby, watering flowers, driving to the store, etc. etc.

This way, when I actually have the time to sit down and write for a couple hours, I have SO many ideas swirling around in my head that I almost never experience writer's block or waste time staring at a blank screen.
.
One more example from my kitchen: I often find the dinner hour somewhat overwhelming (can anyone relate?) and if I wait until 4:30 or 5:00 to get started, I can almost guarantee we'll be having grilled cheese, frozen pizza, or fast food. However, if I make it really easy to get started with dinner, I can easily have a nice simple meal on the table by 5:30 even with 2 kids vying for my attention.

All it takes for me to accomplish this is spending 5 minutes the night before pulling anything I need out of the pantry or out of the freezer. Then throughout the next day, I'll slowly prepare bits and pieces of our meal in the small pockets of free time I find. I might brown sausage or cook up some meat while Nora eats breakfast. Maybe I'll cut up fruits and veggies while Nora eat's lunch, we can bake together while Simon is napping, and then I assemble dinner and pop it in the oven after Dave gets home and "rescues" me from my little helpers 🙂
.
I realize this might sound ridiculously simple, but I can confidently speak from lots of personal experience that this really does work.
I've found that in my own life, the times when it's easiest to procrastinate are when I'm not planning ahead and I'm not prepared to get started. However, if I do a little planning ahead and make it super easy to "pick up where I left off", I'm far less likely to procrastinate.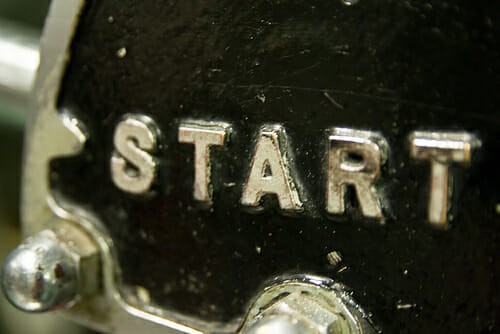 The way I look at it is… by taking a few minutes right now to get the room ready to paint, draft up a few blog posts, or start prepping dinner, I will save myself SO much time, energy, and stress later on. Plus, I would need to do all that prep work at some point anyway — so I'm really not wasting any time by breaking down my tasks into more manageable chunks.
Instead, I'm making it super easy for me to simply dive in, get started, and be productive when I actually have a few minutes of free time (which are increasingly difficult to come by these days!)
What about you? Do you have any ingenious time-saving, productivity-boosting tips?