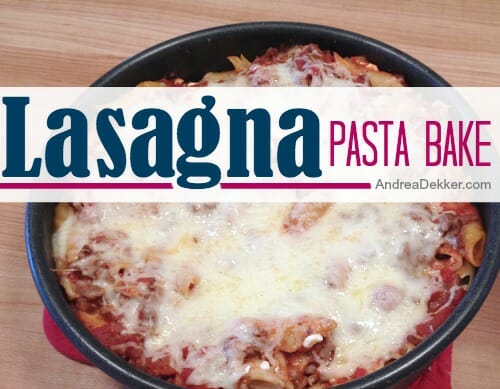 Our family loves lasagna — however, I don't always love making lasagna because it seems like I get SO many dishes dirty and make such a huge mess of the kitchen. Plus, a full pan of lasagna makes way too much food for our little family — which means we end up eating lasagna leftovers for the next week or more (unless I freeze it).
So in an effort to please the family and make life a little easier on myself, I came up with this "lasagna-like" recipe. It's a simple, delicious recipe that tastes just like lasagna but without all the work!
If you like traditional lasagna I'm almost positive you'll love this recipe too!
Recipe for Lasagna-Like Pasta Bake
Makes one 9″ x 13″ pan or 2 smaller pans.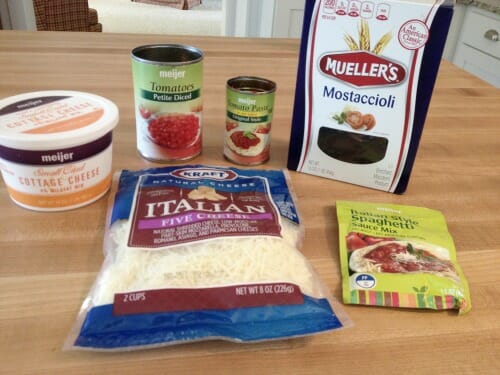 INGREDIENTS:
16 oz. box of your favorite pasta (I would choose a bite-size noodle over the longer spaghetti noodles)
16 oz. tub of cottage cheese
1 lb. ground beef or ground turkey (optional and not pictured above)
6 oz. can of tomato paste
14.5 oz. can diced tomatoes with juice
1.5 oz. package pasta sauce seasoning (usually in the aisle with spices, gravy mixes, etc)
2 c. water
8 oz. shredded Italian-style cheese
DIRECTIONS:
Preheat oven to 350*F
In a large pot, boil pasta until tender. Drain (but do not rinse).
Dump entire container of cottage cheese over hot noodles and stir until combined. Set aside.
While noodles boil, brown meat in a large frying pan. Drain grease and return pan to stove.
Add tomato paste, diced tomatoes, pasta seasoning and water to the frying pan and simmer until thick and bubbly.
Add cooked meat into the tomato sauce and stir.
Assembly:
Dump noodles + cottage cheese mixture into a greased 9″ x 13″ pan (or 2 smaller pans)
Pour sauce over noodles
Top with cheese
Bake uncovered in preheated oven for 20-30 minutes — or until cheese is melted.
Eat and enjoy!
I can usually get this meal in the oven in about 20 minutes (even less time if I already have the meat cooked up in the freezer) so it's definitely faster and easier than traditional lasagna recipes. Plus, I only have 2 pans and a spatula to wash!
I often make the meal in the morning and simply refrigerate it until dinner time — and yes, it freezes wonderfully. Oh, and I should mention that it definitely does NOT need to be made in a round pan — I was just running low on square pans so I used a 9″ in cake pan instead 🙂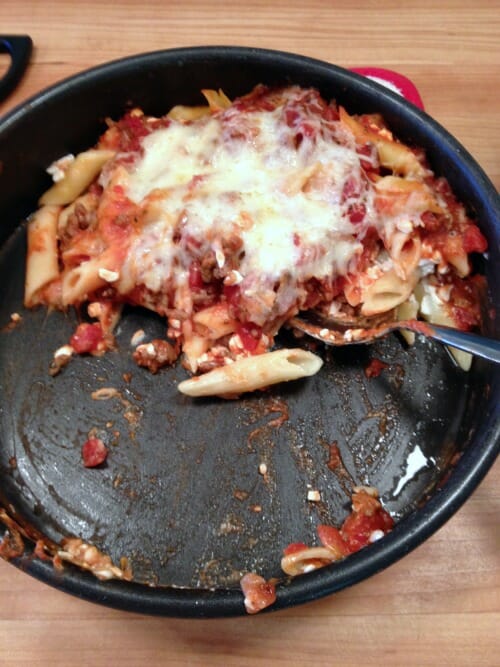 This is a real kid-pleasing recipe and is also great for pot-lucks or other group meals.
Of course, you may feel free to play with the ingredients to fit your tastes. Maybe use your favorite pasta sauce, add a few seasonings or spices, play with various cheeses — I really don't think you can mess this one up!
Looking for more simple recipes?
Visit my virtual recipe box for more simple, delicious, family friendly, recipes!