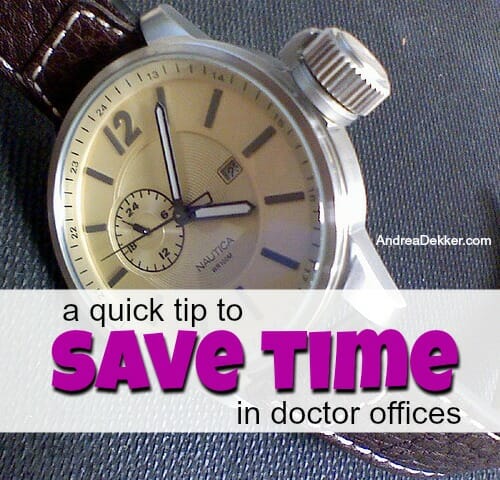 Thankfully, our family does not spend all that much time waiting in doctor offices. However, after 8 years of regular prenatal, postnatal, and well-child visits, I have learned a few tips and tricks to spend as little time as possible in waiting rooms (especially when I have other children along!)
NOTE: when James was a newborn, Simon was only 16 months old, and Nora was 3.5, I had at least one well-child checkup every month for 9 months straight — and of course, all 3 kids were with me every time!
These days, we have roughly 10+ dental exams, 6+ well-child and/or physicals, and a handful of optometry, therapy, and chiropractor appointments each year — nothing too major, but it can all add up to lots and lots of extra waiting!
Waiting is SO aggravating for me — especially when the office says to arrive 20 minutes early (which I do) only to call me back 40 minutes later than my scheduled appointment.
If I'm all by myself and have a good book on my phone, I don't mind as much; but even then, I just do not like to wait… for anything!
To remedy the extended waiting periods, I developed the EXTREMELY SIMPLE habit of calling the doctor's office roughly 45 minutes before my scheduled appointment time to check if the doctor is on schedule or running behind.
More often than not, the receptionist informs me that the doctors are running 30-60 minutes behind schedule — in which case I ask them if it would be OK for me to arrive 30 minutes later than normal.
In all my years of doing this, I've only had 1 receptionist tell me it was not OK due to the fact that if I arrived late, I would have to wait for anyone who arrived before me to be seen first.
Nowadays, most of our doctor's offices have online check-in — so I can check in from home (yes, this still seems odd to me) and just show up 30 minutes later to avoid extra time spent waiting in the office.
It's SO simple!
A Few Other Tips to Reduce Waiting Time:
fill out all paperwork ahead of time at home (or online)
schedule yourself for the first appointment of the day or the first appointment after lunch
schedule your visit as a "nurse only" or Physician's Assistant visit
check-in online before you leave home
schedule follow-up appointments (if necessary) while you wait to be called back (I did this all the time for my prenatal appointments)
always have a book on your phone (or activities and snacks for the kids) to "pass the time" if you do end up waiting!
What are your best tips to avoid excess waiting time in doctor offices?
NOTE: This tip also works for most other appointments too (hair, nails, etc. etc.)