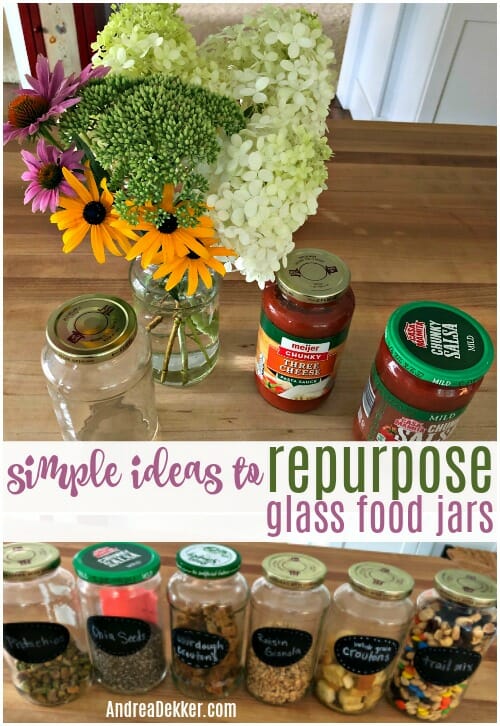 Although I don't buy nearly as many store-bought products as I have in years past, I still end up with a handful of glass jars from store-bought salsa and other sauces.
These jars, while easily recyclable, have a special storage spot in my kitchen cabinets because I reuse them for SO many different purposes on a regular basis.
Watch my recent video to see how I reuse these jars!!
M
If you're reading this via email, you'll need to click through to the post to watch.
As you see in the video, these jars always seem to be "just the right size" for various storage needs — and since they are technically "free" (unlike mason jars that are getting more expensive every year), I often use them to give food gifts and even as disposable flower vases I don't need back again!
Of course, I also use these jars for my own pantry and freezer storage needs… the clear containers with tight-fitting lids are often the perfect size for nuts, seeds, granola, M&M's, chocolate chips, trail mix, homemade croutons, etc. etc.
No, they aren't quite as cute (or as matching) as all my mason jars, but the price is right, plus, they are a little bit smaller so they actually fit better on one of my shelves!
NOTE: Here's a link to the chalkboard labels I use.
I realize this might be super "old news" for many of you, but when I bring food, snacks, or flowers to others, I often get comments about "what a great idea it is to reuse store-bought glass jars"… so I figured it was time to officially share this tip on the blog!
If you enjoy giving food or flower gifts, or if you're just looking for a few extra storage containers for your own pantry, I'd encourage you to save a few glass jars and put them to use in and around your home (or for gifts this next year!)
… yup, I did just encourage you to SAVE something!
What are your favorite ways to repurpose store-bought glass jars?