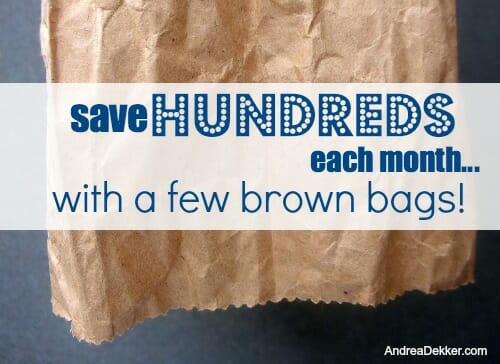 I know many of your children have already started school, but Dave still has a full week before he goes back — don't be too jealous, he stays longer in the spring!
However, since I haven't done any back-to-school posts this year (I think I've just been dreading it too much) I figured today was a good day to squeeze one in. And don't worry, if you're confused by the title… it will all make sense in a few minutes 😉
I'm often asked about ways to save on back-to-school supplies — and although I love coupons as much as the next person, I won't tell you to wait in line for $0.05 pencils and $.10 paper to save on your back-to-school gear. I'm a little more practical than that.
When I started thinking about the various back-to-school expenses, I knew exactly what money-saving tip I wanted to write about… especially since it could EASILY save a family of 5 over $450 a month (try doing that with your $0.10 paper deals!)
.
Pack a Brown Bag Lunch.
Ahhh, now it all makes sense!
Dave packs his lunch EVERY. SINGLE. DAY. Or maybe I should say "every single NIGHT". He doesn't particularly love doing it (boy, am I thankful he does it himself) but he knows how much time and money it saves him every week and he feels better when he packs healthier options from home.
I'm not against kids getting hot lunch or adults going out for lunch — but I think the key is to reserve it for special treats once in a while.
Just think about it… if you have 3 children and it costs $3 per child, per weekday for hot lunch (that's a conservative estimate based on people I talked to) that's $9 per day or at least $180 a month. Then add in 2 adults going out for lunch every weekday at roughly $7 a person — that adds another $14 a day or over $280 a month.
Would you like to have an extra $450 to add to your budget every month? Well, packing your own lunches could do that for you!!
Even if you pack store bought snacks, a pricier Lunchable, or other convenience foods for you or your kids, you'll still be saving a significant amount of money each week — sooo yeah, this is a big money-saver!!
Oh, and BYOB too!
I recently looked up some statistics about how much American workers spend on coffee every year — and the number might shock you too!
According to this survey from 2012, the average working American spends over $1000 per year on coffee! And that's PER PERSON, not per family. The survey also mentioned that Americans ages 18-34 are spending significantly more than those 45 and older (which I'm not surprised about).
Now, I don't drink coffee, but I buy it for Dave, and there is NO WAY we could spend over $1000 a year on coffee — even if we bought the most gourmet roasted beans from the store.
Dave brews a batch of coffee every morning before he leaves for school. He drinks some coffee with his breakfast and packs the rest up in a insulated coffee cup to take with him. This means he doesn't need to waste time stopping at a gas station or drive-through coffee bar, and of course, he saves boats loads of cash too!
One more tip:
Instead of brown bags, I'd suggest taking it one step further and investing in a reusable lunch bag/box for each family member — as well as reusable water bottles or coffee mugs. It might be a little investment upfront, but I'm positive it will save you in the long run.
.
If you're used to getting coffee or going out to lunch every day, don't feel like you need to change everything you do right away. Maybe just pick one day a week to pack lunches for the whole family; then in another month, add another day and pack lunches 2 days a week.
I don't think it's bad or wrong to enjoy the convenience of hot lunch, drive-through coffee, or a fun lunch out with your friends; however, if you're looking to cut back on your monthly and yearly expenses — this is a GREAT way to do that without much extra effort on your part.
How often do you pack your own lunches?