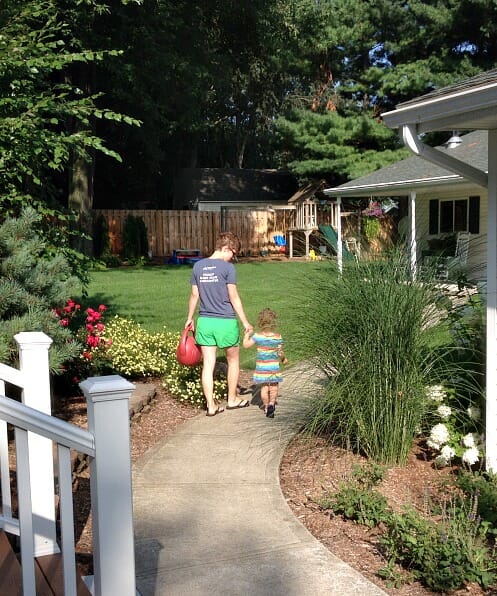 Growing up, I NEVER would have described myself as an introvert; and I'm fairly confident anyone I knew would have laughed if I said I was an introvert.
Even now, most people who know me personally would not classify me as an introvert — but I definitely am. Yes, I am very involved in many groups and activities, I'm quite social, and I frequently spend time with family, friends, neighbors, etc. However, I love my alone time and I need that alone time to "recharge" – which is essentially the definition of an introvert.
To put it simply: Introverts are people whose energy tends to expand through reflection and dwindle during interaction.
So yes, that's me… and Dave too!
Neither Dave nor I are extreme introverts — but we both lean to that side of the spectrum. I also think that both of our introverted tendencies have become more 'pronounced' after having kids (being around kids all day really makes you realize how much you crave alone time!)
I really enjoy learning more about different personality types… so I had to laugh after I took this mothering personality quiz as part of the "Mother Styles" book I'm reading. I realize we can't be classified by one little quiz, but it's amazing how accurately my personality was described! (see below)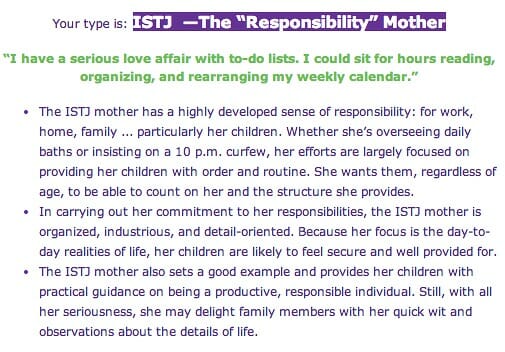 Sound a bit familiar? 🙂
So yes, part of my personality is that I am somewhat introverted, or 'I'.
I do not feel less than, or worse, or slighted, or restrained in any way simply because I lean more towards the introverted spectrum of personalities. I find it fascinating to learn more about my personality type, what makes me "tick", and also, how I might possibly be perceived by others.
Over the past couple of years (mainly since having children), I've spent more time looking into different personality types… and I've learned a lot about myself as an introvert. Today, I'm sharing a few of those observations.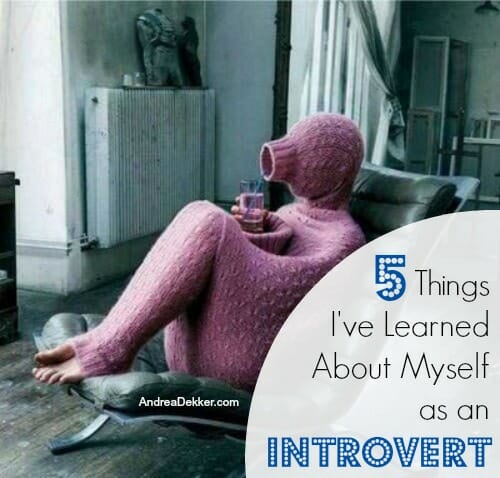 1. I am not naturally rude or standoffish.
For me, one of the hardest parts of being more introverted is the fact that I'm sometimes perceived as rude or standoffish. I am not naturally this way and I don't like it when I act this way.
There are many times when I think ,"Why did I just act that way?" or, "I shouldn't have said _____." or, "That didn't come out right." but I often feel like I don't have full control over how I react in certain situations.
I do not dislike you nor do I think I'm better than you — I'm most likely just overwhelmed with the current situation (read below fore more clarification on this point).
2. When I ACT rude or standoffish, it's almost always because I feel overwhelmed.
I know for a fact that I have wrongly acted rude and standoffish many times in the course of my life. And while I know I'm still the one to blame, in most situations, the reason I act the way I do is because I feel overwhelmed.
Again, I want to clarify that I do not think it is acceptable for me (or any other introvert) to justify bad behavior — but I do think this is a HUGE factor to consider if you have a relationship with an introverted person, which I'm guessing many of you do!
I could share story after story when I realize (after the fact) that I probably seemed very rude to someone — and almost every single time, it's because I've just had enough. Crowded grocery stores with extra-long checkout lines and an over-chatty cashier might cause me to get all bent out of shape when one of my coupons doesn't work. Do I really care that I'm not saving that $1? Nope… I'm just done with the grocery store and need to get out ASAP.
One more person stopping me to "catch up" as I'm trying to leave a gathering (church, party, family get-together, pot-luck, etc.) might cause me to unintentionally act very rude because I'm just so ready to leave I can't even bare the thought of having another extended conversation.
Entering a room with lots of people already there will often make me appear very standoffish. Although I'm not shy or nervous at all, I just need a few minutes to process everything, to find a spot I feel comfortable, and to (hopefully) find one other person to chat with for a bit.
3. I am not shy or afraid of people.
Being introverted is not synonymous with being shy… and if you're shy, it doesn't mean you are also an introvert. Contrary to what you might think, most introverts (myself included) really DO like people 🙂
Growing up, I was a part of many different sports leagues and musical groups, I went to camp, I played 3 sports in high school and 2 sports in college, I was in band, choir, the musicals, and always participated in all of the fun school spirit days. I had lots of friends, I had a boyfriend, and the teachers liked me.
Now, as an adult, I can easily enjoy myself and have a great time hanging out with large groups of people for several hours or more, as long as I have a chance to prepare for lots of personal interaction and as long as there is a specified ending time. However, if the gathering was supposed to finish at XX:XX time and it's already 20 minutes past that time, I start to get antsy fast! I don't want to stick around longer than I planned… and I don't want you to over-stay your welcome at my house either (see, I start to get rude again!)
In my business world, I've been asked to speak in front of hundreds (and even thousands) of people… and I don't get nervous! In fact, I REALLY enjoy this part of my job. However, I always ask for as many details as I can get — mainly to figure out how long they want me to stick around after I'm finished speaking. I usually say I'll stay to answer questions for 30 minutes, and then make up an excuse to leave. This has worked very well for me and seems to be the perfect amount of interaction before I start to feel overwhelmed.
Because I am not shy (in fact, sometimes I'm overly confident) most people think I'm joking when I explain that I'm an introvert — and then assume I'm just being rude or standoffish when I don't fully participate in a conversation or activity.
4. For me, my life is not boring.
I have a sister who is an extreme extrovert — and she married an extreme extrovert! Dave and I could not be more different from them in the ways we choose to spend our free time.
Growing up, she always thought I was boring and I thought she was a people-pleaser who tried too hard. She still thinks Dave and I are boring and I still think she's a people-pleaser — but we realize and accept that we are VERY different. I had to laugh a couple months ago when she and her husband had a bunch of people over for a cookout one night. She invited my other sister and both her husband's siblings, but never even asked me. I found out later when she told me, "I knew you wouldn't want to come and didn't want you to feel like you had to come up with an excuse to say no."
She knows me so well 🙂
To an extreme extrovert, it might seem like my life is very boring. However I can assure you Dave and I do not think we have boring lives. Just because we don't like going out to do things or always spending time with other people doesn't mean we don't enjoy ourselves and do fun things.
We both love spending time at home, working on house and yard projects, watching a movie on Netflix, catching up on school and blog work, etc. Those are things we really enjoy doing — just as much as extroverts enjoy being out and about with friends every night (which sounds TOTALLY overwhelming to me!)
Although Dave and I often joke about our 'boring lives' we really wouldn't have it any other way.
5. I am NOT lonely when I'm alone.
I LOVE being alone!
I think this is probably one of the main reasons motherhood has been so challenging for me. Not only do I have small children touching me and vying for my attention every waking moment, I also have more people coming to visit, more people requesting play dates, and more activities during the day.
For the most part, I do enjoy all the playdates and various activities — but they can start to feel like a lot of busywork after a while.
And if you want to make me really mad, call me or unexpectedly stop by the moment I finally get my children to sleep! Although I can't do anything about unexpected guests, I've learned to just let the calls go to voicemail if I feel even slightly irritated when I hear it ring — I figure that's better than sounding rude to the person on the other end.
I love my sleep, but you better believe I'll wake up at 4:30am or stay up until midnight just to be alone for a little bit. I also prefer to shop and run all my errands alone (even clothes shopping). Obviously, this doesn't happen much these days, but when it does, I feel like a huge luxury has just been given to me (yup, I'm easy to please!)
Looking back over the past 29 years, I think I've always been an introvert to some degree. I can see time after time, from early childhood on, where my introverted tendencies played out.
For me, just realizing what personality type best describes me, and then knowing the common positive and negative characteristics of that personality, have helped me to feel like I'm not so weird compare to everyone else.
When I'm feeling overwhelmed, I can recognize that it might be because there is just too much going on for my liking — and then I can remove myself from the situation instead of letting all the frustration build up inside of me.
.
As you can imagine… blogging is THE PERFECT job for me 🙂
Also, does it make sense why I detest shopping so much? And why I'm literally sweating by the time I get to the checkout lane in the grocery store? And why I prefer to do almost all communication via email? And why we don't go on many vacations?
Yeah, family vacations are probably the craziest thing for me. On one hand, I'm super excited and really look forward to being gone with family or friends. But on the other hand, it's so overwhelming to be with people 24/7 — especially when I'm not in control over the daily and weekly schedule (yes, I know, I'm a control freak!)
Fortunately, I can almost always come up with an excuse to get some alone time — even on the busiest family vacations. And of course, I'm getting better at dealing with those overwhelming feelings (like snuggling a baby in the shade on the beach instead of going somewhere with the rest of the group).
One Final Thought:
Roughly one third of the entire population exhibits introverted tendencies — so I'm sure you know at least a few introverted people.
Here are some ideas to make life less overwhelming for the introverts you know:
Respect our need for privacy.
Let us observe first in new situations – and then let us try it for the first time in private.
Don't punish or reprimand us in public.
Give us time to think.
Give us a heads-up if the plans are going to change.
Give us a few minutes of warning before moving on to the next activity (this is especially helpful with children).
Don't push us to make lots of friends.
OK, so there you have it — my thoughts on my introverted life!
Have you ever taken a personality test? If so, what did you learn?