I've been getting loads of e-mails with questions on how I keep my grocery budget so low each week. And this week was no exception…
I managed to purchase over $98.00 worth of meat, dairy, fruits, veggies, bread, snacks, etc. for only $2.56!!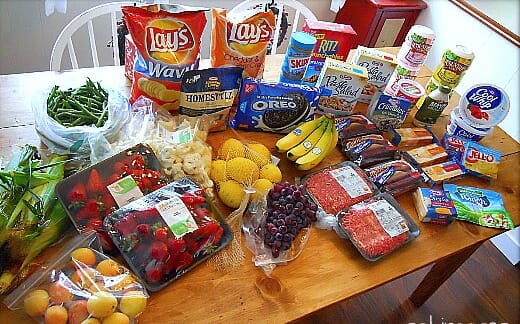 That has to be some type of record!
And before you even ask
No, I don't use Savings Angel
No I don't buy multiple Sunday papers
No we don't eat Ramen Noodles…ever!
So how do I do it?
I spend about 2 hours every Sunday afternoon cutting and organizing my coupons, looking through store ads, and creating my grocery list for the week.
I ONLY buy what is on sale…period! When things go on sale, I stock up, when they are not on sale, we eat something else.
I pair store coupons (Meijer, Target, Spartan Stores) with Manufacture coupons (Kraft, SaraLee, Aunt Millies). You usually can't use more than one coupon per item, but you CAN when one is a store coupon and the other is a manufacture coupon.
I use lots of rebates. These are often right in the Sunday paper ads…but sometimes they can be a bit trickier to find. Using rebates is a little work, but these are what can really save you money. Often I find that I can actually get paid for buying an item I was planning to buy anyway.
I follow a couple different websites the help me plan out my deals and find printable coupons online. Two great websites are: MoneySavingMom.com and DealSeekingMom.com
This might all seem overwhelming, but I've been doing this for a long time…and it definitely gets easier after time!
So how did I do it this week?
A few weeks ago, I participated in a Kraft Foods' promotion via an online survey from Kraft. Following the survey, I got to pick a handful of products that I would then get free coupons for.
Last week, my coupons arrived in the mail…accompanied by a $10.00 rebate when you spend $30.00 on Kraft Products.
This week, Meijer had a TON of Kraft products on sale and additional Mejier coupons for these Kraft products at MeijerMealBox.com
So, using the Meijer sales, my manufacture & store coupons, and the Kraft rebate I was able to purchase everything you see in the picture above for only $2.56!!
I'm giddy with excitement and can't wait to show Dave when he gets home!
Did you get a great deal this week? I'd love to hear about it!