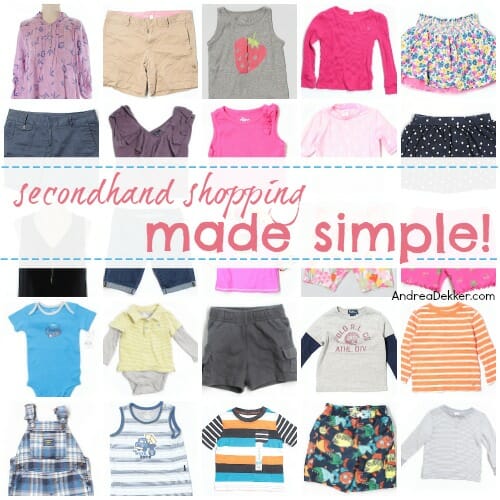 Over the years, you have probably heard me mention how much I HATE shopping for clothes just a few times 🙂
Give me an antique store, a junk yard, flea market, or garden center any day… even a craft or home-goods store. However, you won't find me inside a shopping mall unless I have a coupon for a free item, Nora dragged me there to ride the carousel, or Dave dragged me there to eat in the food court!
For as long as I can remember, I have always hated shopping for clothes (my mom used to bribe me to go shopping by promising food court goodies!)
All of that changed however, when I stumbled upon thredUP soon after Nora was born. I was INSTANTLY drawn to the concept of shopping for secondhand clothing online, from the comfort of my own home.
At the time, I primarily shopped for Nora… but 4 years later, thredUP has become my #1 resource for buying quality, like-new clothing for all 3 of my children AND for myself!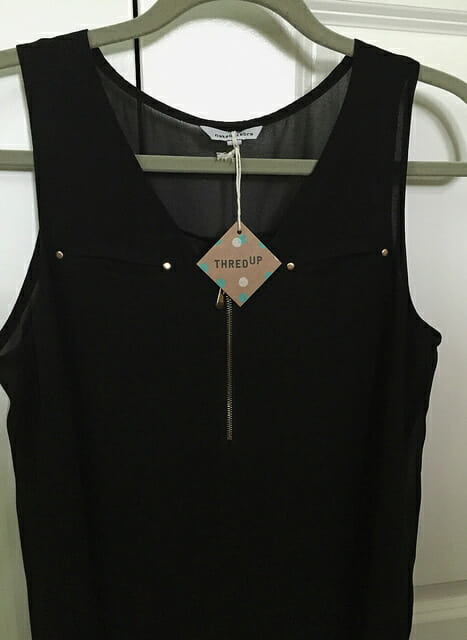 I would certainly never consider myself a "fashionista", but more and more, I have been asked where I buy my clothing and what brands I buy — so I figured it was time to share another post about thredUP, since that's where most of my clothing comes from these days!
In case you've never heard of thredUP before, it's an online consignment store for women and children that allows you to quickly and easily search for whatever you want or need — and offers prices up to 90% off retail!

ThredUP carries all the best brands, a wide range of styles and sizes, a ginormous selection of children's clothing, shoes, handbags, a maternity line, a plus-size line, and even a designer line.
In my experience, the clothing is in excellent condition, and it's packaged up so nicely, I sometimes forget it's not brand new!
Shopping online from the comfort of my home is fabulous… and the HUGE savings are pretty nice as well!
On average, I save between 60% and 75% off retail prices!
It's always fun to get the email showing my savings after I place an order. Seriously, I saved almost $300 on my last order — that's easily 3 full weeks of groceries!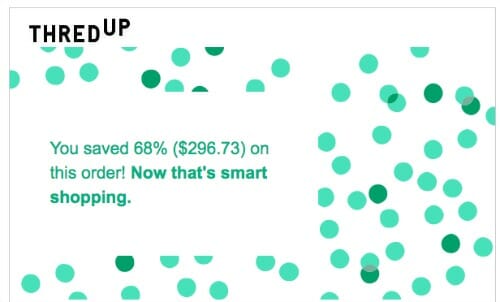 .
At this point, I would estimate that around 75% of my clothing is from thredUP — including everything I wore for our family pictures (except the scarf)!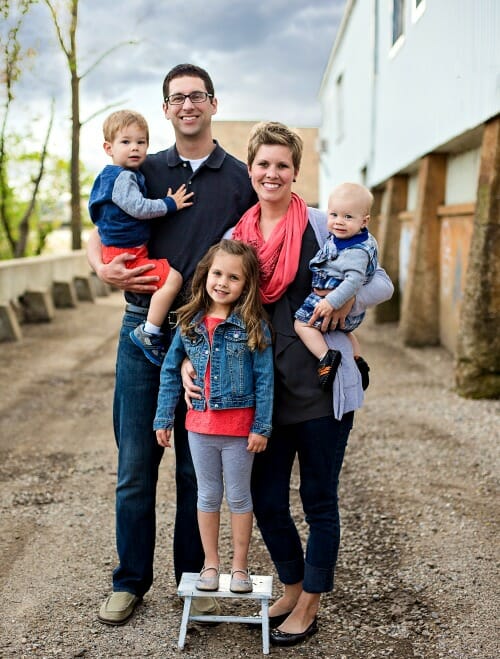 Over the past few years, I have finally figured out my style, the colors I like wearing the best, the types of clothing that flatter me — and now that I have that information, it's SOOOOOOO much easier to shop online and know what I buy will actually fit and look good on me.
Here's one of my most recent thredUP purchases for summer (photo credit: Nora!)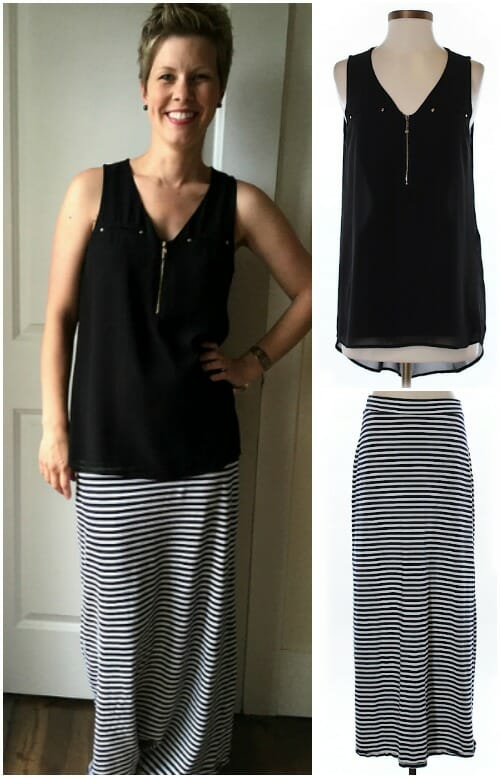 Also, thredUP has a fabulous line of maternity clothing which I utilized with both Simon and James. I think all of my non-borrowed maternity item were thredUP purchases!
In the photo above, my entire outfit is from thredUP (including the sandals) and both kids' outfits were from thredUP (including the shoes).
Speaking of kids clothing, I bet 90% of all my children's clothing comes from thredUP.
I usually place a big order of children's clothing 4 times a year (with each season change), and we just got our "summer shipment" last week!!
Pretty cute if I do say so myself!
.
ThredUP's prices are typically a little higher than what you'd pay at a garage sale, but much less than what you'd pay at the store. And unlike garage sales, second hand sales, or consignment stores, the clothing from thredUP is truly "like new" quality and so nicely organized that you can find whatever you want within seconds.
You can search by size, by brand, by type, by style, by price, and even by color. In fact, when I was looking for clothing for our family picture, I found the cute little overalls for James and the shirt for Nora by searching for specific colors within their size.
And with my most recent order, I needed to find a few more long-sleeve t-shirts for Simon, so I simply searched for long sleeve t-shirts within his size and my price range, and could quickly browse through roughly 100 shirts — not too shabby!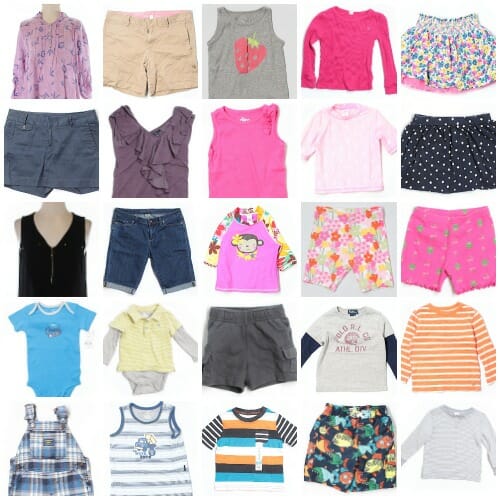 I know I've talked about thredUP so many times over the years, but that's because it truly is one of my most favorite (if not THE FAVORITE) clothing resource for myself and my kids.
ThredUP is so quick, easy, and convenient…

It's high quality clothing…

It's great prices…

It's free shipping AND free returns on orders of $79 or more…

It's fabulous customer service…

and most importantly for me, it's shopping from home when the kids are sleeping!
A Discount for YOU!
For those of you who hate shopping as much as I do but love finding a great deal, I have just the thing for you!

If you've never shopped thredUP before, you can get an additional 40% off your first order when you shop via thredUP.com and use the code Andrea40 at checkout! (Psst… 40% is the biggest discount I've ever seen from thredUp!)

Please note: this offer is for NEW thredUP customers only and is good for up to $50 off. Offer valid through June 2, 2016.
With a new season just around the corner, it's a great time to invest in like-new clothing for a fraction of the price.
Who knows, thredUP might just become your most favorite shopping destination too!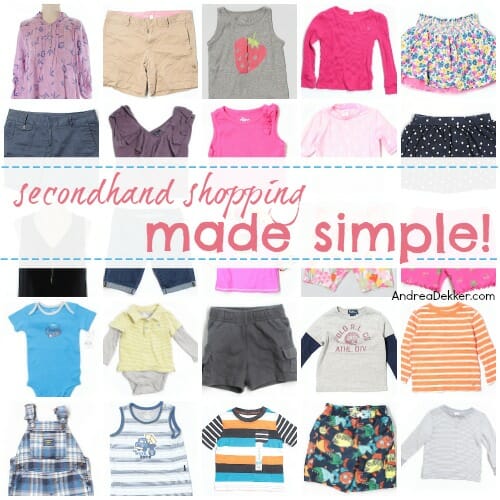 A big thanks to thredUp for sponsoring this post and making it possible for me to provide all of the content on my blog free of charge! My opinions are 100% my own! Please see my full disclosure policy and contact me with any questions you have.