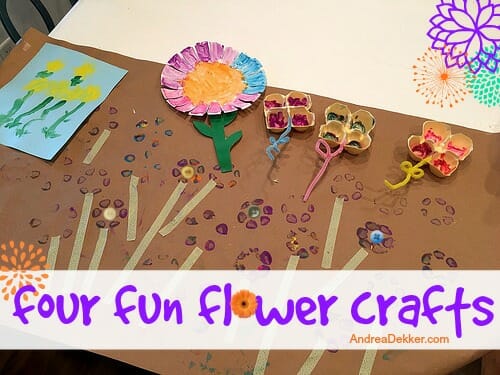 When the weather warms up, we try to spend as much time as possible OUTSIDE — and most days, that's A LOT of time outside!
However, after spending so much time outside, the kids immediately seem to go through "withdraw" on rainy days.
They are happy to help me cook and bake for a while; we read books, watch TV, play with toys, play games, etc. etc. But Nora's request for rainy day activities is almost ALWAYS to do some sort of craft — specifically a "painting craft".
So if rain is in the forecast, I try to have a few painting craft ideas lined up for Nora to do when Simon and James are napping.
Today I'm sharing 4 fun flower crafts she did one rainy day last week. They are very simple, very quick, and can easily be adapted to use whatever crafting supplies you have in the house.
#1 = Dandelions
Yup, we're starting off with a weed — but if it were up to Nora, I would transplant as many Dandelions into our grass as possible!
She told me they are "the most beautiful shade of yellow that reminded me of the bright morning sun" and said I should never pull or kill another dandelion ever again.
Anyway, this super quick and simple painting craft is extra fun because the kids get to paint with a fork!
SUPPLIES:

Paper
Yellow and Green paint
Plastic fork
Paint brush

DIRECTIONS:

Put a small amount of yellow and green paint on a paper plate.

Use the fork to "paint" the head of the Dandelion flower.

Use the paintbrush to make the stem and leaves.
.
#2 = Giant Paper Plate Flowers
When I looked up craft ideas on Pinterest, these were called "sunflowers" but since we did the yellow Dandelions, I knew Nora wouldn't want to make yellow sunflowers.
Instead, we used multi-colored paints to create a giant rainbow flower.
SUPPLIES:

Paper plate
Scissors
Colorful paints (and paintbrush), crayons, or markers
Something to make a stem (I used very thick green construction paper)

DIRECTIONS:

Use the scissors to cut slits in the outside edge of the paper plate.

Color or paint the plate.

Attach some sort of stem.
.
#3 = Egg Carton Flowers
This was another ridiculously easy projects for me to prep — especially since we go through several dozen eggs every week. I don't save all my egg cartons, but it is amazing how many different uses I've found for them over the years.
These egg carton flowers were a big hit with Nora!
SUPPLIES:

Egg carton
Scissors
Paint and paintbrush or markers
Pipe cleaners for the stems

DIRECTIONS:

Cut egg carton into 3 sections (4 egg compartments for each flower)

Let child paint or color inside of each section

Insert pipe cleaner through egg carton and bend to create a stem and leaves.
.
#4 = Bottle Stamp Flowers
I usually save this "craft" for the very end of any other craft we're doing since it's a great way to use up any extra paint that's still on the paint plate. It's also a great way to "decorate" the large sheets of butcher block paper I usually have on the table when we're doing any sort of paint craft.
SUPPLIES:

Large piece of paper or poster board
Plastic bottle with "flower pattern" on the bottom
Paint
Buttons (optional) for the center of the flower
Something to make the stems (we used green Washi tape)

DIRECTIONS:

Dip the bottom of the plastic bottle into the paint and press onto the paper.

Repeat until all paint is gone.

Let dry — then add flower center and stems (either by glueing something on, or just drawing them on)
After I had taken all the pictures, I realized we never glued the buttons on for the center of the flowers — but I think you get the idea!
All together, I spent probably 15 minutes gathering up all the supplies for these 4 crafts — and Nora easily completed them all with little help from me in about 30-40 minutes.
It was the perfect little grouping of spring crafts to occupy her for a bit while her brothers were napping and it was raining outside!
.
Want more fun projects, crafts, and activities for young children?
Here you go!