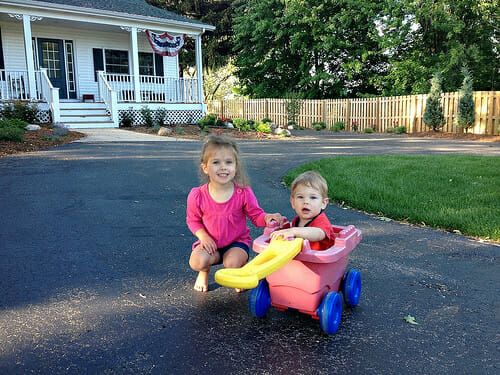 Today is Simon's 15-month "birthday" and Nora celebrated her half birthday a couple weeks ago.
Although I'm not doing monthly posts for either of them anymore, I thought an updated post was in order — especially since they have both changed SOOOOOO much the past few months… and Simon is going to be a big brother in a matter of weeks!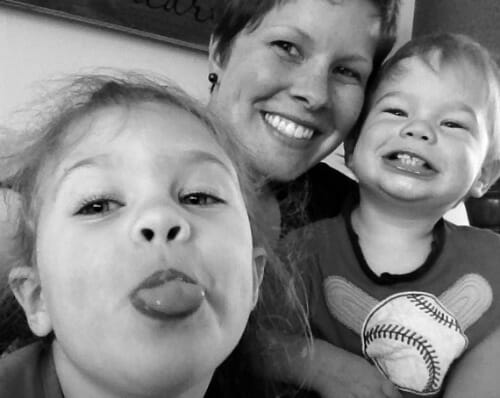 And speaking of baby #3, my tentative "plan" for sharing baby and kid milestones and updates is to share one monthly post with updates on all 3 kids. That way, Nora and Simon won't be completely left out, and I won't need to write 3 posts every month to keep everyone in the loop 🙂
So starting in the next month or so, you can look for my monthly "Dekker Update" post (I'm hoping to come up with something a little more clever for the name of that post series — any ideas?)
Anyway, back to my sweet Simon boy…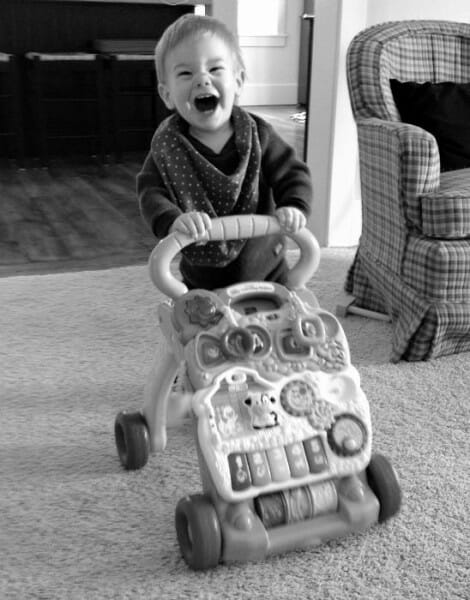 He is still sleeping really well at night and finally starting to get the hang of super long naps (something I thought all parents were just lying about before I experienced them myself!)
He is fully transitioned to only 1 nap a day (yay!) and often sleeps for 2-3 hours straight! He wakes up happy as a clam and is often content to play in his crib for 10-20 minutes after waking up.
Simon LOVES being outside. He literally wakes up in the morning, goes right to the back door, and starts whining like a little puppy to "go outside". He would spend all day outside if he could — even in rain!
Of course, whining is all he does — because he still doesn't say ONE WORD! Not even "mama" or "dada"!
Although Nora was practically speaking in complete sentences at 15 months (and doing almost every imaginable animal sound) Simon has yet to utter anything but a grunt… however I ALWAYS know what he wants, and he ALWAYS knows what we are saying 🙂
Simon gets into everything, climbs on everything, makes a mess out of everything, and turns everything into a car (or something he can push). He is all boy and then some… even though Nora and I thought it would be fun to dress him up like a girl last week!
Simon is a mama's boy through and through — which I kind of love, but also fear as I'm not sure how he'll do once a new little person is vying for my undivided attention all day long. At least Dave will be home all summer to help with Nora and Simon!
I'm sure he'll be fine… I hope 🙂
Now for little Miss Nora!
This girl celebrated her half birthday a few days ago — and is now officially closer to 4 than she is 3 (big stuff around here, my friends!) She likes to be measured on our life-size growth chart almost daily to see if she's getting any bigger — and she always insists that she IS, in fact, getting bigger every day.
The big news with Nora is that she "went to school"… kind of 🙂
Our local early childhood center offered a free 8-day preschool program for 3 and 4 years olds this spring. So for 4 weeks, she went to school on Monday and Wednesday mornings for 2 hours. She was excited, but almost every single time (besides the first day) she left crying while a teacher "pulled" her into the room. She always had fun and was super excited to tell me everything she did and how she was excited to go back. But when it came time to actually go back, she started the crying fits again.
Thankfully, she's too young for preschool this coming fall, so we'll hopefully have PLENTY of time to get her ready for school in the fall of 2016 🙂
She is honestly the most stubborn and strong-willed person I've ever met; and to make matters worse, she's actually really smart so most of the time, she knows exactly what she's doing when she's in one of her stubborn moods.
The other day, she told me, "I know I should just listen to you, but I just can't… I want my own way so bad that I don't care if I get punished."
Yes, friends, this is what I'm dealing with at 3.5 — what on earth am I going to do when she's 13?!
On the flip side, Nora is so caring and sensitive and loving and helpful that it (almost) makes me overlook the many MANY tantrums and fits she has every single day. She loves helping with Simon (when she's not fighting with him). She loves helping me cook and garden and do household chores. But watch out, at any moment, she could totally switch "gears" if something triggers her… and the tantrums will begin all over again. Sigh…
Of course, there are MANY hair-pulling, shouting, crying, fighting, yelling, pushing moments in our house… but in general, these two kiddos are a pretty fun and dynamic duo, who I really enjoy spending my days with!
I'm excited to see how both kids adapt to having a new baby around, and also what life will be like in another couple years once they can all really play together!