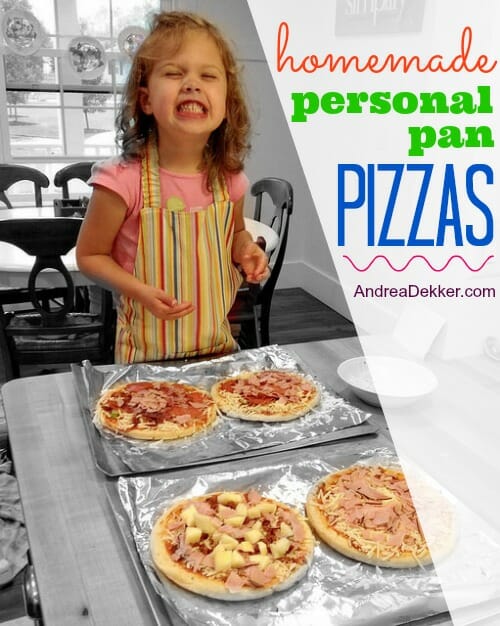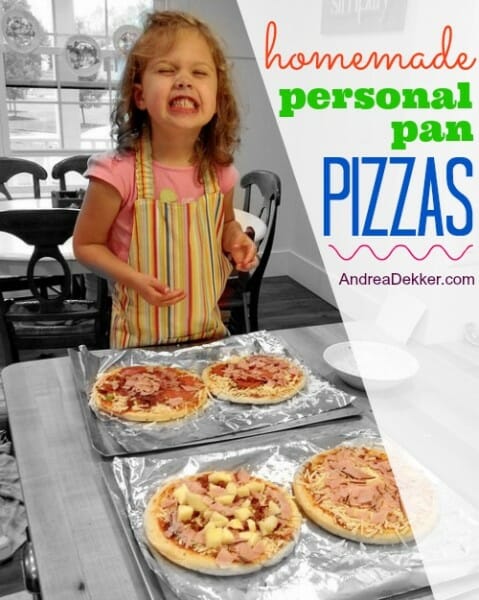 Since Nora enjoys cooking and helping out in the kitchen SO much, and since I know many of you have children who are eager to help in the kitchen as well, I figured it might be fun to start posting a few SUPER simple recipes that not only taste great, but are easy for little hands to help with.
I'm going to call the series "Kids in the Kitchen" and I'll eventually create a little logo for it in my sidebar. In the mean time, you can follow all future Kids in the Kitchen posts via this link.
I'm not planning to have any type of formal schedule for this series — I'll just post whenever Nora and I come up with a new recipe that's extra "kid-friendly". And if you don't have kids or don't want to cook with your kids… rest assured, I'll still be posting MANY other recipes here on the blog 🙂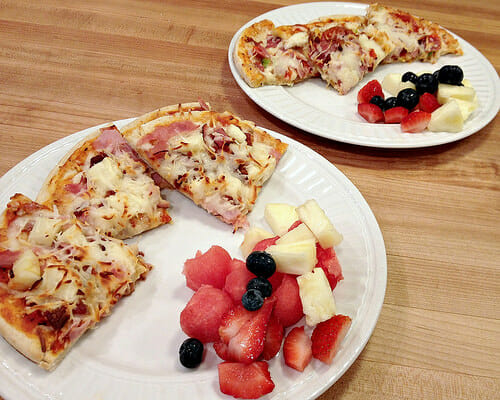 Today's recipe for Homemade Personal Pan Pizzas could not be more perfect for little hands… plus, most kids I know will eat pizza (especially if they get to choose their own toppings).
Nora had been begging me to "make her own pizza" for a couple weeks already, so when I saw these little personal pan size crusts on sale at the grocery store, I snatched a few of them up — knowing we had gobs of pizza toppings at home!
I honestly didn't think the crusts would taste great, I just liked how small they were. But surprisingly, they were amazing — even reheated as leftovers in the toaster oven the next day! I will definitely be buying these little crusts again.
Anyway, Nora had SOOOOO much fun making her pizza and pizza for the whole family. She told everyone she saw for the next 48 hours that she made us pizza for dinner and how good it tasted. She also asked if we could make it again the following night — but I told her we'd probably wait at least another week or so.
If you're looking for a fun, simple, frugal, and really yummy meal to prepare with your toddlers and preschoolers, this recipe should satisfy!
Recipe for Homemade Personal Pan Pizzas
INGREDIENTS:
pizza crust (or dough to make your own crust)
olive oil for brushing on crusts
pizza sauce (or pasta sauce)
favorite pizza seasonings (we used garlic, oregano, and basil)
favorite pizza toppings
lots of cheese (mozzarella or Italian are best)
DIRECTIONS:
Prepare crust (if making your own)
Top crust with oil, sauce, seasonings, toppings, and cheese
Bake according to crust directions
Eat and enjoy
There are literally endless possibilities of pizzas you could make — and the beauty of making the personal pan size is that everyone can choose their favorite toppings.
We made a ham, bacon, and cheese pizza for Nora and Simon to share. Nora made me a Hawaiian pizza with ham, bacon, cheese, and pineapple. And we made 2 supreme pizzas with onions, peppers, tomatoes, salami, ham, bacon, pepperoni, etc. for Dave (and for leftovers).
These pizzas were honestly WAY better than I thought they would be — and our whole family eagerly gobbled them up for dinner… and then as leftovers the next day for lunch.
I will most definitely be stocking up on pizza crusts and adding this fun, family-friendly meal to our meal plan more often!
What are your favorite recipes to make with kids?
Click here for more Kids in the Kitchen posts… or visit my virtual recipe box for more simple, delicious, family friendly recipes!