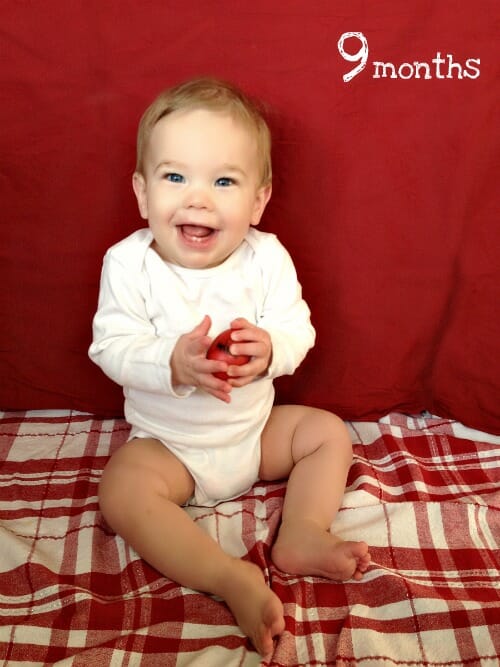 Maybe it's the fact that the holiday season is crazy busy, or that Simon is the 2nd child, or that the months are going by SOOO fast — but I honestly almost forgot about today's 9 month post!
I had a bunch of posts drafted and kept thinking, "I'm forgetting about something on the 4th… what is it?" It wasn't until just a couple days ago that I remembered (while in the shower, of course) that… DUH, my little boy is 9 months old on December 4th.
For some reason, the 9 month mark seems really important to me, because that means they've been "outside" for as long as they were "inside". I know it's probably weird, but I like the 9 month milestone for that reason — and yes, I'm glad he's out here and not still inside!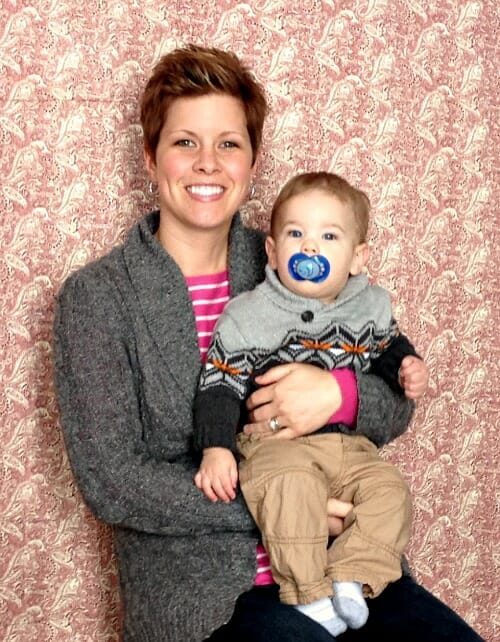 If you're wondering why he looks extra handsome in this month's photos, it's most likely because I gave him a little hair cut 🙂
That was an interesting experience. I'm used to Dave and Nora who (mostly) sit still and listen to my instructions. Simon was a wiggle britches — which doesn't go well with a sharp scissors! It's a little uneven in the back — but good enough for now.
Simon is a seriously happy and "chill" little boy.
He's clapping, waving, laughing, picking up his own food, doing "So Big"… and climbing up our entire flight of stairs all on his own (seriously!)
He is constantly on-the-move, so if you come to our house, you will most likely see all the doors closed, all the toilet paper rolls sitting on the counter out of his reach, and random stools, ottomans and benches blocking his access to various areas.
Teething is still pretty hard on him (he now has 4 teeth) and basically the only time he's really fussy. We ordered one of those Amber bracelets and it was working fabulous — until we lost it. Dave and I know exactly where we lost it, but we still can't find it. Can you tell I'm frustrated!
Other than the teething, he's doing great though.
He's eating lots of foods. I actually feel like I'm holding him back because I'm still learning what is age-appropriate to eat (I never had to do this with Nora). I'll think "he can't do Cheerios yet" but then I'll give him Cheerios and he'll gobble them up.
I certainly don't want to jinx anything — but this boy is sleeping a solid 12-13 hours straight at night. Can I get a hallelujah?
He often takes a 1-hourish morning nap and then a 2-hourish afternoon nap. They aren't super regular (like not at the exact same time every day) but when I can tell he's getting tired, I can literally lay him down in his crib when he's still awake and he won't cry! He'll just move around for a bit, nuzzle into his blanket, and fall asleep. He doesn't scream bloody murder when he wakes up either — just jabbers and plays in his crib until I go get him out!
I'm told this is relatively normal, but I still think my baby must have a special gift or miraculous powers 🙂
He's been pulling himself up on everything for a while now… and even standing for a few seconds on his own. I'm just wishing and hoping that he walks super early like Nora did (she was walking at 9 months).
For me, it's so much easier when they can walk around and get to what the want / need. I know it can make life busier when they are so mobile, but I'm a huge fan of more independence with babies because it means they don't cry as much!
I'm excited for Simon to celebrate his first Christmas in a couple of weeks.
Nora and I picked out a couple clearance toys for him at Kohl's the other day. She was SO excited to "buy Simon something for Christmas" and I had a coupon to Kohl's so I just couldn't pass up the opportunity to let her shop (that girl loves to shop!)
You should have seen her carefully looking through all the toys. First, she got distracted by dolls she thought SHE should get; but soon enough, she proclaimed that she found the toys Simon would like. It didn't take her long before she found 2 she wanted to give him.
She sure loves her brother!
Oh, and yes… he is HUGE! He only weighs about 8 pounds less than Nora and I have a feeling that once he starts walking, he won't put up with her pestering (I mean loving) him as much!
Happy 9 Months Big Boy!