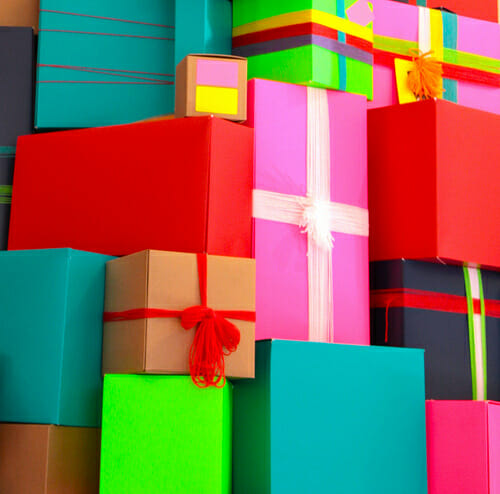 I've gotten several questions asking what we're giving Nora and Simon for Christmas — as well as requests for holiday gift suggestions for children, teens, adults, etc.
While I would LOVE to write a series of "holiday gift guide" posts for the whole family, I honestly don't feel qualified to do so — I wouldn't even know where to start.
I love gift-giving, but when it comes to adults, I personally try to give as many clutter-free gifts as possible (mainly gift cards, cash in creative ways, gourmet and homemade foods, or other gifts the person has specifically asked for). This way, I know they will like the gift and be able to use it — which saves me a whole bunch of time shopping, and then a whole bunch of time returning 🙂
I don't have much experience buying gifts for tweens or teens… and in my opinion, babies under 2 really can't comprehend gifts. I usually just wrap a couple small items so they can have fun pulling the paper off. Sometimes, I even wrap items they already have just to give them the "gift opening" experience!
So, as you can see, I wouldn't really have much to offer in a holiday gift guide post… EXCEPT when it comes to children ages 2-6.
I think this is one of the most fun age groups for gift-giving — they are young enough that they still get so excited seeing all the gifts piled under the tree, they love the suspense of waiting to open their gifts, they eagerly tear open the wrapping, and they appreciate the gift even if it isn't exactly what they asked for.
So, since I actually have some experience giving gifts to our own kids and our nephews, I figured I'd share the gifts we're giving Nora for Christmas this year (and a few of Simon's gifts). I'll also share some of my tips and suggestions for gift-giving for small children.
.
First things first, while I am a HUGE advocate for giving children clutter-free gifts, I don't always follow my clutter-free "rule" when it comes to this age group.
I have plenty of clutter-free gift ideas for this age range (read more of those ideas here); however, I think it's also important to give tangible gifts that they can unwrap, play with, learn from, and enjoy.
That said, I've listed out everything we're giving Nora and Simon for Christmas below… along with a few of my favorite gift ideas for kids ages 2-6.
Books:
Nora LOVES to read (she takes after her daddy) and despite her "go-go-go" personality, she can sit still and listen to books for hours. When she was younger, she would sometimes fall asleep to us reading her book after book after book trying to tire her out! Because of this, we make several trips to the local library and our church library every month. However, we also get her a few new books every birthday and Christmas.
For her birthday, we got her a collection of Curious George books to go with the theme of her party… and for Christmas, we have a few more special books wrapped up for her.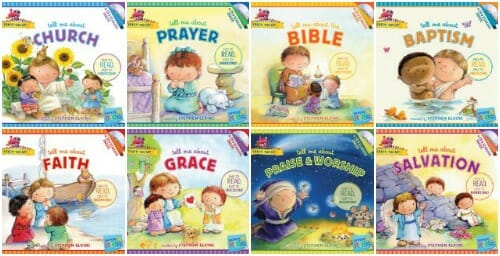 The "Tell Me About" book series from Train 'em Up
This soft cover 8-book series from Tyndal Publishers is a fabulous little collection of books that "tell us about" Church, Prayer, Bible, Baptism, Faith, Grace, Praise & Worship, and Salvation. Each book is written specifically for preschool-age children and each book comes with stickers plus a CD with sing-a-long songs and narrated stories.
We're going to give the books to BOTH Simon and Nora just so Nora knows she needs to share 🙂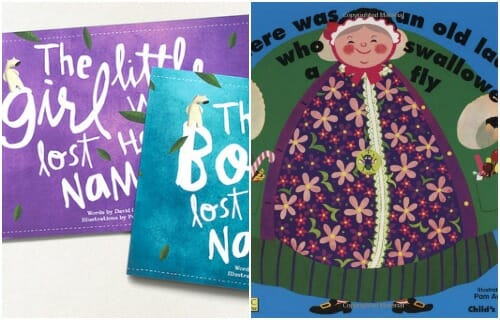 The Girl Who Lost Her Name
I'm guessing many of you have never heard of the LostMy.Name books — but this is a SERIOUSLY awesome website that allows you to create a custom book for your own kids (boy or girl) with their name.
The book tells the story of a boy or girl who lost their name. They set off on a journey to find it again and in the process, they meet various creatures who each give the first letter of their name. At the end of the book, all the letters spell your child's name!
Nora is HUGE HUGE HUGE on spelling and letters right now. She learned how to spell her name over the summer and now tells everyone she meets that she is "Nora… N.O.R.A.". I can't wait to see the look on her face when she realizes what the letters spell at the end of this book and that the girl in the book has her same name!
There Was and Old Lady Who Swallowed a Fly
This is one of Nora's favorite books/songs but we don't have our own copy of the book. My mom (an elementary school music teacher) taught Nora this song and she's been hooked ever since.
I used some of my Huggies Rewards points to get this book + CD for free. She's going to be SOOOO excited!
.
Craft Supplies:
Nora + crafts = happiness.
Besides basic coloring or water painting, she's not to the point where she can do crafts on her own yet — but I'll often sit at the table with her and work on my laptop while helping her with crafts.
Personally, I think almost any age-appropriate craft supplies are an awesome gift for kids ages 2-6, but some of Nora's favorites are:
Markers and crayons
Coloring books or just any paper to color on
Stickers — all stickers!
Paint with water books (bonus, these make little to no mess as long as the water doesn't spill!)
PlayDoh + accessories
Water color paints
Kids scissors or punches to make shapes
Glue sticks
Nora got a few coloring and water paint books for her birthday and we're giving her another 4-pack of PlayDoh for Christmas since all her current PlayDoh has been mixed together 🙂
.
Clothes:
I buy almost all of Nora and Simon's clothing used — usually from ThredUp.com. If they need something (like new pants because all theirs are too short) I don't make them wait until their birthday or Christmas. However, I will reserve a special item or two as a gift — especially if it's something they can easily live without for a bit.
Nora had been asking for a robe, so my parents got her a robe for her birthday.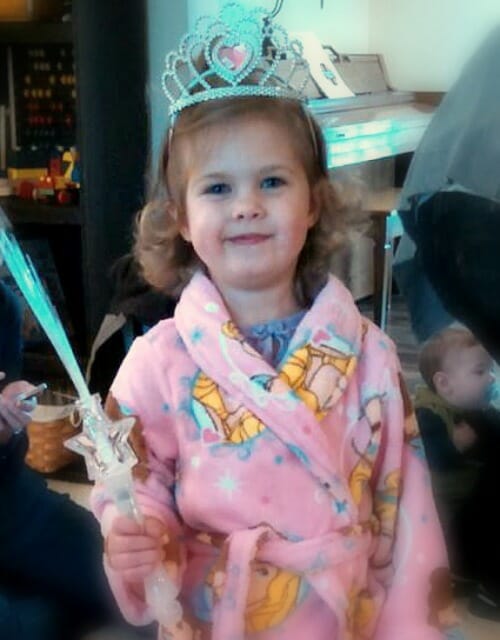 I have one sweatshirt for her for Christmas, along with new socks and undies (both of which she desperately needs). I guarantee she'll be the most excited about the underwear 🙂
For older kids who have more of a fashion preference, I think clothing makes a great gift — especially for a name brand item that might not normally be in your back-to-school budget. However, I would still HIGHLY recommend shopping used stores like ThredUp. You can find boatloads of brand name clothing in perfect condition (some even with the tags still on) for a fraction of the price — and your kids will never know!
.
Food:
This is one area that I feel clutter-free gifts can work really well for young children. Obviously, I don't think we should give piles of junk food to our kids, but I do think SOME food can be a really special treat.
Nora got a special sucker and a bag of Smarties for her birthday and it was HUGE hit! We've also given her special times to go out to out to eat with either Dave or I (just to McDonald's or Culver's) and she thinks that is just great.
I know lots of people who ALWAYS put an orange in the toe of the stockings (we don't have stockings) and then a candy bar + other sweet treats in the leg of the stocking — I think that's kind of a neat tradition.
Nora is not getting any food from us this Christmas, but growing up, I often got gum, candy, and other edible treats in my stocking and always thought those were fun gifts.
.
Games:
When I think of games for 2-6 year olds, it's usually board games, card games, legos, building blocks, and other non-video games. However, I know there are tons of valuable video games that are educational and/or encourage movement and improved motor skills.
Nora is just starting to enjoy simple games — and kind of understanding how to play a game.
Matching games are her favorite so she got a Curious George matching game for her birthday and I think my parents might be giving her another game for Christmas but I'm not sure.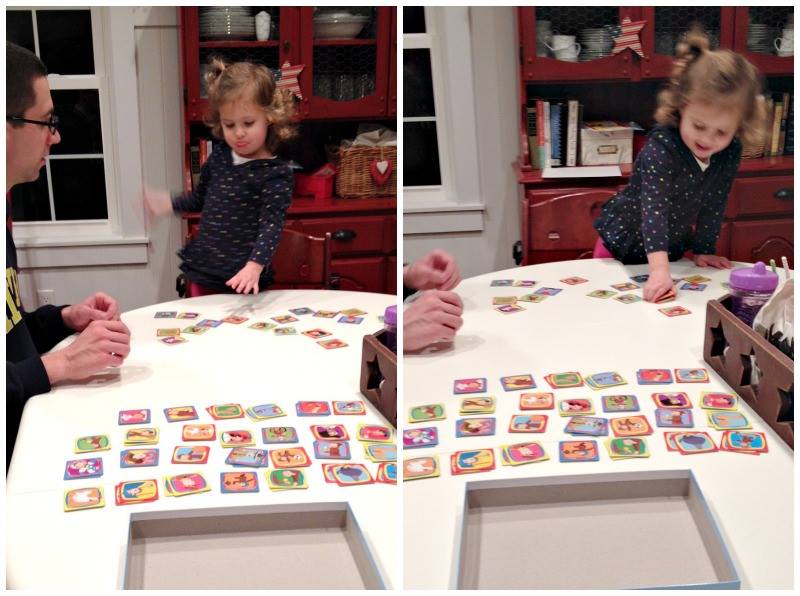 .
Toys:
Yes, toys… I'm encouraging you to give your kiddos toys!
I honestly have nothing against toys — as long as you have somewhere to store them and as long as they actually get used occasionally.
We just did a little purge of Nora's toys to make room for the gifts we knew she would get for her birthday and Christmas. She got a few hand-made stuffed animals from Dave's parents as well as dress-up clothes from my sister and a Burley MyKicks Balance Bike from us for her birthday (although that's in the garage now).
For Christmas, I found a child's cash register (with working buttons, scanner, cash drawer, microphone, etc.) on Craigslist for $5 last week. One of Nora's favorite things to play is "grocery store" so I know she'll love this gift — and no, I don't think it's weird to give a used gift.
Nora and I found a couple Fisher Price toys from Kohl's for Simon ($2.12 total thanks to coupons and sales). I also got one toy for him at a local thrift store for $0.50 and I used my Pamper's Rewards to get a free pop-up "tunnel" that we'll be giving to both Simon and Nora.
.
Misc.
I was sent a few of the Yondi children's travel neck pillows form Trunki.com and I thought they would be a really fun Christmas gift for the kiddos — especially since we'll be doing a bit of traveling in the coming months and these might be nice for longer car and airplane trips.

I know there are SOOOO many other categories and gift items I could talk about, but like I said earlier, I don't feel super qualified to promote various toys and products that I haven't personally used.
In general, I think Dave and I want our kids to realize the true meaning of Christmas (totally NOT the gifts) but still be able to enjoy a fun time of anxiously anticipating opening a few special gifts — especially when they are so young.
So to recap… we are giving Nora:
Severals books and CD's
PlayDoh
A sweatshirt, socks, and undies
A cash register
A pop-up tunnel to share with Simon
A neck pillow
We are giving Simon:
2 Fisher Price toys from Kohl's
A wooden hammer / peg set from the thrift store
A tunnel to share with Nora
A neck pillow
I'm still waiting for one of the books to arrive in the mail — but it feels great to be 100% finished with their Christmas shopping. Also, I'm thrilled that I spent less than $30 on everything listed above (thanks to coupons, sales, freebie promotions, shopping in advance, etc.)
If you're looking for a great gift idea for a 2-6 year old, I'd heartily recommend any of the ideas in this post… however, I'd also love to hear what you're giving your tots this Christmas. I'll save them as ideas for next year!