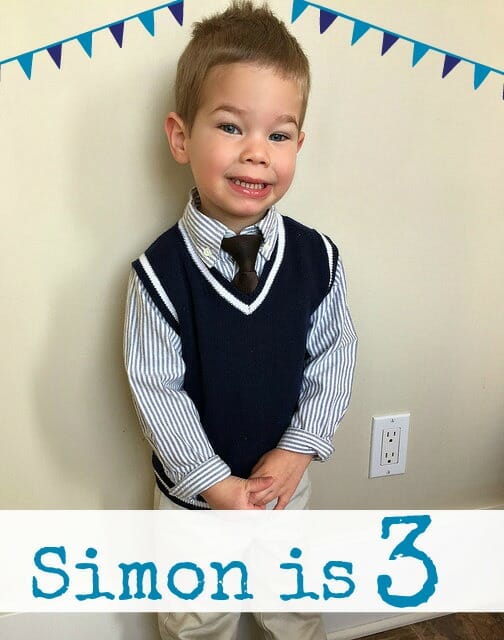 Our sweet, silly, stubborn Simon celebrated his THIRD birthday this past Saturday… and we partied in true "Simon fashion" with a Firefighter birthday party complete with donuts, juice, and candy (all his favorite things).
We had a VERY simple breakfast birthday party with both Dave and my immediate family members. It was almost no work on my part (except cutting up the fruit and buying a few paper products) and Simon was SO happy!
He is the most fun person to give gifts to — every gift is such a huge surprise and he gets so excited, even if it's not something he wanted (or even if he doesn't know what it is!) He just kept opening the gifts, saying, "dis for me?!?… wow!…thanks!… any more pwesants?"
Simon currently loves:
playing outside (especially riding his big boy bike)
wearing boots (inside and outside — rain boots or snow boots)
playing trucks
doing puzzles
eating sweets (candy is a big favorite, with donuts, brownies, and ice cream not far behind)
drinking juice
wearing "cozy clothes" (pj's and sweatpants)
talking (he's still a little hard to understand, but he talks NON STOP!)
playing with his siblings
having people over ("mom, anyone come to our house today?")
Simon has been officially potty trained for almost 2 months now (before that, he went to the bathroom on the toilet but would only wear diapers). He finally agreed to start wearing undies back in January — and so far, he's only had 3 accidents (all pee, thankfully!)
He loves wearing his big-boy undies now, and talks about his "Thomas unies" ALL the time. 🙂
Speaking of talking… he has made steady progress with his speech therapist ever since July, and about 2 weeks ago, he officially "graduated" out of the program. He tested off the charts for everything except clarity (it's still a little difficult to understand everything he says) but he has a large vocabulary, and he definitely understands EVERYTHING others say to him!
Simon is very stubborn (potentially even more stubborn than Nora was at his age) but for some reason, it rarely bothers me like Nora's stubbornness did.
Simon has a way of instantly turning on the charm, flashing you his sweet smile, and coming to snuggle on your lap — which seems to negate any frustrations I feel when he's stubborn.
He frequently grabs my hand, my leg, or even my face and says "I wob you mom… you wob me too?" and gets the biggest smile when I assure him that I do, in fact, love him a lot 🙂
Simon is almost completely finished napping — which is actually totally OK with me. He and Nora play so well together during James' naptime, and everyone has been going to bed even earlier since Simon stopped napping. It's glorious!
Every once in awhile, he tells me he's going to "take a rest on the couch" and I know he'll eventually fall asleep — but I can't let him sleep for more than 30 minutes or he won't go to bed at night. He has always been our best sleeper! And just last week, he asked if he could snuggle with me on the couch for his rest time. He was soundly sleeping within 5 minutes and Nora contentedly worked on a craft project in the kitchen the entire time!
Simon plays extremely well on his own, but he also really enjoys playing with his siblings, grandparents, cousins, neighbors, and friends in nursery at church. He is very social — and while he comes off as shy in the beginning, he loves being with other kids.
I'm so thankfully for our smiley Simon — he is such a gift to our family.
Happy Birthday Sweet Boy!